News
'I Guess I'm Just Finally Filling Out'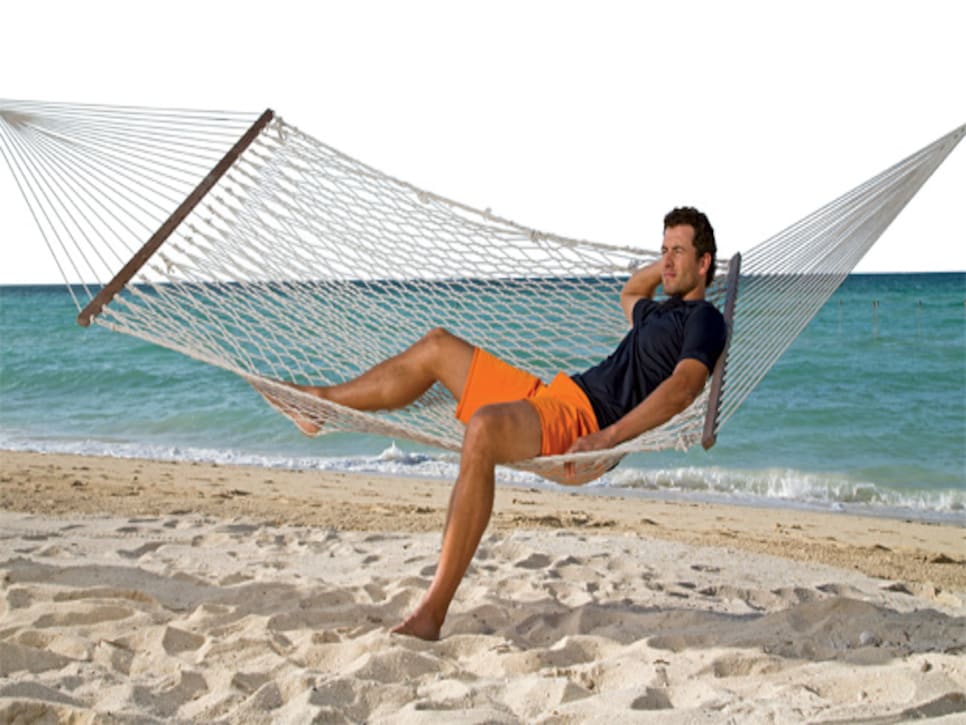 After completing his early-morning rituals, including a visit to his closet to slip on his recently acquired green jacket—just because—Adam Scott strolls down to the sumptuous swimming-pool area of The Albany Club in the Bahamas. There, against the turquoise backdrop of the Atlantic, he's subjected to something else that's becoming an increasing part of his life: worship.
It's understandable: Bronzed and chiseled, with a thick shock of curly brown hair and a rugged layer of designer stubble, Scott looks more like a Hollywood hunk preparing for the role of Achilles than a tour pro arriving for a magazine photo shoot.
After the makeup artist applies a perfunctory layer of color to his face, she half-jokingly tells co-workers she hopes Scott—or as she calls him, Adam Hot—will have some shirtless poses that will give her the chance to rub oil on his torso. Legendary photographer Walter Iooss Jr., who for decades has aesthetically assessed the body parts of elite athletes (and swimsuit models), comments on the size of Scott's arms (which, after the Masters, inspired the Twitter handle @AdamScottsBicep
) and asks if he has been lifting more in the weight room.
"Nothing heavy," says Scott, 33, in his clear Australian intonation. "I guess I'm just finally filling out."
In the next few moments, a fashion director will compliment the colors, style and fit of Scott's clothing, and an instruction editor will praise his improved wedge play. Scott accepts it all gracefully, without a trace of entitlement. It's apparently his habit, because when a Bahamian limo driver who regularly takes Albany club members to the airport learns that Scott is the reason for my visit, he quickly volunteers, "Very nice young man. Never acts big."
Greg Norman, for one, concurs. Since offering his mentorship to the teenage Scott, the two Queenslanders have grown close, engaging in long talks at Norman's Florida home, where Scott frequently stays in the guest house.
"I love the idea of handing down what I've learned to someone like Adam," Norman says. "He's humble, he's kind, he's intelligent—but also a great listener who never sucks up all the oxygen in the room. All the things people like about him are real."
Otherwise, to borrow from a popular baked-goods slogan of yore, "Everybody doesn't like something, but nobody doesn't like Adam Scott."
"I've honestly never heard anyone say, 'Oh, Adam, what a jerk,' " says his first teacher—his father, Phil, a former club pro. "He was an easy kid, and he's grown into an easy man."
Scott can get uncomfortable with all the effusiveness. He likes to counter with self- deprecation, pointing out that he's actually a very mediocre surfer, having started too late at age 20. Scott also contends that he's lousy at guitar and cooking, and he's only too happy not to counter the caddie-yard legend that in his younger days he had "no game" with women (though actress Kate Hudson and tennis star Ana Ivanovic might disagree).
But Scott also knows firsthand that being built up can be a setup for being torn down. "Back around 2005, I was marketed as part of the next wave of good golfers who were also good-looking guys," he says, mentioning Aaron Baddeley and Camilo Villegas as members of the group. "The message was that good looks lead to good play. But when that expectation wasn't met, we would hear, 'This guy's got it all, but he's not really performing on the golf course; he's just a good-looking guy. And he'll never play any good.'"
Perhaps the lingering sting played a role in Scott taking what seemed like a relatively small-scale media tour after his Masters victory. Even Scott's one network interview, on "CBS This Morning," was anticlimactic, as he squashed speculation that he would accept an invitation to become "The Bachelor" by revealing he is back in a committed relationship with Marie Kojzar, with whom he had broken up in 2008. Even PGA Tour commissioner Tim Finchem gently expressed his regret to Scott that Adam didn't do more appearances, making the case that the exposure would have been good for golf.
But as he has gotten older, Scott is more about what is good for his golf. He doesn't deny having worldly interests, including a taste for fashion and modern design that began while living in London and spending time in other culturally rich cities while playing the European Tour as a young pro. But in the past four years, the main purpose of his avocations is to make the respites in his playing schedule more renewing. No longer a global wanderer of tours who played too many events while tired and uninspired, Scott is playing a more selective schedule so he can show up ready, especially at the major championships.
"Adam's whole purpose is about being a golfer," says his father. "As a young teenager, that was his dream. As an adult, that's all he's done. It's made him a public figure, one who gets plenty of attention through the luck of his appearance and wearing clothes well. But he's not someone who feels like he has to be in the spotlight to be happy. I just think he's genuinely happy with what he does."
A few years ago, there was some doubt about that. When Scott won the 2004 Players Championship at 23, much was projected. Though he would win five more PGA Tour events in the next four years to reach No. 3 in the world, Scott was disappointing in the majors, where he had only three top 10s in that period.
From a playing standpoint, Scott's low-trajectory, low-spin ball flight made it difficult for him to stop the ball quickly on the firm greens at majors, and his mostly mediocre putting was further exposed on the fastest surfaces. Scott also came to be perceived as lacking work ethic and competitive desire—or simply being too normal and nice to be a champion.
'MY HEAD WAS A BIT MESSED UP'
That impression became conventional wisdom in a nightmarish 2008. In short order, Scott fractured his hand in a car door during a night out with friends, suffered a series of energy-sapping throat infections, and saw his seven-year relationship with Kojzar, a Swede whom he met when she was working as a nanny for Thomas Bjorn, end in a way that left him "gutted."
"My motivation for practice and everything lowered because my head was a bit messed up," Scott says. "Then all the wheels kind of fell off." After Scott shot 82-79 at the 2009 PGA Championship at Hazeltine, he and longtime instructor Butch Harmon agreed to end their working relationship.
"The problem was, we were not seeing each other enough," Scott says. "Butch was 65, and he didn't want to travel as much. I was living in London, and I didn't want to travel to Las Vegas to see him. Because of that, some bad things had crept into my swing."
Harmon's parting advice for Scott: "Figure out who you are and what you want to do with your life and your golf game." By October, Scott had sunk to 76th in the world.
In retrospect, the road back has been a series of steady steps. First, Norman, whom Scott grew up idolizing, took the hit for showing favoritism to a friend by making Scott a captain's pick for the 2009 Presidents Cup.
"That was an incredible gesture by Greg, and it meant a lot," Scott says. "When he put me on the team, it made me feel like a world-class player again."
At about the same time, Scott began playing like one. The difference-maker was unknown instructor Brad Malone, who was dating Scott's younger sister, Casie, and who at 27 was a year younger than Adam. It helped that they had met and become good friends in 2004, when Malone was an apprentice pro at Wentworth, but to this day Malone has never coached another PGA or European Tour player. Still, almost before skeptics could scoff, the partnership clicked. Scott had consecutive top-10 finishes in Singapore, the Australian Masters and Dubai, and ended 2009 with an emotional victory at the Australian Open.
"The big advantage I've had working with Adam is that I know him like a brother," says Malone, who is now Scott's brother-in-law. Adds Scott: "Brad has a natural instinct for the swing that makes him wise beyond his years. He proved to me very quickly that he has a very good understanding of what works for me, so we don't have to talk a lot. When he likes what he's seeing, he tells me, 'This is it. This is better than anybody.' And because I trust him, it just pumps me full of confidence."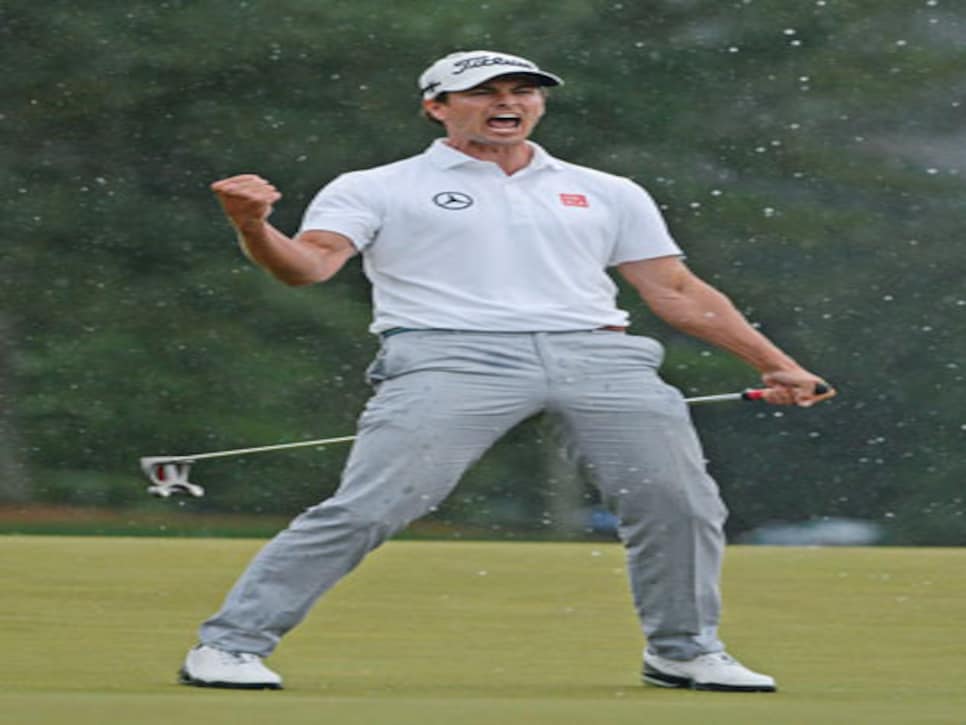 him into a playoff, which he won on the second hole
of sudden death against Angel Cabrera.
'PROBLEMS BENEATH THE BONNET'
Although Scott's swing is considered by many to be the most majestic in the game, Malone found that "Adam's great rhythm and flow were hiding problems beneath the bonnet." Specifically, a faulty address position was causing Scott's arms to move away from his body on the backswing, forcing him to rely more on timing and hand action to square the club at impact.
Once his setup was corrected, Scott was able to make a deeper shoulder turn with a more compact motion governed by body rotation that's wondrously free of extraneous movements. In person, for all his fluidity, the lasting impression is of a heavy hit, as the full breadth of Scott's broad shoulders, thick chest and arms are delivered as cleanly and powerfully as a slamming door.
The improvements have helped Scott raise his ball flight and spin rate, giving him more carry with his driver and more stopping power with his irons, both factors that were on display during his victory at Augusta.
"Adam won't shout it, but he knows how good he is," Malone says. "I want him to have the confidence that comes from knowing that if you've done the preparation, your game's going to be there, and you can relax and let the talent shine through. It's that belief, that sense of no doubt, that will give him that special presence, especially at a major championship."
MAKING CHANGES: THE LONG PUTTER, AND STEVE WILLIAMS
Malone is also responsible for the biggest change in Scott's game, suggesting in early 2011 that he try the long putter.
"Adam's putting was negating his gains in his ball-striking," Malone says. "I thought the long putter could take him back to learning a new skill without overthinking it, let him shut off his conscious mind and go back to being a kid. It's given him a whole new perspective on the principles of a correct stroke, so I believe he'll be a much better putter with the short putter if he chooses to go back to it."
Scott raised his game a little more in the summer of 2011 when he took on caddie Steve Williams, who had been on Tiger Woods' bag for all but one of his major-championship victories as a pro.
"I'd followed Adam for a number of years," Williams says, "and I had some ideas about improving his course management, his scheduling and improving his morning rounds, which weren't anywhere near as good as his afternoon rounds." (One of the tips Williams got from British Open champion Bob Charles years ago: Always wake up at least four hours before your tee time.)
"We had a good talk," Williams says, "and one thing I learned is that his desire is more than I originally thought it was."
A victory at Firestone soon followed, but the two had cemented their bond at the 2011 British Open, when Scott drove back from Royal St. George's to London to pick up Williams at the airport.
"To see him stand around waiting in the arrival hall at Heathrow ... well, no tour pro has ever done anything like that for me," Williams says. Asked how working for Scott differs from Woods and Hall of Famers Peter Thomson, Raymond Floyd and Norman, Williams thinks for a moment and says, "It's the first time I can genuinely say that I'm caddieing for a friend." The relationship was further strengthened later in 2011 after Williams came under fire for using a coarse racial term speaking of Woods at a golf-club dinner in Shanghai that Scott also attended. There was pressure on Scott to fire Williams, but at the risk of being called an apologist, Scott stuck by him.
"I was in that room, and a lot of people who were questioning what I might do were not there that evening," Scott says. "I give Tiger credit for the way he handled the media and defused the issue. Tiger honestly didn't believe it was a racist taunt, and he said so."
The teamwork wasn't perfect at Royal Lytham last year, where Scott played the best golf of his life to hold a four-stroke lead on the 69th tee, only to bogey the last four holes and lose to Ernie Els by one.
On Lytham's 18th, famous for its narrow and penal bunker configuration in the driving area, Scott chose to hit a 3-wood over the objections of Williams, who favored an iron. Scott pulled the tee shot slightly into one of the impossible bunkers on the left, forcing him to pitch out.
"The only place you can't hit it on that hole is those left bunkers, and 3-wood brought them into play," Williams says, adding wistfully, "If I had been a bit more forceful maybe ... " Scott doesn't second-guess his decision. "I had just seen Graeme McDowell hit a 3-wood into a good position up the right side, and that was the shot I wanted to hit," he says. "Look, I'm one of the better drivers of the ball there is, and I felt, you stand up and hit the shot. And unfortunately I just tugged it off my line a touch." More crucial than the outcome was the reaction.
"Straight after Lytham we went to Switzerland together, and the Monday and the Tuesday talked a lot about the tournament," his dad says. "I genuinely felt that by the Wednesday, the negative emotion was going. It's easy to say now that he took the positive out of it when there was surely a part of him that was shattered. But in fact, that's what he did."
"I played so well at Lytham," Adam says. "That's all I've been trying to do my whole career, is play like that in the majors. I didn't win, and you would think that hurts, but I enjoyed the process of getting to that point so much, that maybe for once in my life it wasn't about winning. It was about knowing what I'm doing is right. The way I finished was bad, bad. But it didn't dent my confidence at all."
Adds Williams: "Adam really got a taste of it there, and it made him more determined. When you consider what happened at Augusta, the British Open might have been a blessing." In the months before Augusta, Scott and Malone did important work on his pitching and chipping that would pay off. Then, shortly before the tournament, the preparation was enhanced when Scott and Kojzar got back together.
Team Scott speaks about the relationship only in careful terms. "Marie is good for Adam," Malone says. "She's positive energy to be around, always laughing. She's very smart, has her own career [architecture], and isn't too reliant on Adam. We're all happy for them."
Scott doesn't hide his happiness at the reconciliation. "When you know, you know, don't you?" he said. "There are probably a certain number of people in the world you are completely compatible with, and Marie is definitely one of them."
Whether it was the experience from Lytham, his overall preparation, or having Kojzar close again, Scott was in a zone at the Masters.
"I've never seen Adam as calm playing golf," his dad says. "He had that calmness and serenity that he gets from his mother. He knew something about himself as a golfer that he didn't know before."
According to Williams, Scott hit only three bad shots in four days: two drives into the lateral water hazard left on the par-5 second, and another drive that found the trees on the first hole on Saturday.
But it was the quality of all the good shots that will live in Scott's memory, especially the level he reached on the two sudden-death playoff holes.
"I was able to clear my mind, and everything was so free: the drives, the approaches, the two putts," he says. "And I hit all those shots like it was just me and Brad in practice. It's like the work we've done has built up an instinct for those kinds of moments, and that's so rewarding."
"That's the highest level of the game, trusting yourself when the pressure is greatest," says Williams, who acknowledges he, too, relied on instinct when he read Scott's winning 12-footer to break two cups instead of one. "Adam did that, and now he'll do it more."
Yes, Adam Scott is finally filling out.