"The time is now," caddie Steve Williams says from New Zealand, referring to his boss, Adam Scott. "Deep down he desperately wants to win another one -- everyone wants to win one, but all the work he's doing is geared toward that."
Four years after capturing his first and only major at the 2013 Masters, Scott is closing in on his 37th birthday. The percentage of players to win one of golf's four biggest trophies at age 40 or older is around five percent. The Aussie is also aware, like the rest of us, that Tiger Woods isn't the same Woods he used to be. He's no longer the intimidating figure who stood in players' way for most of the past 15 years. At this point, he's not even a factor, sitting on the sidelines recovering from more back issues.
Meanwhile, 20-somethings Rory McIlroy, Jordan Spieth and Jason Day have all won majors since Woods won his last at the 2008 U.S. Open at Torrey Pines, and all three have traded the top spot in the Official World Golf Rankings. They are the present and future of golf. All stand in Scott's way, but none to the extent that Woods once did.
"They're the benchmark now," Scott told GolfDigest.com recently. "That doesn't seem as far off as the old benchmark. It's certainly better than the old benchmark, and I'm a lot more optimistic now."
In some ways, he has reason to be.
'I didn't have all this knowledge when I was younger. The right messages weren't getting through from whoever was around me to work harder and make the absolute most of this opportunity.' —Adam Scott
A little more than a year after winning at Augusta National, Scott was the one who was on top of the world, reaching No. 1 for the first time in his career. After holding the top spot for 11 weeks, he continued playing well on the biggest stages, tallying a half-dozen top-10s, four of which were top-fives, in majors from 2013 through the end of 2015.
But 2015 also proved to be a year of transition, with a new baby, new caddie and a new (old) putter. It also marked the first time in 15 years Scott didn't win anywhere in the world.
He bounced back last year, winning on back-to-back weeks at the Honda Classic and the WGC-Cadillac Championship at Doral (now the WGC-Mexico Championship), but the early success didn't translate to what matters most at this point in his career. For the first time since 2010, Scott failed to register a top-10 in a major championship.
Though Scott led the tour in strokes gained/tee-to-green last season, his putting tailed off. Always the weakest part of his game, it was the first year of the USGA's ban the anchor stroke, and Scott fiddled around with both the putter and his method.
"It's hard to win out here doing anything below average," Scott said. "I was wasting a few on the greens every week and it was tough to make up ground."
He also struggled with the juggling act of having two caddies: One for majors (Williams) and another for everything else (David Clark).
The lack of results after March, particularly in the biggest events, led to frustration and that, in turn, has led to more changes for the Aussie coming into this year.
Scott has altered his schedule in 2017 so that he will play the week before every major. In doing so, he will have Williams on the bag for those events, too. Clark will continue to work everything else.
"Now I understand what I have to do to have that work better," Scott admitted of the two-caddie system. "I didn't have a good idea how that might work or flow last year. You can't waste weeks not knowing how your man's playing. When you've got a shot into 15 at Augusta, you'd like to be [on the same page]."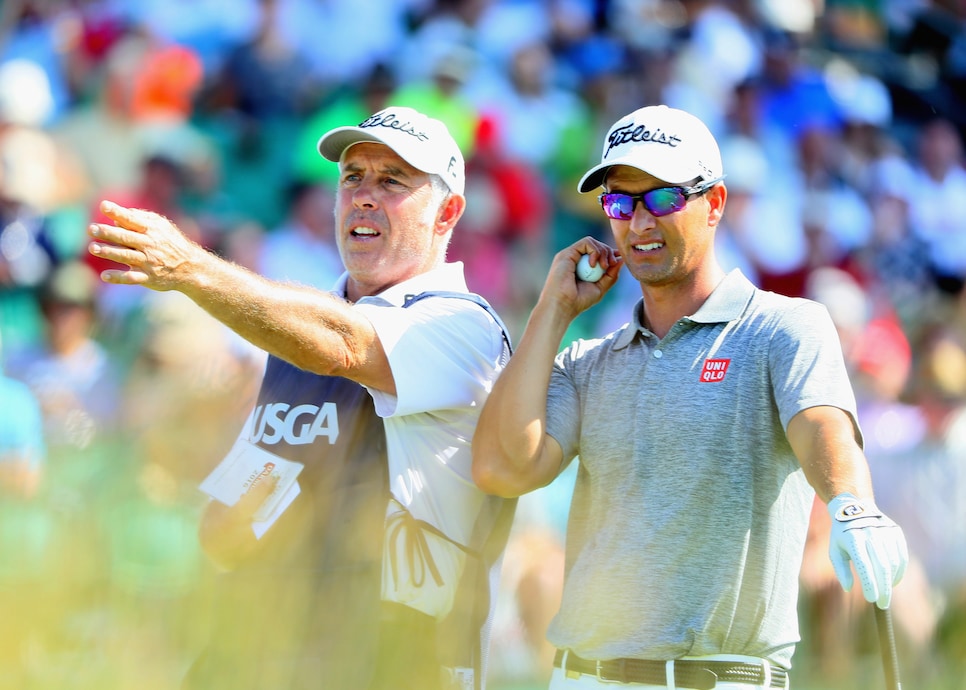 Added Williams: "When you're coming in to caddie for just the week of a major, it's difficult to get your head around quickly in just two or three days."
Being able to play the week before a major will also allow Scott, who added that he has put in extra work on short game and even hired a putting coach, the extra practice time he needs, something there is increasingly less of at home with a second child on the way.
Will Scott win a second major?
That has been the question since he captured his first. There are more than 100 players who have won just one major, compared to only 37 who have won two and just 16 who have won three.
"It's a little disappointing over that great run he had from 2012 to 2014 that he got only one," Williams said of Scott. "But that shows you how hard it is."
Scott admits to having not worked as hard as he could have early in his career. Now, it's about working hard and smart.
"I didn't have all this knowledge when I was younger," he said. "The right messages weren't getting through from whoever was around me to work harder and make the absolute most of this opportunity."
The message is as clear as ever: The time is now.