The Loop
Adam Scott has renewed confidence and another Open opportunity
GULLANE, Scotland -- Well now, this will be interesting. A year after kicking away the British Open with bogeys on the last four holes at Royal Lytham & St. Annes, Adam Scott gets a chance at redemption Sunday on Muirfield's brutal links. And guess who he's paired with. The 33-year-old heartthrob from Australia eased a large part of that pain from Lytham when he captured his deferred first major championship at the Masters, defeating Angel Cabrera in a playoff. And now, after a 70 on Saturday put him at an even-par 213 through 54 holes and within three strokes of Lee Westwood's lead, Scott has a chance to collect the same claret jug that last year the engraver had likely carved "ADAM SC" into before changing to "ERNIE ELS". "I haven't flashed back [on Lytham] since Akron last year." Scott said about the first event he played after blowing the British, finishing T-45 in the Bridgestone invitational.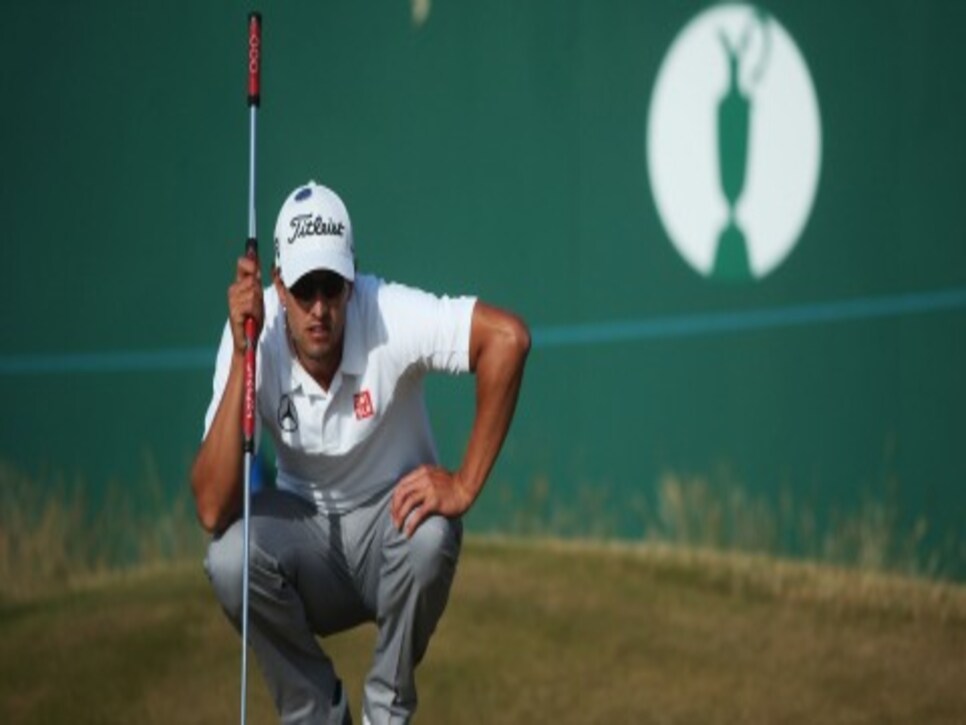 "I haven't thought about the entirety of it at all," he said. "I thought it's best not to. Just take the couple of bits that I wanted to and leave it as an experience. And the way I remember it is only as a great week. So I'm done with that." That certainly seemed to be what he did at Augusta National where, in his very first trial by fire in a major after handing Els his fourth major by a single, painful stroke, Scott stood strong and survived a brilliant tournament-tying 72nd hole shot by Cabrera to win in extra holes. And if the drama that will unfold at Muirfield needs an additional plot twist, throw in the fact that Scott will be playing the final round with Tiger Woods, the one-time employer of Adam's caddie, Steve Williams.   While Scott will be going for his first British Open, Woods will be going for his fourth -- the other three with Williams on the bag -- and will be looking to end a 0-for-16 run in the majors dating back to his triumph in the 2008 U.S. Open.
Related: Tiger's First-Tee Jitters And don't underestimate the value of Williams -- who looped for Woods in 13 of his 14 major championships -- to Scott, who has emerged as one of the best players in the world since Stevie started working for him full-time shortly after being fired by Tiger two years ago. "His experience is there in these events where par is a good score," Scott said after a two-birdie, one-bogey effort on a firm, fast and finicky Muirfield. "And his success is there in it as well." Famously, when Scott won for the first time with Williams on the bag at the 2011 Bridgestone Invitational, Stevie called it the most satisfying win of his long career, a clear shot at Woods. They have since made up in the way Tiger makes up with people -- they will mostly ignore each other Sunday. Woods will play his game and Williams will make certain Scott remains true to his game plan. "He prides himself on keeping his man at par or better, no matter how hard the course is," Adam said about Stevie. "He's there to pull the reins in, if need be. He knows it's 72 holes and it can't be won on the sixth [hole] on Friday. He's got the big picture in mind when it comes to the 72-hole outcome." Scott has played ho-hum since winning the Masters -- T-19 at The Players, T-13 at the Memorial, T-45 in the U.S. Open and T-57 in the AT&T National -- but seems ready to shake that funk. "I'm satisfied with how I'm playing this week," he said. "The last few events I haven't really played that crash hot. So it's nice to put myself back in this position. I worked hard over the last couple of weeks since AT&T. So I'm happy that I'm sitting here and I'm going to have a chance to play a good round tomorrow." Speaking with impressive honesty and healthy self-awareness, Scott said having won the Masters will make pushing aside the memory of Lytham during the final round at Muirfield a much easier task. "I feel like I've got, well, nothing really to lose tomorrow and majors to gain," Scott said. "So that's certainly a nice feeling, whereas before in some ways it was getting to the point where you're hoping it was going to happen tomorrow. It is absolutely a weight off your shoulders to have the first one."
Related: Swing Sequence: Adam Scott While it would be wrong to give Williams too much credit for the phenomenal success Woods had during the 12 years they were together, it would not be wrong to say he has infused Scott not only with a new attitude by also added confidence and focus. "It's absolutely rubbed off on me the last couple of years, to the point where I think we just walk out there with the same mindset almost now," he said about Williams' effect on him. "And it's proven to work, as well," Scott said. "My results have been good the last couple of years with Steve in the big events, and my scoring average has been a lot better." So finally the guy whose swing is the envy of many is starting to live up to his potential. You get the feeling that if the coveted trophy is within his reach this time, Scott is not going to allow the engraver to etch any other name on it than his own.