The Loop
Adam Scott has made himself right at home at Royal Liverpool
HOYLAKE, England -- Some professionals like to play competitively the week before a major championship. Others prefer to stay home, practice and work on their swings. But Adam Scott is different again. The world No. 1 has been here at Hoylake since last Thursday, a full seven days before, alongside Justin Rose and Jason Dufner, he will tee off for real.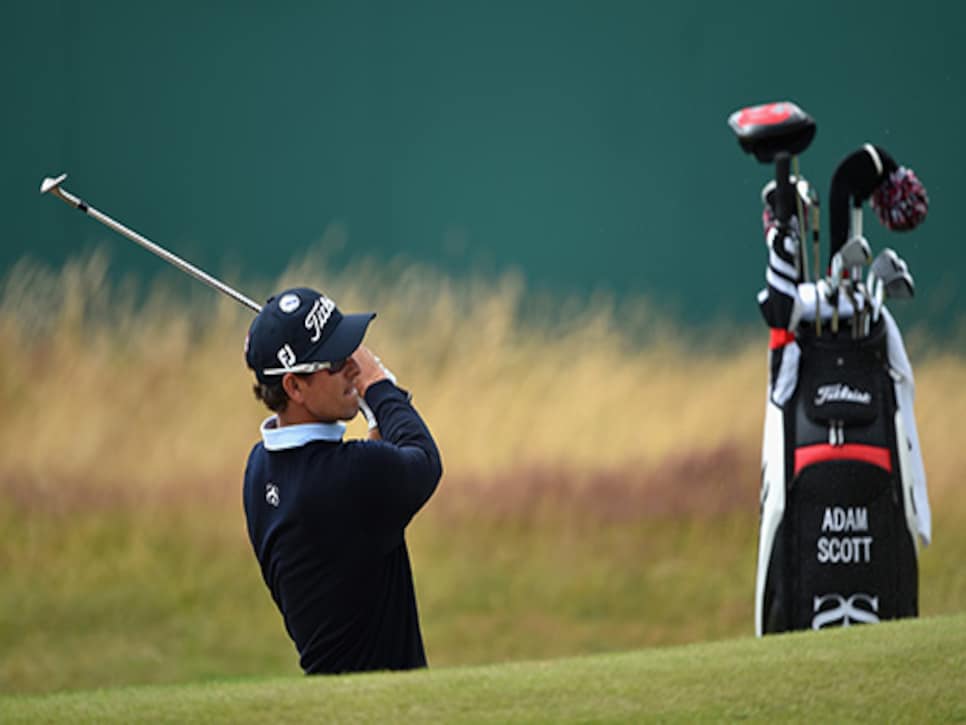 "I've played every day," said the Australian, who he turns 34 Wednesday. "Eighteen holes every day since Saturday, when I played 30 holes. I'm very comfortable and familiar with the course. I feel like I need to practice and prepare in a way that I feel my game is going to hold up for four rounds under the most pressure we feel all year.
"I skip a couple of tournaments to spend time doing my homework and getting comfortable," said Scott in explaining his schedule. "If that gives me a chance to win, that's not a very big sacrifice to make. I could have gone to Royal Aberdeen last week; I know it's a great track. But the way I see it -- and I might be wrong - why play that links when you can play this one. I feel better coming here and learning the course I'm trying to perform on."
Scott, of course, has spurned golden opportunities to win in each of the last two Open Championships. Few golf fans will need reminding of the heartbreaking loss he suffered at Royal Lytham in 2012 -- four bogeys on the last four holes saw him lose to Ernie Els by a shot. And last year, following his iconic Masters victory three months previously, Scott finished T-3, four shots behind Phil Mickelson.
Those disappointments must linger for sure, but behind Scott's baby-faced features -- as he showed at Augusta National last year -- a steely interior lurks. And, commendably, he is a man who plays for history more than filthy lucre.
"Greg [Norman] winning the Open has always sat very high with me," he revealed. "I want to emulate what my childhood hero did. So the Open has a huge amount of meaning to me, as it does for all Aussie golfers.
"I really liked what Phil said last year. He felt like a complete golfer after he won this event. Because it is such a different test and examination of your game. The conditions are so different from those we usually play. And at some point you have to hit something pretty creative that wouldn't work anywhere else. I think the sense of achievement that Phil felt is huge. So I'd absolutely love to get my name on the trophy."
To that end, Scott also revealed a little of the strategy he has devised over the last few days. It doesn't seem like we will be seeing too much of his driver and a lot of his trusty 2-iron. As is well known, the deep and strategically placed fairway bunkers at Hoylake represent what might as well be a full one-shot penalty.
"Even on the couple of holes where I could hit driver I'm probably not going to," Scott continued. "I think the penalty is too severe. You never know though. It is so wind dependent what you hit. But I won't be crazy aggressive. On some downwind holes there are chances to hit over bunkers into pretty wide areas. I'll try to do that and take advantage if I'm driving well."