The Loop
Adam Scott ends long layoff at Sony Open, says 'all in good order'
HONOLULU – After a couple of sloppy bogeys coming home in his opening round of the new year, Adam Scott ripped a drive of 370 yards on the par-5 ninth hole at Waialae CC. The 506-yard hole was playing downwind … but, still.
"I've still got it," Scott said with a grin, mocking himself more than taking any credit for the poke. "Actually, I hit it so far I was left with kind of an odd yardage."
But he left the green with an even number, a birdie four after two putts from 19 feet, and Scott posted a respectable two-under 68 in the opening round of the Sony Open in Hawaii. That wasn't anywhere near the lead pack of Ricky Barnes, Morgan Hoffman and 52-year-old Vijay Singh, but it was plenty close enough to leave him satisfied. Sort of.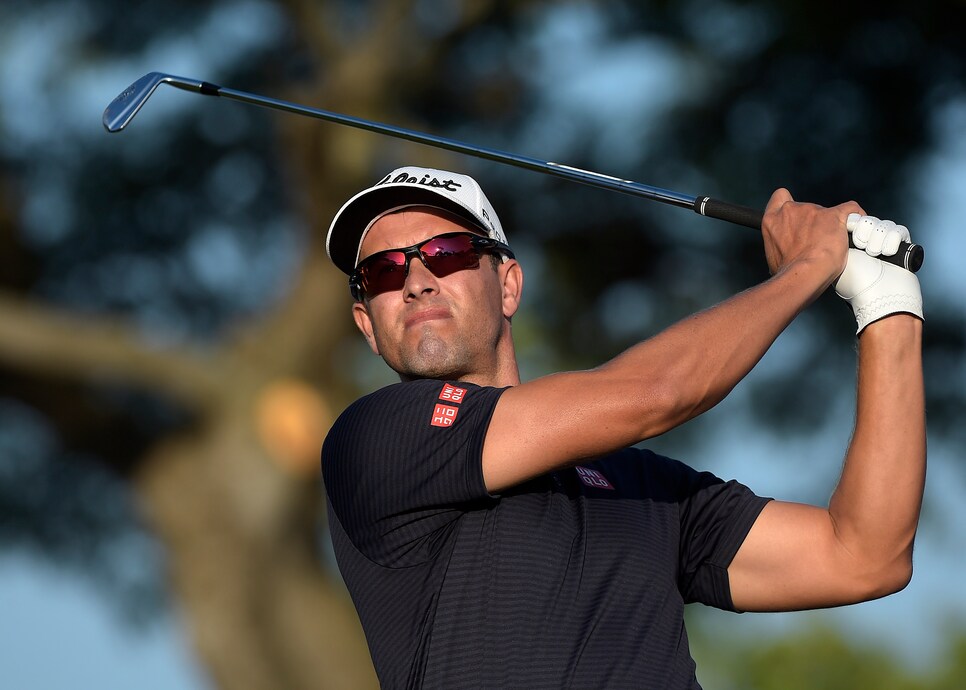 "It's all in good order, really. Fairly solid stuff," said Scott, who stopped on Oahu on his way from his native Australia to his home in the Bahamas, not only to break up the trip, but also a long layoff. The 2013 Masters champion hadn't competed in five weeks and will take another break until he plays three straight starting at the Northern Trust Open at Riviera CC near Los Angeles.
The highest ranked player in the field at No. 11 in the Official World Golf Ranking, Scott, 34, is coming off an extended break as he enjoyed his first Christmas as a father with his wife Marie and his daughter Bo, who soon turns one. He didn't work on his game much.
"I spent as much time with family as I could, as it's all new end of year stuff," he said. "It was lovely."
Scott needed a respite after playing seven of nine weeks, a string that ended at the Hero World Challenge. During that stretch he finished second at the CIMB Classic at Malaysia, the closest he's come to winning since Colonial in 2014. He's eager to add to his 11 PGA Tour wins, but more so to challenge for world No. 1 again.
But making inroads on that score isn't the goal this week at Waialae CC, where he finished T-2 in 2009.   "I'll use this week as a guide to see where my game's at and then go from there," he said, noting that he senses only a bit of rustiness in his game. "I feel I can get it around good this week, and hopefully it falls into place and I'll have a chance on Sunday, which is always the goal. I've just haven't been grinding at home. I used it more as a holiday and a break.
"It's important to keep fresh and competitive at the moment. That's all I'm really trying to do. I don't have a lot to grind on at the moment. I want to play a little and keep things where they are. But I don't want to play too much and be tired. You have to balance it all.
"Yeah, I'm here with a pretty relaxed attitude."
"Well, I didn't get up and down at number five, and that three putt at number eight was silly. So three shots wasted or it would have been a very good score," he said, his competitive side coming out. "Clean that up for tomorrow and we'll have a little better score and be just fine."