News
Aaron Wise wins PGA Tour Rookie of the Year, is more than ready for his second season to get underway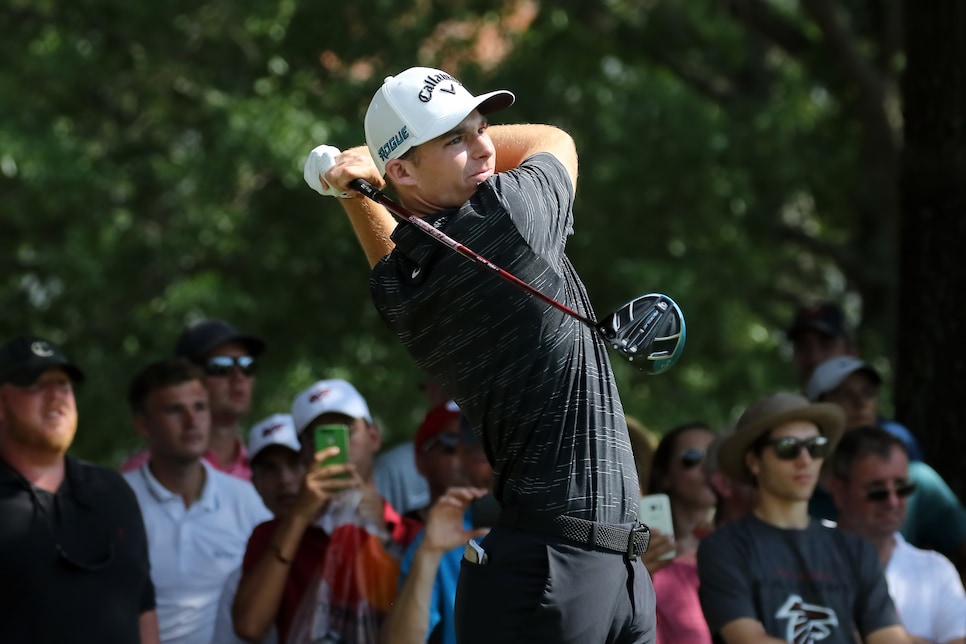 After becoming the only PGA Tour rookie to earn a spot in this year's Tour Championship, Aaron Wise used the opportunity to start preparing for next season. Rather than fly home to Las Vegas to spend a rare opening in the schedule, the 22-year-old spent the week getting his first look at TPC Sawgrass in advance of his first appearance in the Players. Way, way in advance.
Even with the tour's flagship event moving up in the calendar, it's still not until mid-March. But Wise's scouting trip some six months out shows he's nowhere near content when it comes to improving.
"My goals are always progressing," Wise told GolfDigest.com.
And now he can check off another goal on his to-do list. On Tuesday, Wise was announced as the recipient of the 2017-18 PGA Tour Rookie of the Year Award.
"I'm just excited to be able to get the award," Wise said. "And I played well at the end of the year, so I feel like I earned it."
During his first season on the PGA Tour, Wise finished 24th in the final FedEx Cup standings and won the AT&T Byron Nelson. But he says his biggest thrill may have come two weeks before when he battled Jason Day down the stretch at the Wells Fargo Championship.
"It was pretty surreal," Wise said. "That was my first time having a chance to win a PGA Tour event. To to be playing such a tough closing stretch with one of the game's greats just going head to head and to pull off some of the shots I did, that's where a lot of my confidence built. . . . Just knowing that I could do that was a big help for the rest of the season."
Wise also fondly recalled taking videos of the scene at East Lake as Tiger Woods won the Tour Championship. And he knows what he's working on most ensure he gets back to Atlanta.
"This year it's going to be more focusing on the short game," said Wise, who ranked 96th in strokes gained: around-the-green. "Converting birdies on par 5s and getting the ball up and down to save shots will be the key for me."
Although the tour doesn't release vote totals, Wise was selected for the honor over fellow rookie winners Austin Cook and Satoshi Kodaira, as well as Keith Mitchell and Joaquin Niemann. PGA TOUR members who played in at least 15 FedExCup events during the 2017-18 season were eligible to vote in the balloting process ended on October 1.
After winning the NCAA Championship at Oregon and turning pro in 2016, Wise won on the Mackenzie Tour-PGA Tour Canada later that year. He won on the Web.com Tour in 2017 before winning on the PGA Tour in 2018 to become the second golfer to win on all three tours. His next big goals, though, start with wearing the red, white and blue.
"Getting into some of those team events would be really cool. I was once really close to making the Ryder Cup team after I was playing really well there," said Wise, who will start this season with a home game at the Shriners Hospitals for Children Open. "To watch them on TV really got me energized. I want to be out there too on those teams playing for my country," Wise said.
But to do that, Wise will need to be more steady. Although he had 10 top 25s and four top 10s this season, he also missed 13 cuts in 29 starts.
"Hopefully, I can have all the same highs," Wise said, "but with a little less of the lows."