The Loop
A win at Baltusrol has special meaning to Jimmy Walker and caddie Andy Sanders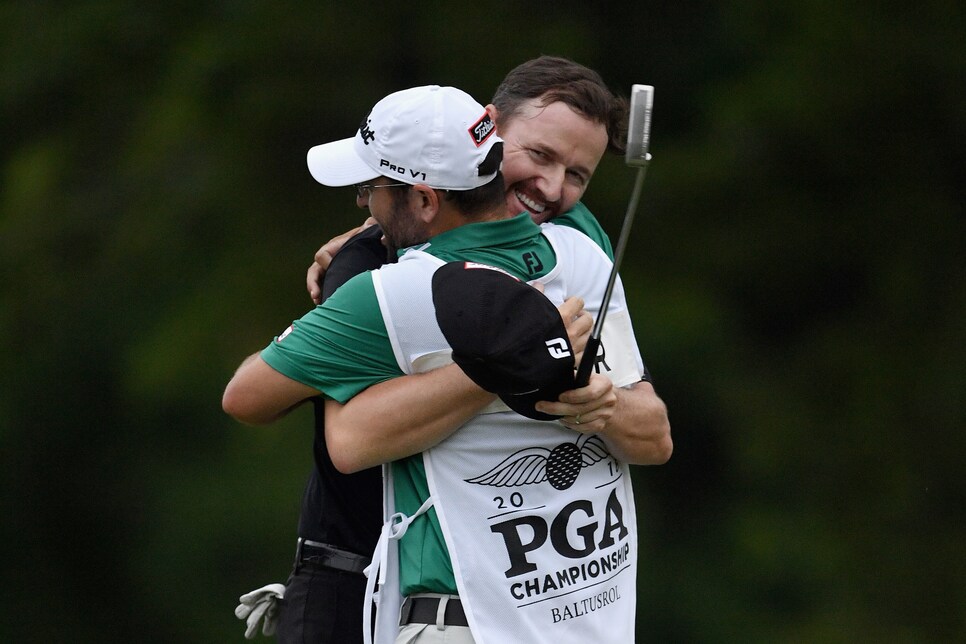 SPRINGFIELD, N.J. -- A major championship win is a significant moment in any player-caddie relationship, but for Jimmy Walker and Andy Sanders, a PGA win at Baltusrol carries deeper meaning.
In 2000, Walker and Sanders were both promising amateur players, Walker at Baylor, Sanders at Houston. At the time, the two knew of each other, but had never met. Then came a practice round for that year's U.S. Amateur at Baltusrol, where they greeted one another on the 10th tee of the Upper Course.
"I could remember thinking when I met him, 'Wow, that's Andy Sanders from Houston. He's really good,'" Walker recalled Sunday night. "And he tells me he said, 'Wow, that's Jimmy Walker, he hits it really far.'"
A friendship was born, and several years later, when Sanders was playing on the Nationwide Tour, he felt a blind spot in his right eye. What he originally thought was a problem with a contact lens turned out to be multiple sclerosis. Although he tried to continue playing, he said the treatment he received made that impossible.
Rather than abandon golf altogether, Sanders began a career as a caddie, ultimately taking on Walker's bag in 2008. In fact the men are so connected that Sanders married the best friend of Erin Walker, Jimmy's wife.
"He's part of the family," Erin said.
And for the Walker-Sanders family, no moment was bigger than a landmark win back where it all began.
"We've been together a long time. And to win our sixth event, first major here where we met, that's just cool,"Jimmy Walker said. "We talked about that. We talked about us meeting here and we tell that story. I know it's special for both of us."