The Loop
A tribute fit for The King, Donald Trump gets caught glove-handed, and a PGA Tour rookie's Masters offer to a model
Welcome to another edition of The Grind, where we suddenly feel the need to add a red cardigan to our sweater collection. Move over green jacket (at least, for a couple weeks) and make room for Arnold Palmer's signature look becoming golf's newest coveted piece of clothing.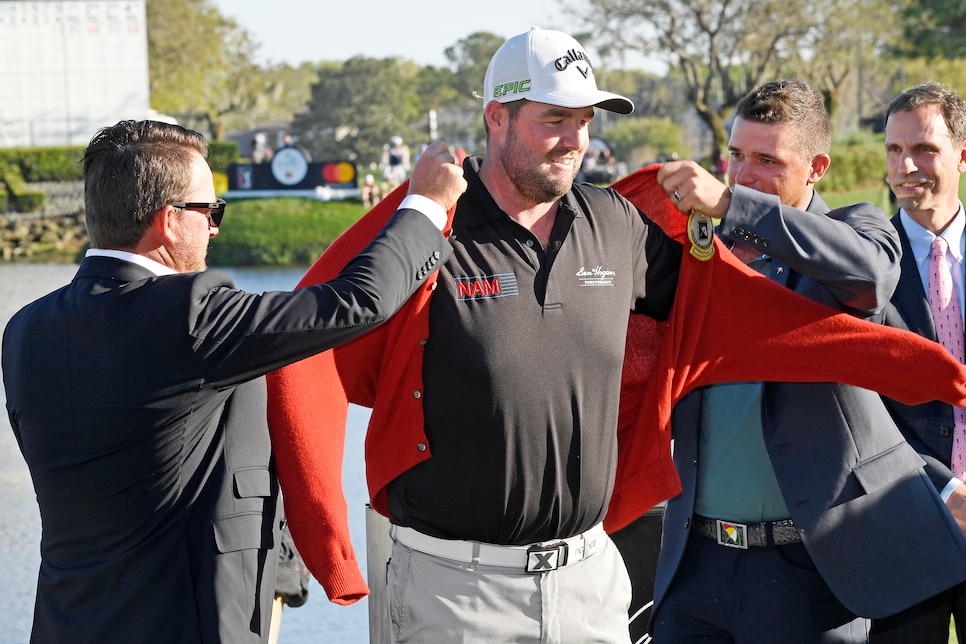 Pretty sharp. We also have a hankering for Palmer's (other) signature drink, the "Hummer."
Which, of course, can be made from vodka poured from these cool collector's edition bottles: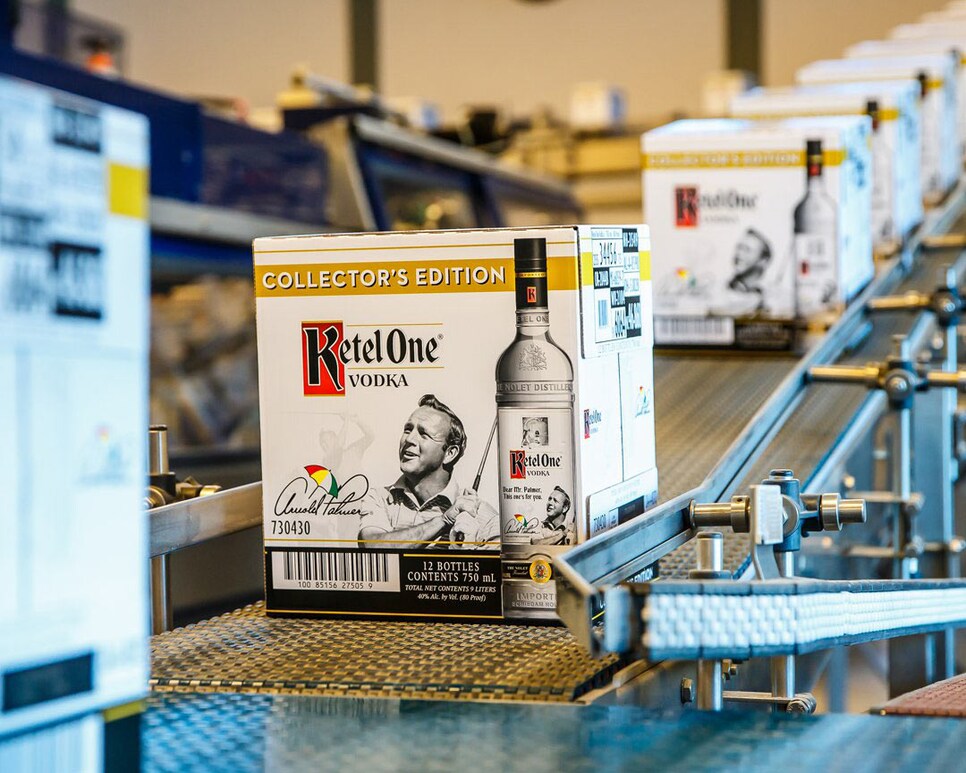 You get the point. Last week was all about The King, and it was great. Oh, and if you forgot about my birthday, one of those bottles -- or cases -- will do just fine.
Marc Leishman: The Aussie isn't the best-known golfer on the planet, but you'd have trouble finding a more well-liked player. He's also a man who has a different perspective of overcoming long odds. Two years ago, Leishman's wife, Audrey, was given a five-percent chance to live. But there she was on Sunday, healthy and happy to see her husband win his first PGA Tour title in nearly five years. #ArnieWould love this great story.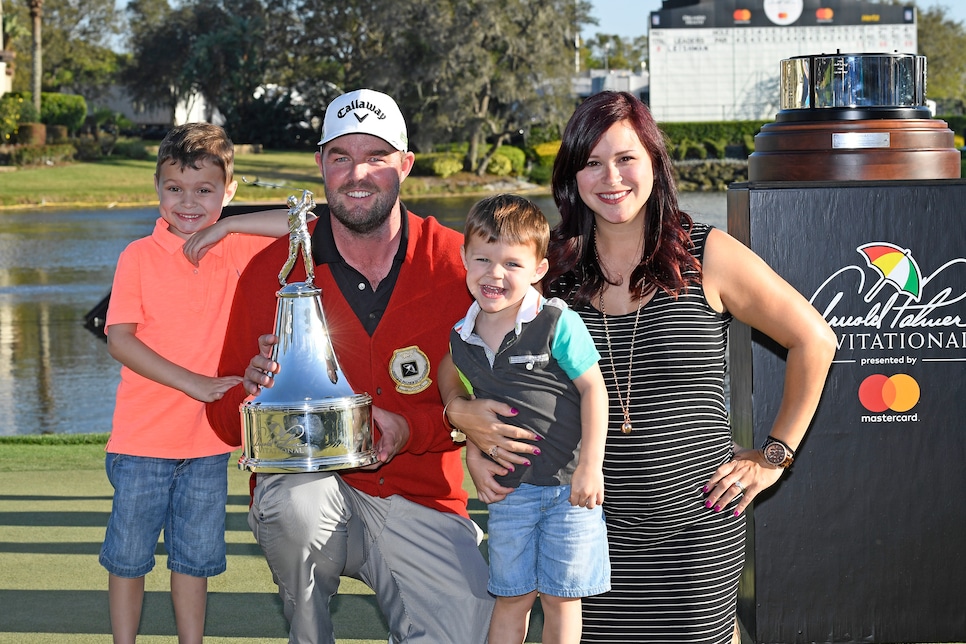 Tiger Woods' putting stroke: Yes, it was a quick, silly putting contest on Good Morning America, but we have so little when it comes to Tiger highlights these days. And Woods looked pretty solid -- especially on that fist pump!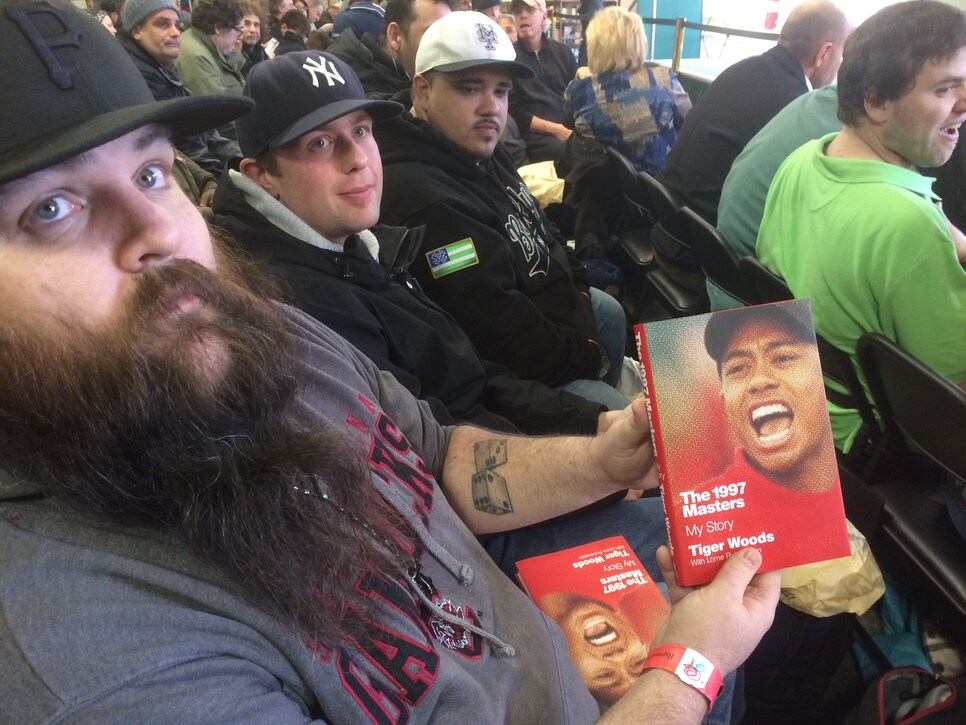 That's dedication. And yes, he told me his new favorite golfer is Andrew "Beef" Johnston. Obviously.
Grayson Murray's Twitter feed: It's always entertaining, but this week was especially good. First, Grayson shared this gem from his past:
And then he made a Twitter offer to model Lindsey Pelas.
And Grayson got really excited:
This is Lindsey Pelas, by the way:
Good luck next week, Grayson. We're pulling for you.
Extremely high winds: That's what caused the PGA Tour Latinoamerica event in Guatemala to be shortened to an unofficial 18-hole event and not the active, ERUPTING volcano nearby:
By tour rules, the purse was divided in half and then split among the 139 players in the field. Tough break for Christian Espinoza, who had fired a course-record 62 in the first round.
Gator touching: As badass as it was for PGA Tour rookie Cody Gribble to give a love tap to a gator at Bay Hill, we are NOT advising that you ever try this. In fact, we're fairly sure #ArnieWouldnt:
Smylie Kaufman's reaction to seeing one of these large reptiles, however, is something we can get behind:
Bryson DeChambeau's new putting stroke: This is not as easy as it looks, Bryson.
Might we suggest trying a side-saddle method? Oh. Right.
The PGA Tour splits up, with the top 64(ish) going to Austin for the WGC-Dell Match Play and others heading to the Puerto Rico Open. For everything – and I mean, EVERYTHING – you need to know about the opening matches at Austin Country Club, check out Joel Beall's thorough preview.
Random tournament fact: Tony Finau, the defending champ in Puerto Rico, is going to Austin instead even though he's only the first alternate. WGCs = BIG $.
RANDOM PROP BETS OF THE WEEK
-- Tiger Woods will win play the 2017 Masters: 10-to-1 odds
-- Grayson Murray is practicing more than ever this week: LOCK
This driving range salute to Arnold Palmer at Bay Hill was awesome:
VIRAL VIDEO OF THE WEEK (GOLF FAIL DIVISION)
This "Happy Gilmore" attempt was not awesome:
We just hope whoever filmed that is still alive.
What's the easiest way to get caught playing golf? Take a photo at a golf course. While wearing your golf glove.
"For the past year Harvey has been asking, 'Daddy why don't you ever win a trophy?' . . . [Harvey] kept seeing [Jason Day's son] Dash and [daughter] Lucy run out onto green and was like, 'Why can't I run onto the green.'" – Audrey Leishman. Have a day, Harvey.
THIS WEEK IN RANDOM GOLF KEEPSAKES
Thanks to Ian Poulter, Rory McIlroy was reunited with the cop car that drove raced him to his Ryder Cup Sunday singles match at Medinah in 2012:
Of course, Rory's keepsake from that frantic, memorable day, is his fiancee, Erica Stoll, who was then a PGA of America employee. Let's call it a draw.
THIS WEEK IN PAIGE SPIRANAC BEING PAIGE SPIRANAC
Costco and Acushnet are in a legal battle over golf balls. As long as this doesn't affect the frozen dumplings I buy in bulk from the warehouse chain, I don't care who wins. . . . Anna Nordqvist shot 25 under to win the LPGA Bank of Hope Founders Cup. Stacy Lewis finished T-2 -- as usual. . . . Steve Stricker blew a three-shot lead in his PGA Tour Champions debut, losing by a stroke to Tom Lehman. Maybe Steve should have named Tom one of his four Presidents Cup vice captains. . . . Jack Nicklaus shot six shots lower than his age (77) at the Ernie Els for Autism event. OK, now he's just showing off. . . . And finally, I was devastated to learn the Peachwave Yogurt I often (probably too often) walk to in town has closed. Seriously, where am I going to get my froyo fix now?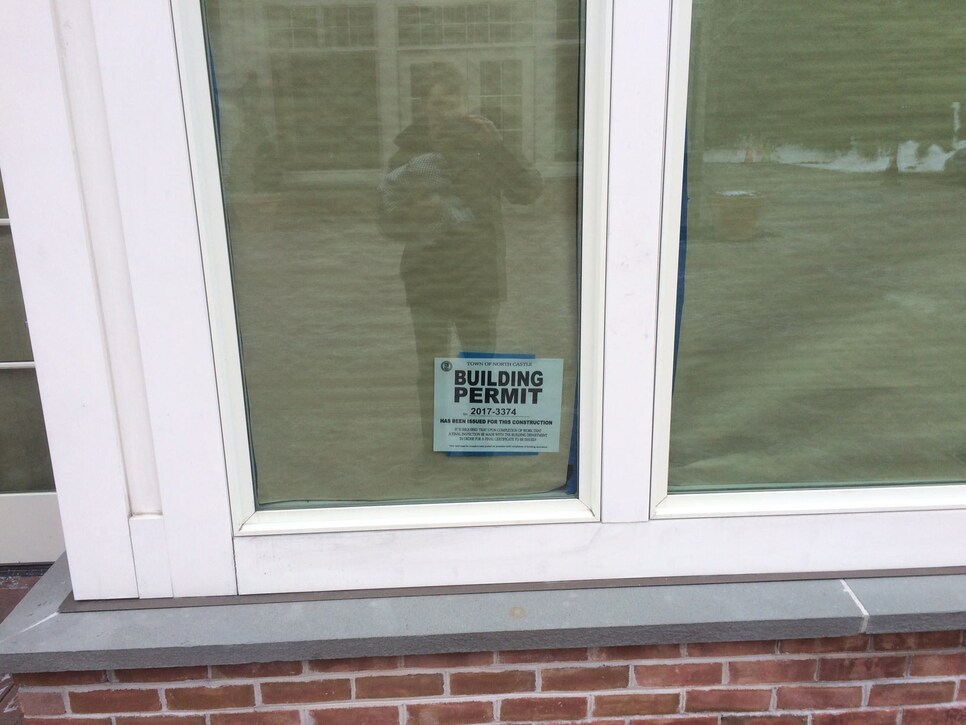 What you can't see in that reflection are the tears streaming down my face.
RANDOM QUESTIONS TO PONDER
Has Tiger Woods ever ridden the subway?
How much did Ian Poulter pay for that cop car?
How much will I save by that Peachwave closing?