The Loop
A shot away from that elusive number, Michael Allen settles for a record-tying 60
BOCA RATON, Fla. -- Nobody said anything, but everybody knew.
As Michael Allen played his second nine at the Allianz Championship Friday afternoon, he was flirting with something special.
Although eight golfers had shot 60 on the Champions Tour -- the first being Isao Aoki at the 1997 Emerald Coast Classic -- no one had gotten to golf's magic number, 59, which had been posted multiple times on the PGA and Web.com tours and once, by Annika Sorenstam, on the LPGA.
In the first round on the Old Course at Broken Sound, on a calm, warm day kind to scoring, Allen birdied his 14th hole to go 10 under. If he could play the last four holes in three under, he would join the elite 59 club. (He wasn't aware no one had done it on the Champions Tour.)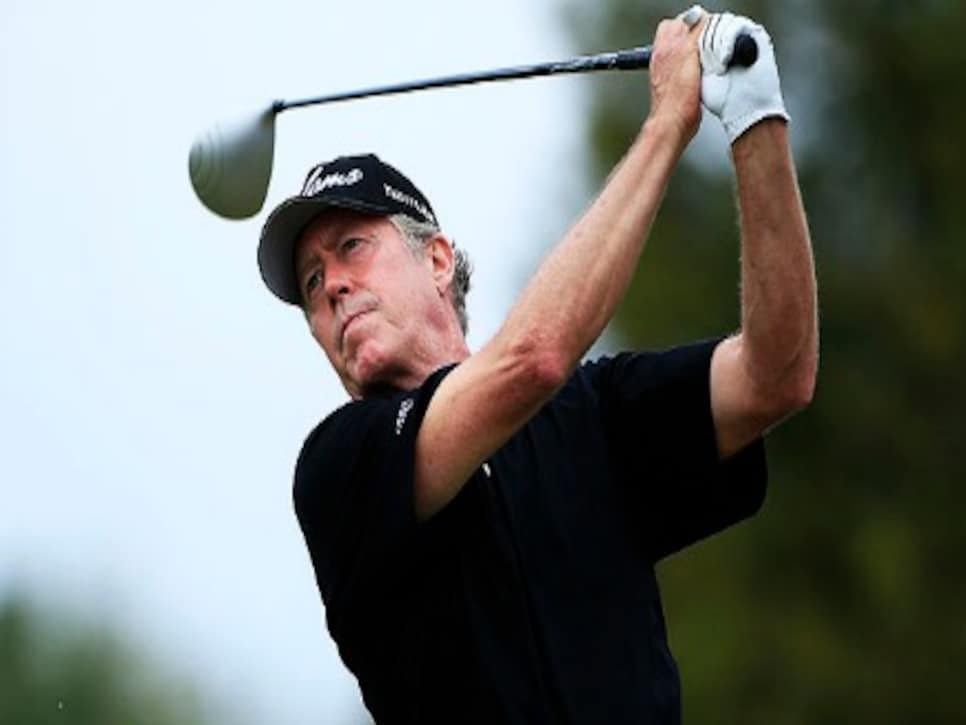 "It's kind of like that perfect game in baseball," Allen said. "You don't talk about it. You kind of let the guy go sit in the corner."
He faced a 12-footer for birdie on the par-5 sixth, his 15th hole. He had watched Kite putt from a similar line. He knew the break. He knew the situation.
"I really kind of thought I had a chance to shoot 59 if I made that," Allen said. "First time that had ever entered my mind. I really knew the line. One of those ones you wish you had back. The pressure was off after I missed the putt on six. Just like my career, almost."
Still, what a day it was for the 55-year-old who has five Champions Tour victories. Allen birdied his 16th and 18th holes, the latter with a seven-foot putt, to join Aoki and the other seniors -- Walter Morgan, Bruce Fleisher, Jim Thorpe, Nick Price, Tom Purtzer, Craig Stadler and Jay Haas -- who have shot 60. Allen's is the first 12 under of the bunch.
Allen hit 11 fairways and 14 greens, and required only 22 putts. And when things are going well, they're going well.
On his 13th hole, Allen badly chunked a wedge approach from 85 yards. He skulled his 30-foot chip from in front of the green but it hopped into the hole for an unlikely birdie. "That's kind of where you know things are going pretty well for you," said Allen, whose 60 gave him a three-shot lead over Scott Dunlap, with Tom Lehman, Wes Short Jr. and Chien Soon Lu five behind.
"When you play a great round like this, it's easy -- it's not that hard," Allen said. "You're playing good shots and you're making putts. Shooting 70 or 72 when you're not playing well can be a struggle. Hopefully tomorrow I can have some of this feel."
Thriving in contention under pressure hasn't always been the easiest of positions for Allen, who won once on the European Tour but never on the PGA Tour. "I haven't led that many times," he said. "Out here [on the Champions Tour] I've been better. I've not been as bad. Out here, it's a great challenge, it's a lot of fun. Out there, I was scared if I was leading."
In the final round of the 1993 Nestle Invitational at Bay Hill, he was T-8 and grouped with Tom Watson after 54 holes. Watson, his career full of cups and cash at that point, got a deservedly windy introduction on the first tee. "I literally took a seat," Allen said. "And then they [say], 'This is Mike, he's from Arizona.' That's not really a great feeling. You kind of know who you're with. That day didn't work out great for me." (He shot 75 to finish T-25.)
Allen knows the competitive window is closing for him. Hale Irwin being the biggest exception to the rule, most seniors don't make much of a mark in their late-50s and beyond. Because he uses a long putter with an anchored stroke, which will be illegal come 2016, Allen knows the confluence of the ban with the clock won't make things any easier.
"I realize I have a couple of good years left," Allen said. "No. 1, the [not being able to anchor the] putter is going to hurt me. Right now, I don't think I'm necessarily a much better putter with the long putter than the short putter, but coming down the stretch when it matters, I may not make 'em all, but I don't hit bad putts just 'cause  I'm all nervous. That will happen more with the short putter. And I'll be 57, 58. It's pretty much proven your time is short out here. I want to make it while I can."
For a day, Mike from Arizona was the toast of Florida, that much was certain.