A Round With TIger
Even stars in their field admit hanging with Tiger Woods is different
Jada Pinkett-Smith, Dwyane Wade and David Spade reflect on their experience learning from one of the greatest athletes in the history of sport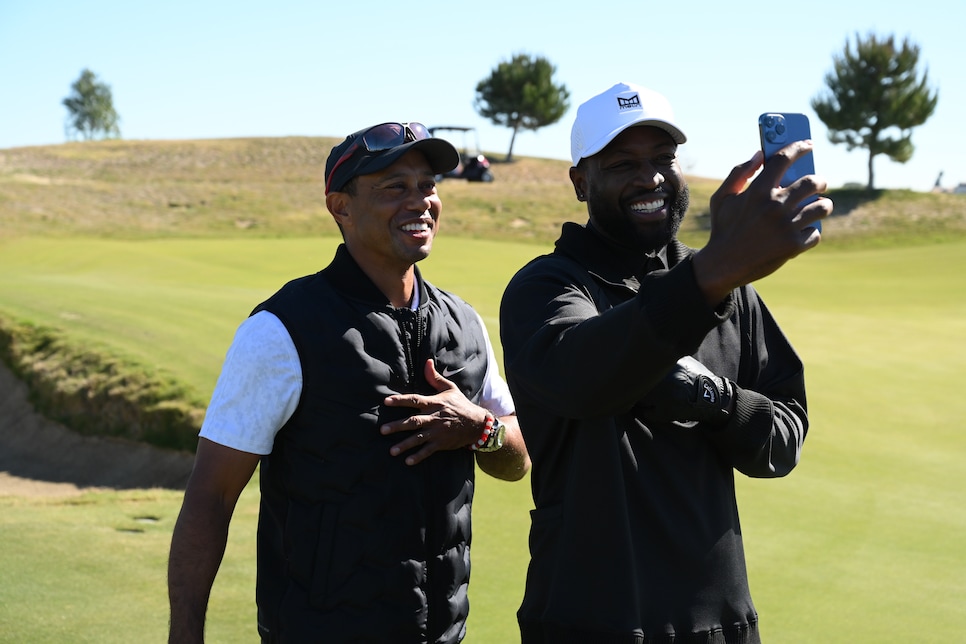 Celebrities aren't often starstruck themselves. Playing a round of golf with Tiger Woods, however, will do the trick.
In the fourth and final episode of A Round With Tiger: Celebrity Playing Lessons, a behind-the-scenes look at the production at Rolling Hills Country Club, the three stars who Woods gave playing lessons to—Jada Pinkett-Smith, Dwyane Wade and David Spade—reflect on their experience hanging out with one of the greatest athletes in the history of sport.
"When I say this is a dream come true, believe it," says Pinkett-Smith. "I'm not just blowing smoke up your ass. That's real talk."
Wade said Woods is the reason he picked up a golf club in the first place. "Having an opportunity to come out and play with him, talk to him, get to know the man, ask him questions about his life, his family, his kids, to see what makes him smile," Wade says. "Dogs, I didn't know that he loved dogs the way he did. To be out here on the course with the guy who I started playing golf because—but to be able to talk to him outside of that was great."
Spade, predictably, didn't take anything too seriously.
"I just was like, please don't suck today. Even though it might've been better because he'd could've given me more lessons. But I also didn't wanna hassle him for that—I'm like, he's so bored, I just want to go out and screw around with him."
Hollywood director Peter Berg, who directed the shoot, provides insight into the filmmaking process throughout the episode, which can be seen here in its entirety.