The Loop
A quick walk through the Jack Nicklaus room at the USGA Museum
Wednesday was the official opening and dedication of the Jack Nicklaus Room at the USGA Museum in Far Hills, NJ. For the people who go to these sorts of things, the experience is always the same: You can't walk 10 feet without bumping into someone you know, or are supposed to know, wearing his blue blazer. If you know the face but not the name, you buy some time by asking if they've been playing much golf lately. And if it's 85 and humid, like it was yesterday, brace yourself for the answer.
Regrettably, I spent only 15 minutes in the new room, which at 1,200 square feet is surprisingly intimate and houses just 82 artifacts. It's a lean version of the sprawling Jack Nicklaus Museum in Columbus, Ohio, which loaned items for the exhibit and will continue to rotate more. Several short videos and an interactive course-design feature pack additional layers of depth, but the impression is that the main concern of the curators was accessibility. The placards for each object are succinct and written in the first-person voice of Jack.
"[The USGA] did such an efficient job of not being overbearing with a big room," Nicklaus said. "They've put it tastefully in a place where it's not going to get lost, where you can see it very quickly. There are three people that come to these rooms — streakers, strollers and scholars.  Streakers spend about a half an hour and they're done with it. Strollers spend a couple hours and get a lot of information. A scholar could spend all day, or more…I think that's what they've tried to accomplish."
Someday soon, I'd like to return on at least the level of a stroller. But to offer at least a taste from my manic visit...
BEN SAYERS PUTTER USED BY JACK NICKLAUS
Easy to forget that Jack Nicklaus actually used a hickory shafted putter. With it, he holed what he's said is the most important putt of his career; the final putt in the final match to defeat Charlie Coe in the 1959 U.S. Amateur.
Tie case? You mean there's a better traveling method than crumpling it in the breast pocket so you don't forget? Just another reason the rest of us don't have green jackets.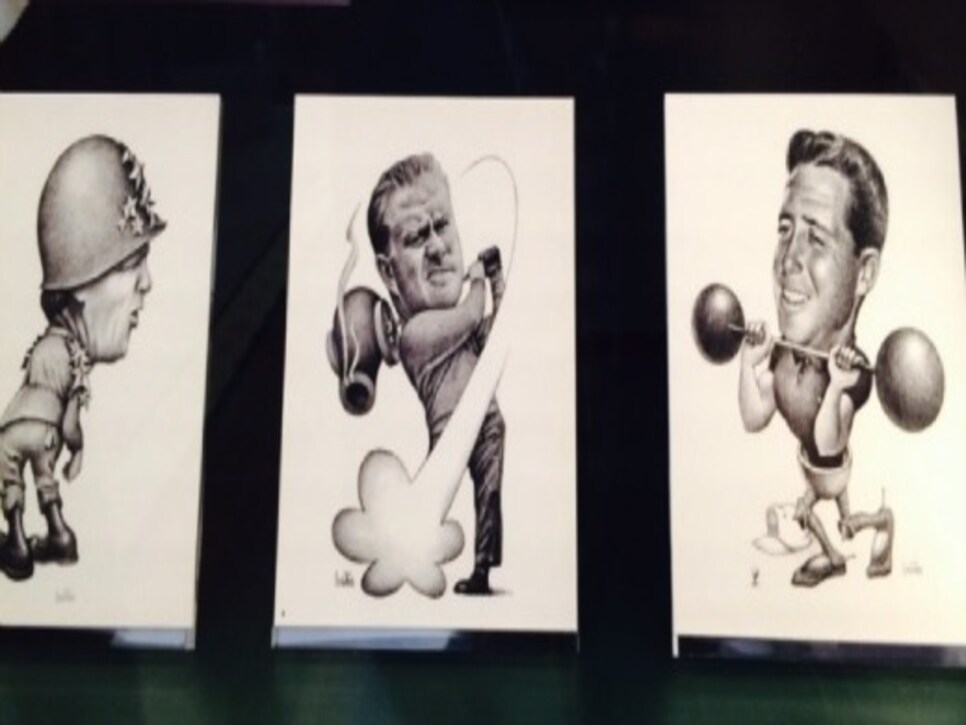 FIRST PAYCHECK, 1962 LOS ANGELES OPEN
"Though I was happy to have made the cut in my first tournament as a professional, my official prize winnings represented one-third of last-place money."
Tiger Woods' professional debut wasn't much stronger. He finished T-60 at the 1996 Greater Milwaukee Open but did bring home $2,544.
Will there ever be a Tiger Woods wing at Far Hills? Already, Tiger's nine USGA championships eclipse Jack's eight, and Big Cat hasn't even had a chance at any U.S. Senior Opens. But more than trophies, yesterday's dedication was to Jack Nicklaus' character, as a family man and ambassador for the game. The reputations of the four other golfers with dedicated rooms — Bob Jones, Ben Hogan, Mickey Wright and Arnold Palmer - are as impeccable.