The Loop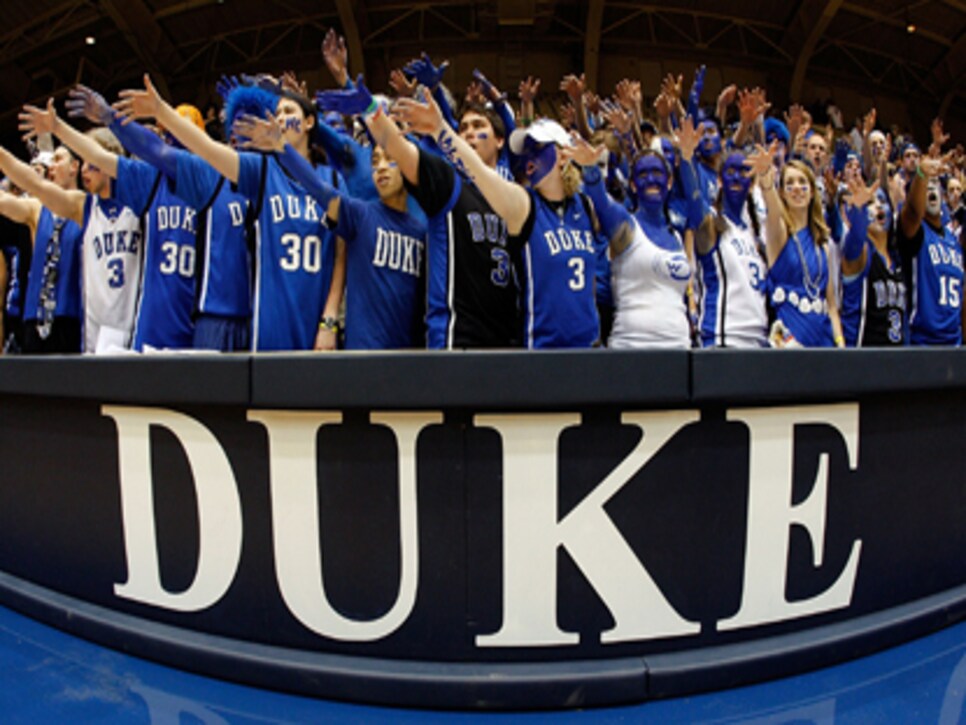 From the title drenched rafters there's a voice. "Starting at power forward, the six foot-nine senior, Tyler Hansbrough." And this revved up and randy crowd of over 9,000 gives it right back, "Tyler Hansbrough--YOU SUCK!"
Here we go. This is my introduction to the best home court advantage in sports. A collective force of face-painted intensity, fresh (or not) from five weeks of sleeping in tents for a chance at tickets--the Cameron Crazies are ready to jump, chant, scream, and relentlessly harass the other team. It's U2 in your sold-out living room. It's louder than loud and the action is in your lap.
Literally, I'm that close. I'm four rows off the floor and seated behind a basket. Not the side where the infamous Speedo Man sits, that section is for graduate school students. I was on the other side, next to the band. It's a Duke/UNC basketball game in Cameron Indoor Stadium on Coach K Court. I know it's somewhere in my top-5 sporting events (and they haven't had the opening tip yet).
I was in town for a complete and utter boondoggle (definition of boondoggle: "an unnecessary activity"). We would play Pinehurst No. 4 and Pinehurst No. 2 with the basketball game sandwiched between the rounds of golf. I was a guest of a connected Duke alum and I was suffering from that fortunate disease--Thisisreallyhappening? Syndrome. I had all the symptoms: fever, jaw open and locked, communication skills down, a wandering eye and an exaggerated case of internal fist-pumping.
I didn't care who won because I graduated from St. Mary's College in Calif. I just wanted to see triple overtime, but out of respect of my host, I was hoping Duke would win it with a buzzer-beater.
It's a storied past. The first time these two teams met for a battle like this was in 1920. UNC leads the all-time series: 128-97. And when they played on March 4, 2006, it was the most watched college basketball game in ESPN history. So, when people say this is the best rivalry in sports, they can make a great case.
I'm noticing as I get older, very few things in life live up to our expectations. That's why having them can be a dangerous game. Let's just keep the comparisons to golf for a second. Tiger rips through lofty expectations as though he actually has retractable claws. When I went out early for my first time to the grounds of Augusta National on a perfect Wednesday morning back in 1997 to see the sun come up--I cried. Not fall to my knees and cry. But I definitely teared up. And then there's the 16th hole at Cypress. Let me try to write something ridiculous and over-the-top: That tee shot is even heavier than the hype and more gorgeous than glorious. (I had to do it that way because I'm incapable of an appropriate and eloquent explanation of how great it is to play that hole.)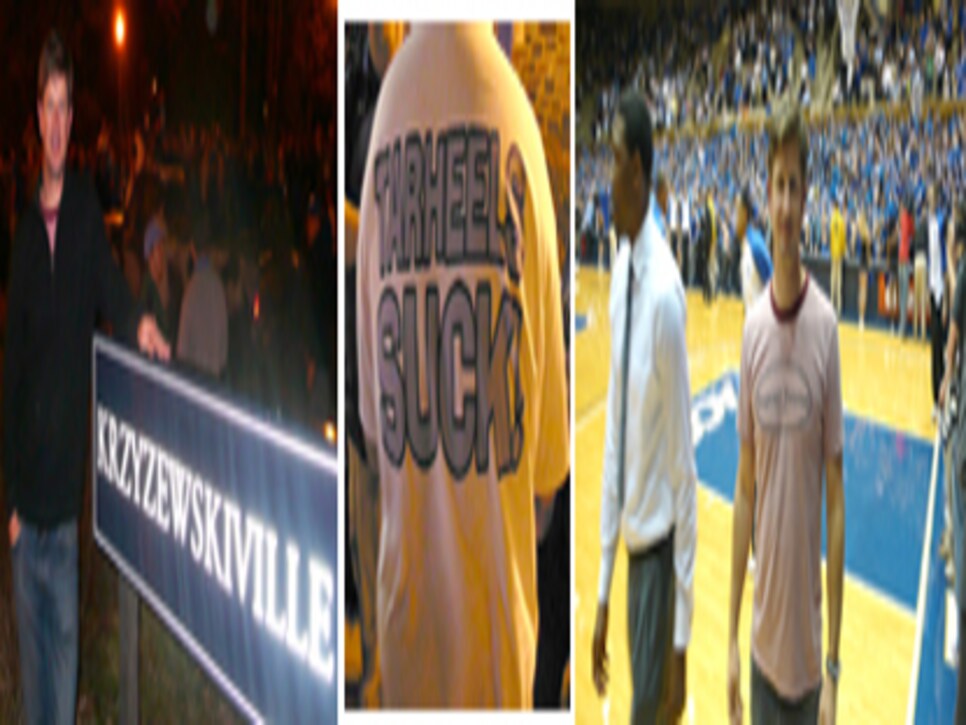 But if I can go back to the game. UNC won the second half by a bigger margin than Duke won the first half, so the series is now 129-97. The finish was far from fantastic and there was no need for even one overtime, but it was about so much more than a final score. In a weird way, a trip like this, to a place like Cameron Indoor Stadium, for a game like Duke/UNC, with rounds at Pinehurst No. 4 and No. 2, it's humbling. The fist-pumping turns into skin-pinching and then to a reflective state of appreciation. And that arc of emotions kept repeating throughout the three days I was there and long after I got home.
And then, finally, some clarity. My new top-5 sporting events:
No. 5: The 2003 Super Bowl (Buccaneers against the Raiders). I was carrying cameras for Sports Illustrated Photographer, Walter Iooss Jr. There was the combination of being the field of a Super Bowl, working for Walter in my favorite city of San Diego. Once Walter went into the locker room after the game I wandered around the field and immersed myself in the steady rain of confetti.
No. 4: The 1997 Ryder Cup at Valderrama in Spain. I live to be live at Ryder Cups. For this one, my first, I was on the 17th green when Tiger putted his ball off the green and into the water. I'll also never forget Fred Couples taking down Ian Woosnam in the first match of singles on Sunday. Couples beat him 8 and 7 and I think Woosnam was 1-under par when they shook hands on the 11th hole. Couples had five birdies and an eagle.
No. 3: The 2009 Duke/UNC basketball game at Cameron Indoor Stadium. The final score was: UNC 101, Duke 87. I saw Krzyzewskiville, talked to the "Crazy Towel Guy" and got to stand on the court. The atmosphere was electric but it was also hot. I'm told, but not can't confirm, Coach K shuts the Cameron doors during the game causing the temperature to rise and further improve the home-court advantage. Crafty, Coack K. And sweaty.
No. 2: The 2004 Masters. The back-nine barrage of birdies and eagles between Ernie Els and Phil Mickelson put the crowd, including me, into a frenzy. The manual scoreboards couldn't keep up with what was taking place at Augusta National. Els only lost by one stroke but some have argued he has never been the same since.
No. 1: The 1996 Kentucky Derby. Grindstone gets Cavonier by a strap on the bridle. I was on the inside rail firing remote cameras for Sports Illustrated. On the flight back to New York I interviewed winning jockey Jerry Bailey, who just happened to be on my plane. I turned over my notes to the writer of the main story, Bill Nack, who's one of my favorites. Nack used some quotes I gave him in the lead paragraph of his story. This was when I knew I was chasing the right career--A career of getting paid to follow sports.
This is a short video tour of what I saw on February 11, inside and outside Cameron Indoor Stadium: (To watch a better version of the video, click here and then click on "watch in high quality" in the bottom-right corner of the screen.)
(Photograph by Getty Images)