The Loop
A pairing built to last...for at least another day
SAN FRANCISCO -- The pairing was announced in a conference room on Wednesday afternoon, took its first steps under cloud cover on Thursday, and continued under flawless skies on Friday.
By that measure, the successful tandem of Tiger Woods and Steve Stricker is only a few days old. But by Stricker's count, it's actually older than that.
"It started back at (Royal Montreal in 2007)," Stricker said after he and Woods dismantled Geoff Ogilvy and Angel Cabrera 5 and 3 on Friday. "We didn't play together and I said to him, 'You dodged me.' Then came the Ryder Cup and I said, 'You faked a knee injury so we wouldn't have to play together in the Ryder Cup.'"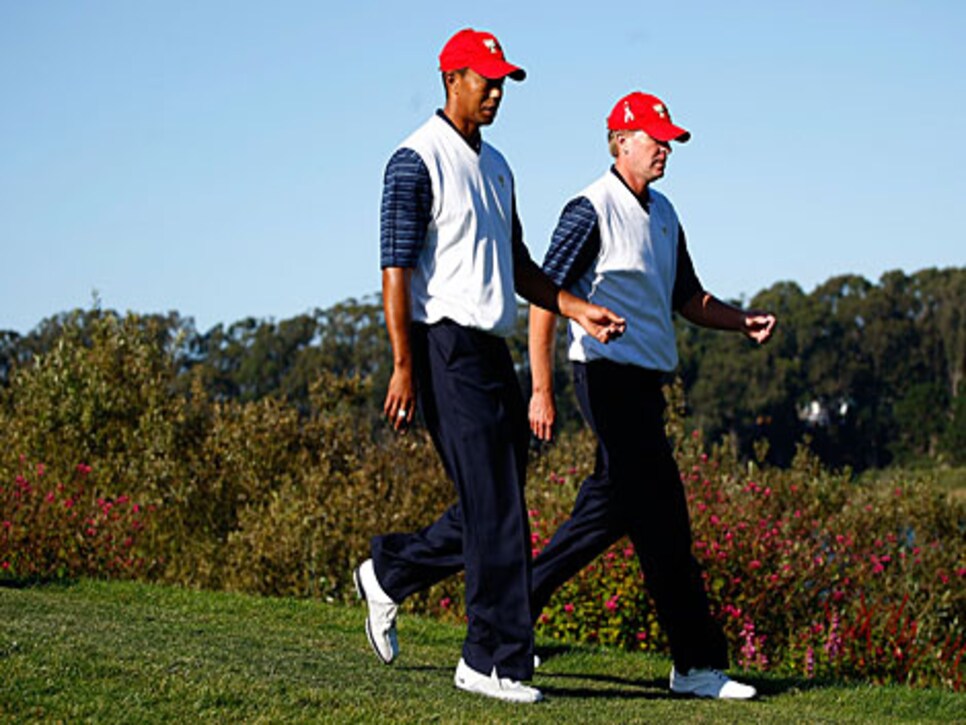 Finally came the end of this season. The two were paired together throughout the FedEx Cup playoffs, and Stricker made sure to start up the conversation again. By the end of the first event at Liberty National Golf Club, both players went to U.S. captain Fred Couples and said they wanted to be paired together at Harding Park.
If the first two days have been any indication -- with neither of their matches needing to go beyond the 15th hole -- the two should never be apart again. Of course, when it comes to Woods, that's been said before. On a few occasions, the world No. 1 has enjoyed combinations that have spanned several Cups -- most recently Jim Furyk, and before that, Davis Love III and Mark O'Meara. But along the way there have been plenty of short-lived flings.
Steve Pate. John Huston. David Duval. Notah Begay. Chris Riley. Paul Azinger. Mark Calcavecchia. Tom Lehman. If you forgot that Woods had been paired with any of those players at one point in his career, that's exacly the point.
Stricker looks to be different. On the heels of a career season that saw him win three times in 2009, Stricker was still quick to acknowledge it was "Woods' world" after his win in the Deutsche Bank Championship in September. Humble enough to defer to Woods, but with enough game to back him up, he's at least proven it's a world he's capable of hanging in a little while longer.
"I don't know what it is," Stricker said. "It's hard to be in his group. I think there have been some guys over the years who have played well with him -- Jim Furyk comes to mind. But beyond that, I don't know what it is. I feel very comfortable with the guy. We've played a lot of golf together lately and it's fun to be out there with him."
*(Photo credit: Scott Halleran/Getty Images)