Takeaways
A Monday qualifier co-leads Rocket Mortgage, Ludvig Aberg continues to shine and Justin Thomas' woes resume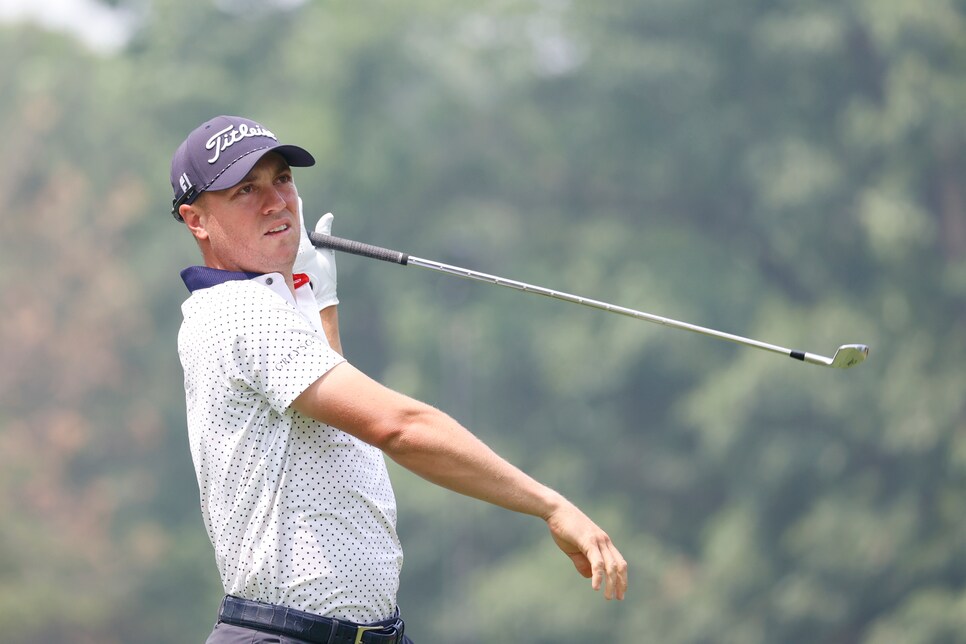 Justin Thomas plays his tee shot on the ninth hole during the first round of the Rocket Mortgage Classic at the Detroit Golf Club.
Icon Sportswire
First-round leads generally mean little, but specifically can be surprisingly newsworthy, as was the case with Peter Kuest on Thursday. Peter who?
Kuest, 25, was a Monday qualifier for the Rocket Mortgage Classic and as such is among the least likely players in the field to make news on Thursday. Yet he had six 3s and two 2s on his scorecard of eight-under-par 64 at Detroit Golf Club to lead the morning wave of players. At the end of play, he was tied for the lead with Taylor Moore.
He was asked what he would be doing had he failed to Monday qualify. "Probably finishing back in Utah," he said. "I probably would have gone Tuesday, probably in the afternoon today after practice. I'd probably be finishing right now."
Kuest, who played college golf at BYU, has some Korn Ferry Tour status, though he has been unable to get in a tournament on that tour. So he's been turning his focus to the PGA Tour and Monday qualifying. "I'll definitely play more PGA Tour Mondays," he said.
This last Monday, he played his way into a playoff—four players for three spots—but got in when one of the players, Hayden Springer, was found to have 15 clubs in his bag and was disqualified.
This is Kuest's fourth PGA Tour start this season. He made the cut in two of his previous three starts, including a tie for 14th at the AT&T Byron Nelson, a tournament to which he received a sponsor's exemption.
"It gave me a lot of confidence," he said. "The tournament committee gave me a spot there so that was nice, really grateful for that. To go play well, it was a bonus. It solidifies that I can play out here. Now it's just doing it week in and week out."
Here are other takeaways from the first round of the Rocket Mortgage Classic.
Ludvig Aberg continues to warrant attention
Ludvig Aberg watches his shot from the 17th tee during the first round of the Rocket Mortgage Classic at Detroit Golf Club.
Raj Mehta
Sweden's Ludvig Aberg is only weeks removed from college golf at Texas Tech yet the quality of his golf continues to prevent the spotlight from venturing too far away from him.
That he is a player to watch again was reinforced in the first round of the Rocket Mortgage Classic. He hit all 14 fairways and 17 of 18 greens in regulation, shooting a seven-under 65.
Aberg finished first in the PGA Tour University, earning him a full PGA Tour exemption through the 2024 season. He posted a T-25 and a T-24 in his first two starts.
"I've been fortunate enough to play a few of these events before so I've been exposed to this a little bit, but I think just going back-to-back weeks is a little bit different from what I've done before," he said. "It's just going to take a little time. I think being OK with being a little bit uncomfortable at times is going to be key. All in all, it's super fun. It's so much fun to play these events and I'm looking forward to playing a lot more."
Justin Thomas' woes continue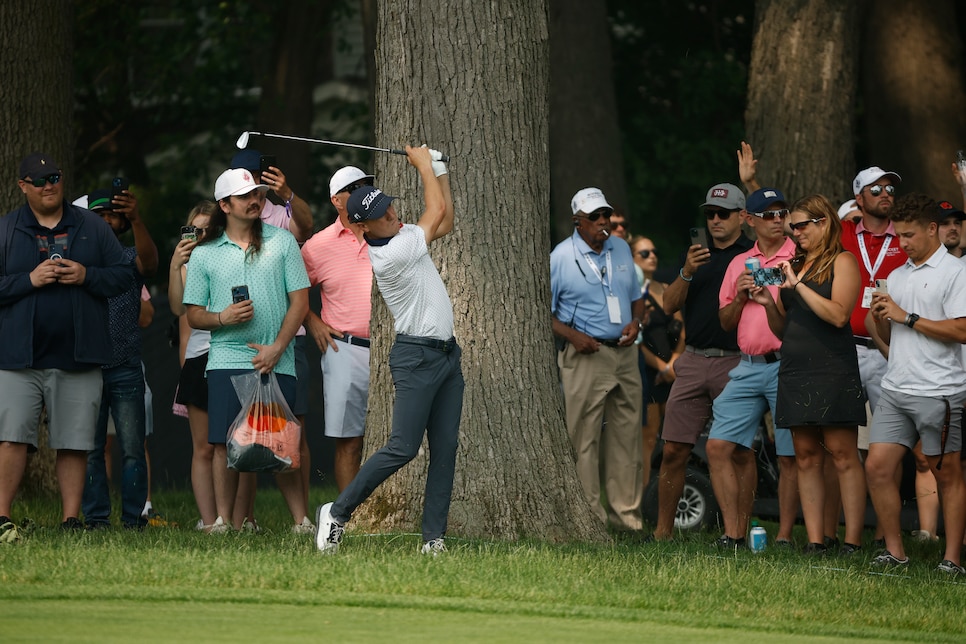 Justin Thomas plays his second shot on the 10th hole during the first round of the Rocket Mortgage Classic.
Cliff Hawkins
The season has been an anomaly in Justin Thomas' career, which otherwise is a Hall of Fame one in progress, featuring 15 victories and two majors, all before he turned 30 in April. He has won at least once every year since his first victory in 2015, yet he has none this year, and is 66th in FedEx Cup points.
His World Ranking is still a respectable 17th, up from 18th the week before, the lowest it had been since the first week of 2017, when he was ranked 22nd.
A tie for ninth at the Travelers Championship last week provided a glimmer of hope that was erased by Thomas' first-round score of four-over-par 76, placing him tied for 150th in a 156-player field.
On the eve of the tournament, Thomas expressed optimism. "Definitely saw a lot of great signs last week," he said. "I'm just a couple events away from being right there. And a lot of things can happen. The unknown is the fun and bad part about this game, so we'll see where it takes us."
Back to the drawing board was not on his radar.
Taylor Moore shakes slump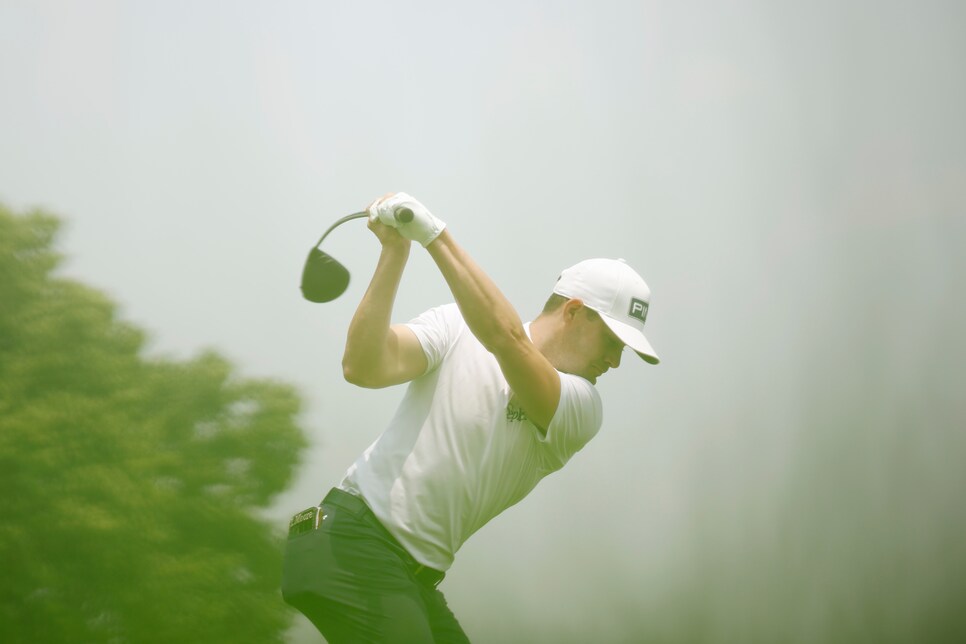 Taylor Moore plays his shot from the fourth tee during the first round of the Rocket Mortgage Classic at Detroit Golf Club.
Cliff Hawkins
Taylor Moore has had a strong year that includes a victory in the Valspar Championship in March. Yet he came into the Rocket Mortgage Classic in a month-long slump. He tied for 72nd in the PGA Championship, then missed three straight cuts.
But in the opening round on Thursday, Moore, 29, posted a bogey-free 64 to claim a share of the lead with Kuest. Funny game, this golf.
"With the current state of my game I've kind of been stuck in neutral, so this has been really good for me to see," Moore said. "I felt like I've been really, really close and obviously was just stoked to see some putts go in and post a good number."