The Loop
A modest proposal for the Ryder Cup: Add allies
Enough of the weeping and gnashing over this Ryder Cup.
It's too simple to say it's all Tom Watson's fault, and I hate to tell you, but based on his record, Phil Mickelson wouldn't have saved the day had he played Saturday. It's very American to point fingers, but enough already. We lost.
The one smart thing that's been said this week is that we need to learn how the European side got so good at this.
Pondering that question has led me, after intense research, to the following modest proposal. Please consider it.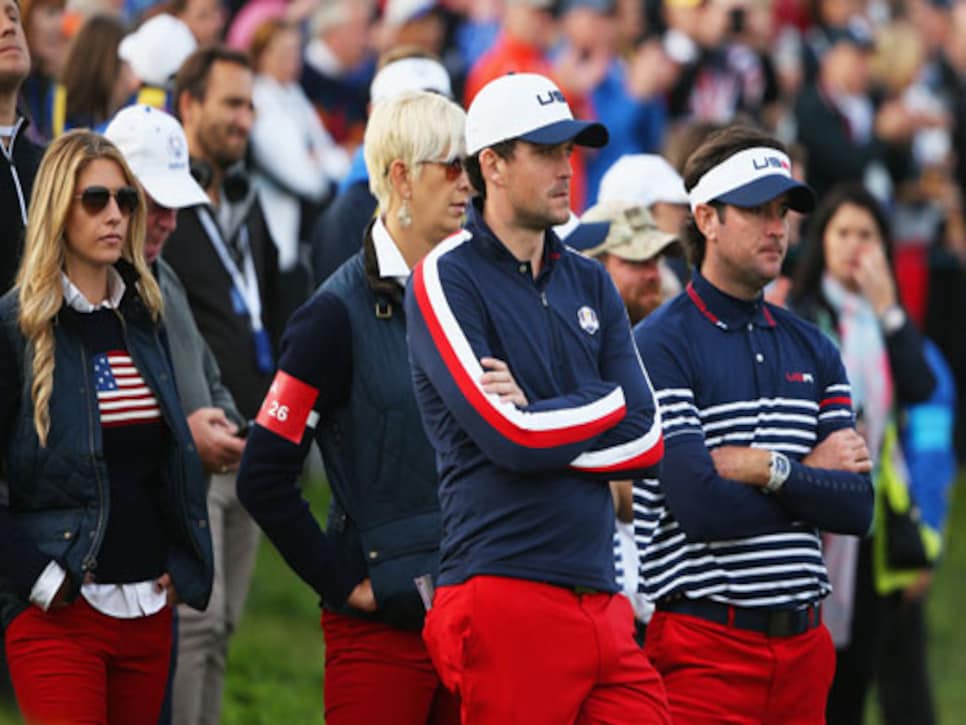 Let me take you back to 1977. The U.S. side had just won its fourth consecutive Cup. In 1969 we'd tied, retaining the Cup because we had also won the five previous. In 1957 the British side won. And prior to that, we'd won seven straight, back to 1935.
So from 1935 to 1977, 18 Ryder Cups, our record was 16-1-1. And we think losing eight of 10 is a big deal. Imagine how the other side, first called Great Britain, then Great Britain and Ireland, was feeling about playing in another dumb, stupid Ryder Cup. It was like Akron marching into South Bend every two years. Pow!
But the land of the Light Brigade did not give up easily. They did not start crying or quit trying or pouted about their missing pods.
In 1979, with a kid named Seve Ballesteros, who, at 19, had finished second in the 1976 Open Championship and who earlier that year had won it, they became Europe. We still thumped them, 17-11, but the change injected new life into the competition. It added the Spaniards, who in the person of Ballesteros, would eventually alter the competitive balance completely.
And it was partly our idea. Jack Nicklaus had sent a letter to the British PGA after the 1977 matches saying that if the Ryder Cup was "to continue to enjoy its prestige, it was vital to widen the selection procedure by bringing in non-British players to the British team." Which they did, replacing the British and Irish flag with one they got presumably from clipart.
But it worked. And yet such thing never occurs to us. Why is it, in any international competition, we must stand alone? Why is it always US against the world?
So here's the idea: As GB&I did, we add allies, players from Canada and South America, and become -- ta-da -- The Americas.
1. Political: We join the world in realizing it's futile to think we can go it alone -- a geopolitical lesson as well as a sporting one.
2. Diversity: It's the ultimate "game-growing" move. We talk endlessly about expanding golf's reach, and the Tour has made positive moves to encourage and include Hispanics -- the Canadians needing no help in this department -- but we still hold ourselves apart and above. This would prove we're serious. Following on a South American Olympic Games that included golf, we'd say, to the growing Hispanic population and market, we want you on our side. It would be the ultimate welcome sign. And think of how they'd want to prove they belong.
3. Cultural: It would bring the elements of two fervent, passionate sporting cultures to our side, which has begun to approach the Ryder Cup as if it were an SAT test: The French Canadian hockey culture and the football culture (which the Euros seem to feed on) of South America.
4. Grit: Golf in the United States is, in so many ways, the cushiest of sports, more "country club" than ever, and the money that's thrown at our top stars makes them only softer. But add the ex-caddies of Canada and South America, where that's still a working class path to the game, and you add the grit of guys like Angel Cabrera. Notice I didn't say we'd necessarily add players higher on the world ranking. It wasn't just Seve's golfing ability that changed the European side. It was his soul. "You can't teach passion," says Lee Trevino, an ex-caddy with a 17-7-6 Ryder Cup record. "You can teach everything else."
5. "Optics": Talk about improving America's image! We would go from being the jingoistic, individualistic, "America Above All", side to one that's closer to what we really are: a polyglot mix of peoples and communities that make us strong. This is not surrender. The fact that we resist this idea is at the root of our challenges in team competition.
If you've gone this far, you're saying, 'Yeah, but what about the Presidents Cup?' Don't worry about the International side in the Presidents Cup. It's got Australia and all of Asia, from whence, I suspect, we'll be witnessing a flood of talent coming our way. If anyone is going to stand alone in the future, it might be the Chinese.
While we're at it, let's alter the schedule of international team competition this way: The Americas play the Euros, the winners play the Far East, and so on. . .