The Loop
A maiden major title has Jason Dufner hungry for more
JERSEY CITY, N.J. -- In Jason Dufner's theory of the PGA Tour, the competitive weather is seldom clear.
"I call it one percent or two percent sunshine," he says, "and the rest of the time it's raining out here."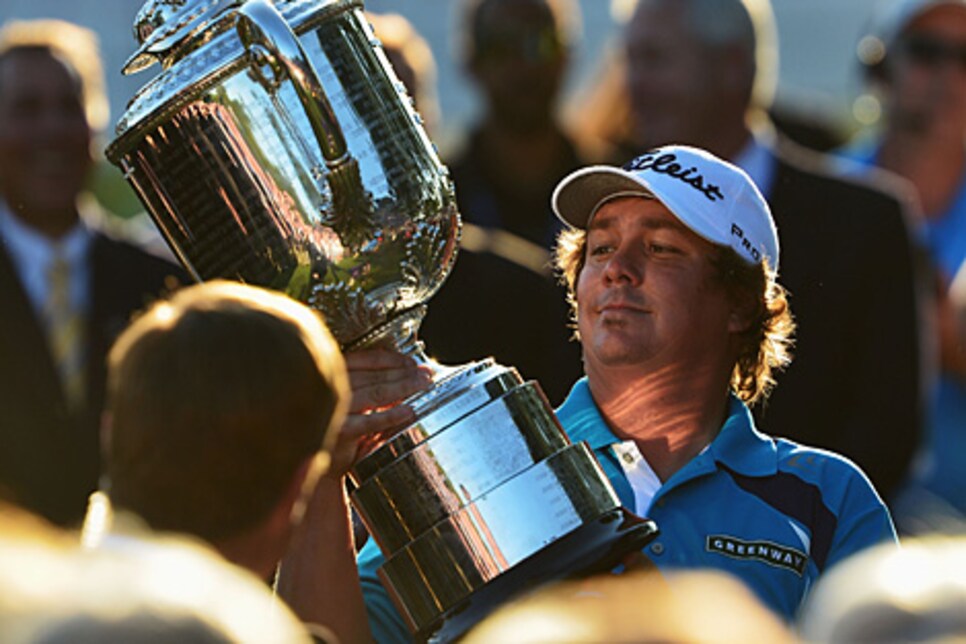 Dufner goes meteorological to keep his job in perspective. Most golfers rarely win. A bad week might not be blue skies, but it can't be taken as a funnel cloud either.
"You can get down out here with how you play and [you] can have some low times, he said. "Then you start looking at other guys and realizing there are low points for everybody."
The lows make the highs all the more special, and Dufner is coming off the best tournament of his golf life -- the 36-year-old's impressive victory in the PGA Championship at Oak Hill CC. After a week off at home in Auburn, Ala., he returns to action Thursday at Liberty National GC in the Barclays, the first event of the FedEx Cup Playoffs, a first-time major champion and new pet owner but, he says, as the same 'ol Duf.
"There's been some demand for my time with media and we have gotten some opportunities for some tournaments after the Playoffs and stuff like that," Dufner said, "[but] as far as me personally, nothing's changed. I still took the trash out on Tuesday morning. We got a new puppy so I was up at 3 in the morning every night taking him out to the bathroom, and [I'm] still going to my favorite breakfast spot in town."
Dufner had coincidentally changed his cellphone number prior to the PGA, but congratulations of all stripes have gotten through, including from former fellow Auburn athletes Charles Barkley and Bo Jackson. When Dufner arrived at Liberty National Tuesday, there was a new wave of well wishers.
"When I came out yesterday, a lot of people that I had not seen were congratulatory, and people seemed genuinely happy for me I guess," Dufner said.
The low-key Dufner walked into the media interview room at the Barclays Wednesday morning carrying a backpack -- "I've got all my money in there," he joked afterward -- but not appearing weighed down by his fresh achievement. He is the 133rd man with a single professional major championship (77 others have won two or more), but what occurred in upstate New York has him interested in becoming part of the latter camp, among other things.
"I think winning one has made me a little hungrier to be competitive, to win more events, more majors, be part of the Ryder Cup team, part of the Presidents Cup team," Dufner said. "I'm pretty good at thinking ahead and moving forward. Maybe in this case, I haven't enjoyed what I did a couple of weeks ago as much as maybe some other people would, which I'm hoping to do down the road. But I'm so focused on what's next."
What might the long-range forecast be for Dufner's game the rest of the year and beyond?
It is a big deal to win a major. "Majors are hyped up," said Bill Haas, who is still looking for one. "Over the years they have become a big deal and a status measure among us pros -- you know, 'He's won a major, he's next level.' I do think that's warranted. I do think they are that much harder to win."
The test for Dufner, who had only two previous PGA Tour victories before breaking through at Oak Hill, will be to build on his accomplishment in a positive way without unnecessary complications.
"I made the mistake of putting added pressure on myself to kind of live up to it," 1987 Masters champion Larry Mize said a quarter century after winning his lone major title. "I thought, 'OK, you win this major and you're thinking you have to take it to the next step.' But what's the next step? You just won a major You don't need to make any changes."
As two-time major champion Curtis Strange once said, "You're not a different player the Monday after [winning a major] than you were the Monday before."
Dufner certainly doesn't need to be a different ball-striker after Oak Hill. His challenge remains on the greens, where, as he showed at the PGA, he can be yippy.
"Putting is something that I definitely need to get better at," said Dufner, who starts the Playoffs ranked 162nd on tour in strokes gained/putting. "Putting has been tough for me this year. Last year [80th] was good. Maybe the PGA win will give me a lot of confidence going forward with it and free me up a little bit."
As his encore begins, Dufner will find out soon enough.