The Loop
A good script and a good show, starring Bubba
It is a tournament and a course that deserve a good story line, the best that Hollywood can deliver, but as its producers and directors there know too well, the blockbuster is elusive. "Ishtar" still stings.
So it is for the Northern Trust Open on the revered Riviera Country Club, steps from Sunset Blvd., on a sidestreet known as Hogan's Alley, where Ben Hogan himself put his stamp on the place with three victories there in two years, including the '48 U.S. Open.
The best players don't always show up anymore, and when they do they don't often win. Tiger Woods quit coming after the 2006 tournament, victory having eluded him in what once was considered his hometown tournament, the first he ever played on the PGA Tour as a 16-year-old amateur. Even Phil Mickelson, twice a winner there, declined to play this year.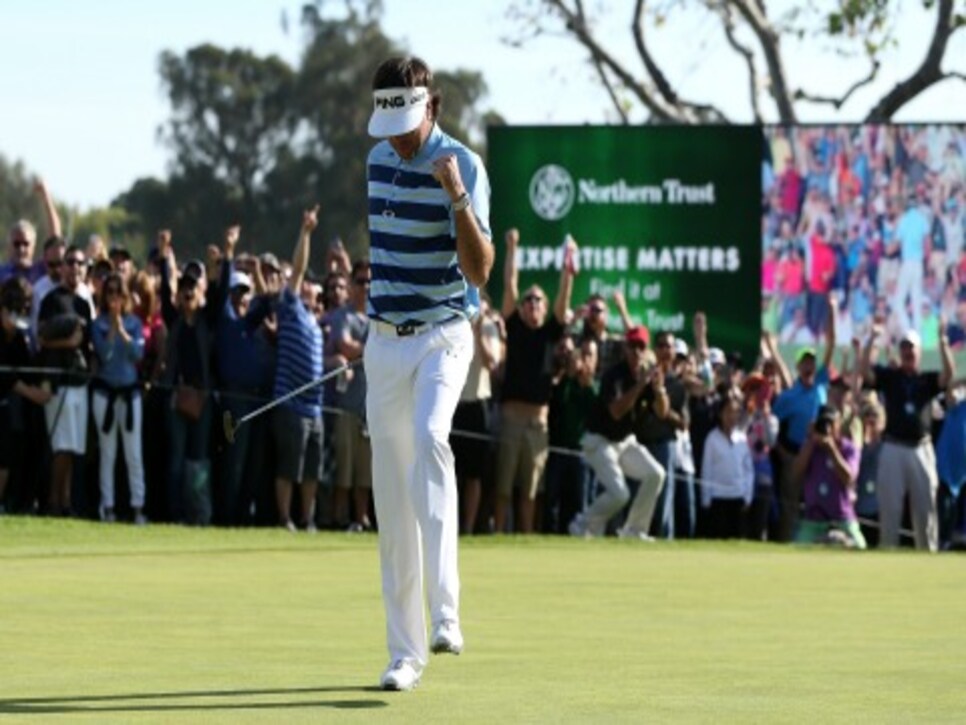 The good news was that, on a quintessentially Southern California summer weekend imposing on winter, the Northern Trust Open was not "Ishtar," one of Hollywood's most infamous bombs.
Far from it, the final round on Sunday was both entertaining and dramatic and was won by a man who has stumbled at times in demonstrating the appropriate respect for history and landmarks, but did not do so here.
"I've never played very good here, but I love it," Bubba Watson said Saturday. "I love the layout, the old-school layout. I love the history behind it. I love that they haven't tinkered with it too much. I just don't like when people start changing stuff. This place has not changed much. It's stayed pretty much true to itself."
Watson, 35, won for the fifth time, but the victory was his first since his triumph at the Masters in 2012. In the interim, it hasn't been easy, but it often isn't for a player who came from Bagdad, Fla., far removed from the tour player assembly line.
Bubba doesn't always say or do the right thing -- admonishing his caddie for his own errant shots, offending the French (he called the Eiffel Tower "the big tower" and the Arc de Triomphe "the arch") -- but he at least he seems to regret it later.
On Sunday, he spoke of how blessed he is, for his family, for the opportunity to play the PGA Tour. However one perceives him -- and impressions vary, many unfavorable -- he's good for the game, a home-run hitter with an unorthodox approach at the plate.
When he won the Masters nearly two years ago, more was expected of him and he delivered less, until this weekend at Riviera. Watson closed with consecutive 64s to wrest the victory from Dustin Johnson, who finished second for the second week in a row.
Watson, too, helped deliver the Northern Trust Open from apathy, the bane of this company town. All in all, good script, good show.