News
A future star emerges in Asia, Cristie Kerr keeps turning back the clock and an update from the NoCal wildfires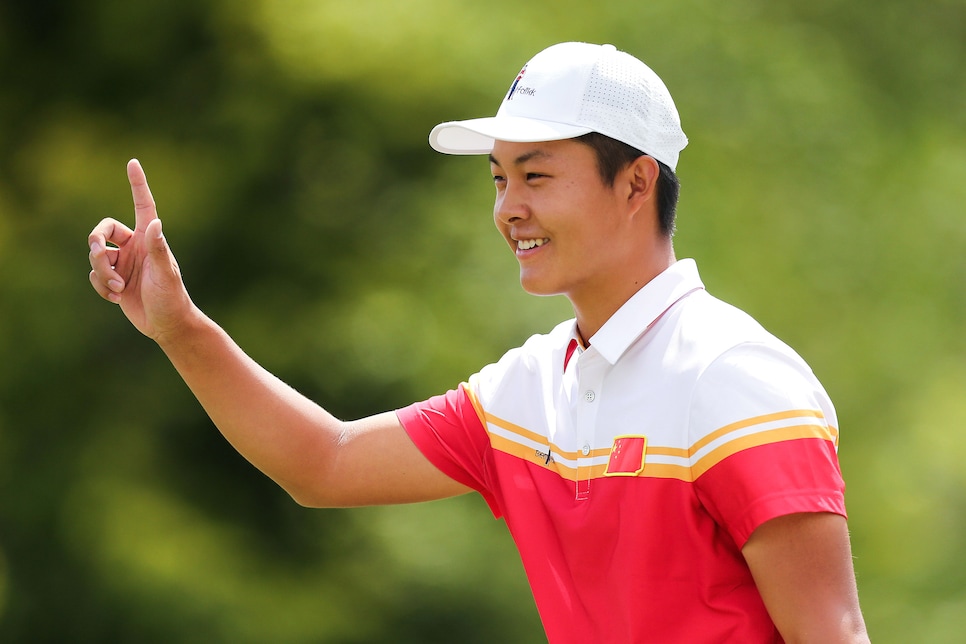 Hagen Hopkins/Getty Images
Boyd Summerhays is a good judge of raw talent. As swing coach for Tony Finau since his rise from the Web.com Tour in 2014, Summerhays was referred to oversee the instruction of a potential game changer from China named Lin Yuxin. With clubhead speed of 122 miles per hour at 16 years old, Lin represented the coming of golf's next generation. Two months ago, after nearly a year of working together, Yuxin posted an Instagram showing a ball speed of 190.8 mph. "Obviously with the game going the way it is, and already teaching a player like Tony, seeing the massive advantage power players have, it made me excited," Summerhays said.
What made Summerhays even more excited was seeing the way Yuxin applied that power over the last two holes of the Asia-Pacific Amateur, finishing birdie-eagle to shoot 65, win the title by three strokes and qualify for the 2018 Masters and Open Championship. While verbally committed to USC in 2019, there's a good chance Lin will turn pro before then. He's already a young man who plays a full schedule of pro and amateur events, travels around with his own Trackman, and at 6-foot-1, 175 pounds, is built like a left-handed Brooks Koepka. Seeing how developed his lower body is, Summerhays was surprised to hear that Lin doesn't work out. Besides his power what should eventually make Lin such a big hit in professional golf is his mastering of the English language by going to an American school in Beijing starting in the fourth grade. "He speaks perfect English and has a super dry sense of humor," Summerhays said. "He's a to-the-point kind of kid." And with his clubs doing the talking, that point was made in New Zealand.
Cristie Kerr turn back time over the last four weeks by winning on the Ladies European Tour in France last month then claiming her milestone 20th career LPGA victory in Malaysia over the weekend. Kerr celebrated her 40th birthday on Oct. 12, four days after winning the Lacoste Ladies Open de France, and 17 days before winning the Sime Darby LPGA Malaysia on Sunday, 6,500 miles away. Doing all this in her 20th year on tour, going into next month's CME Group Tour Championship ranked fifth in points, was a statement.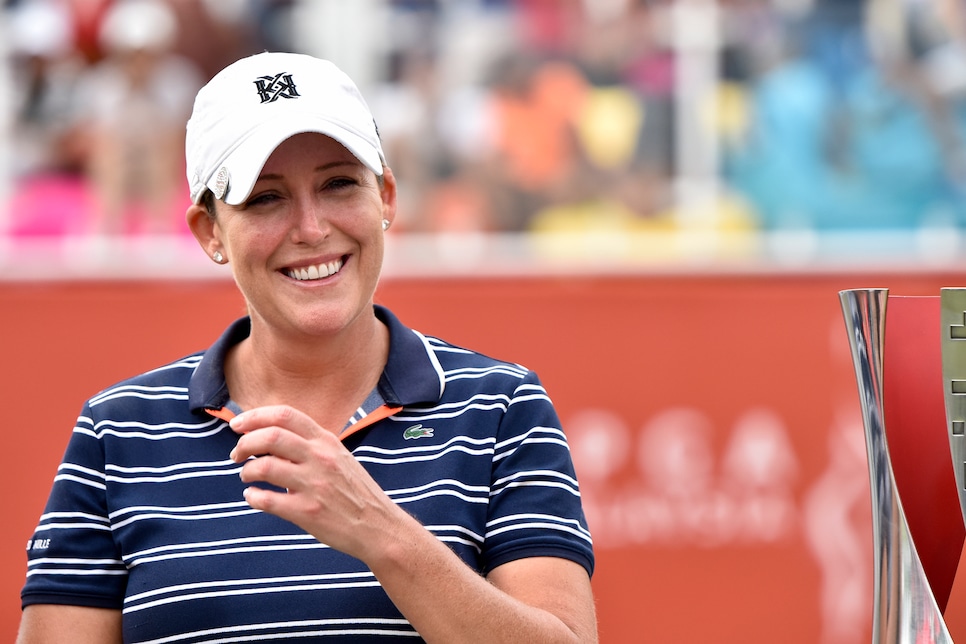 "Forty is the new 30," Kerr told me from her hotel room on Sunday night in Kuala Lumpur, "I've been telling myself that. Why not?" Why not? Because a year ago, coming off complications from knee surgery, Kerr didn't feel so spry and optimistic about her chances of making the World Golf Hall of Fame. But even in the oppressive heat of Asia, she was in the gym three times a week and travels like a personal trainer, bringing along a foam roller and a deep muscle simulator. "Having to rehab after complications from surgery made me want it more, made me more determined, made me challenge myself that my career is not over … that I still have a lot of things to accomplish," Kerr said. When asked if Juli Inkster playing at age 57 was an inspiration, Kerr just laughed. "We just sit around, drink wine and complain how old we are," she said. There were no complaints flying home to Phoenix, even if it was a 34-hour trip. She would be home just in time for Halloween.
Back from Ted Antonopoulos, the head professional at Mayacama Golf Club who I wrote about in this column two weeks ago after losing his home and car in the Northern California wildfires. Antonopoulos was able to visit his neighborhood in Santa Rosa for the first time last week, and there wasn't much remaining. "It was an incinerator that went through there," Antonopoulos said. "The whole neighborhood was unrecognizable. It wasn't just the house. It was everything." Everything except two putter heads, a Buddha head, some Tibetan flags, and a photo of Jerry Garcia. Antonopoulos and wife, Susie, on vacation in San Francisco the night of the fire, were Deadheads. Somehow, inside the charred out trunk of his car were two prized possessions, putters made by Roger Cleveland and Scotty Cameron. "The medal shafts looked to be intact until you picked them up and they just fell apart," Antonopoulos said. The heads will be sent to Cleveland and Cameron in Southern California in hopes that they can be restored. "It could be a hot putter," Antonopoulos said of the Cleveland model used by Ben Crenshaw to win the 1995 Masters. As for his backup, the Cameron, Antonopoulos was thinking that maybe Scotty would refurbish it and "put a little fire stamp on the toe." Mayacama is scheduled to open on Wednesday after sustaining smoke damage to the clubhouse. Ted and Susie have rented a house and will be sharing the Prius they took to celebrate her birthday in the city on Oct. 8.