The Loop
A first for Tom Watson in his 34th Open Championship
SANDWICH, England -- About the only thing Tom Watson hadn't done in 33 previous British Opens was make a hole-in-one.
Friday at Royal St. George's, on the 163-yard sixth hole, the five-time Open champion checked that off his to-do list. "I hit a 4-iron," he said later. "It was into the wind, about 160 yards. Old guys hit 4-irons 160 yards into the wind. The kids are hitting 6-irons."
The "kids" can only hope they age as well.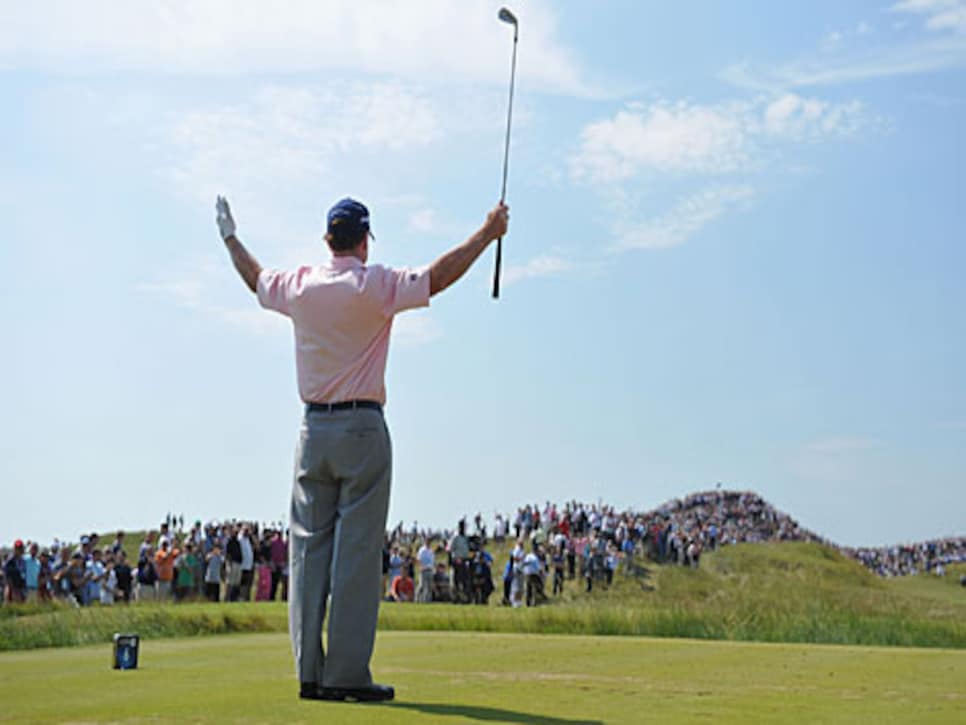 Special people do special things, so when Watson's ball disappeared into the cup on the first hop, it shouldn't have come as much of a surprise. After all, the 61-year-old is only two years removed from almost winning the 2009 British Open at Turnberry in what arguably would have been the greatest victory in sports history. Two months ago Watson won the Senior PGA Championship at Valhalla GC to become the oldest major champion since the inception of the Champions Tour in 1980.
Watson couldn't see his ball go in on No. 6, but he didn't need to. The gallery's response was loud and lasting, spreading across the type of linksland where Watson has felt so at home for three decades. "A one," he said quietly on the tee when he realized what he done.
"You can't see it go in," he said later of the topography. "I just saw it on the replay. It was a slam dunk. If it missed the flag, it would've been 30 feet by. But it was lucky. They're all lucky when they go in. But that's what I was aiming at. "
Before he teed off Friday morning, Watson was watching some old Open highlights on television. He saw footage of Gene Sarazen, then 71, making an ace on No. 8 at Royal Troon, the "Postage Stamp" hole, in the 1973 British Open. "He hit a heck of a shot in there, beautiful swing, a little draw, and maybe that's what inspired me today," Watson said.
It was his 15th hole-in-one, most of them in some form of competition, including four previous ones on the PGA Tour, including an ace on No. 4 at Baltusrol in the 1980 U.S. Open. His best hole-in-one likely is the 3-iron he sank on the long par-3 eighth at Oakmont CC during the 1969 U.S. Amateur that was the highlight of a good week that earned him an exemption into his first Masters the following spring. His most memorable might be his first, when he was 11 or 12, playing alone at Kansas City CC, when he sank his tee shot on the second hole.
Watson played one more hole then hurried into the pro shop to tell someone about his feat, because he was keen to get a commemorative plaque that he had read in an advertisement was available to golfers making an ace with a Dunlop ball. John Cosnotti, an assistant pro, greeted him.
"I said, 'John, I made a hole-in-one, I want to get this plaque,' " Watson recalled Friday afternoon. "So we go look at the advertisement, and John said, 'Tom, we've got a problem. You have to have a witness. You have to have somebody that had been there for the whole round.' My elation went from here to 'Oh, man.' He walked over to the window, looking 400 yards to the second hole and said, 'You know, Tom, I saw that go in.' Put his signature on the scorecard. I still have that plaque with the No. 4 Dunlop on it."
Watson gave his lucky Royal St. George's ball to his wife, Hilary, for safekeeping, while he prepared for another weekend at another British Open after having missed the cut at St. Andrews last summer. At two-over 142 after a 70 - that could have been better if not for three three-putt greens -- Watson was only six strokes off the lead when he finished, with rain and wind in the forecast for Saturday, which is likely to make the old Kent links play mean.
Links golf wasn't something Watson relished the first couple of years he played the Open, even after winning his first in 1975, but he learned to love its mystery and relish its demands, understanding that, over time, a golfers gets some good bounces, like Friday's 1, to go with the ones that make a ball finish under a bunker lip or in some gorse.
"It took me four years to start liking it, liking the way the game is played on a links course," Watson said. "Some people never start, and they never enjoy it. But the course is there. That's what we have to do. We have to play the luck of the bounce. Sometimes the imagination comes into play big-time in links golf. That's the beauty of it. I heard one of the players I played with in a practice round say, 'Links golf, I love it. All we do all year is just play yardage, ball, air, flag, yardage. Here you get the yardage, but then you start thinking, what do you do, how I am going to get it there?' "
The challenge is as invigorating to Watson -- whose miracle effort at Turnberry prompted the Royal & Ancient to give past Open winners an additonal five years if they finished in the top 10 -- as a bracing sea breeze. He was asked how he can still be competitive at his age.
"Well, I guess I refuse to be a ceremonial player," he said. "When that time comes, I'll hang them up. Until this whole body says 'No más.' Until I can't compete, if I'm out there shooting 80 or 78 or 76 all the time. I'm not going to stay around very much if I do that."
For another year, for two days, he has been competitive. "The winner of this golf tournament is going to be around par somewhere," Watson said. "With the weather forecast the next two days, it's going to be difficult. It's a difficult course, but the conditions are going to make it super difficult. If my putting was a little bit better, I'd give myself at least an outside chance, let's put it that way."
Revered in Great Britain, Watson will have plenty of witnesses over the weekend regardless of how he plays.
(Photo: Stuart Franklin/Getty Images)