The Loop
A dozen Donald Trump-golf connections you might have forgotten about
Donald Trump continued to make headlines as a big winner on Super Tuesday. Those results have made him the clear favorite to win the Republican presidential nomination. No matter what your opinion is of The Donald as the leader of the free world, he will be a hot topic in golf this week, too. With the worlds of politics and golf intersecting like never before, we look back at some of Trump's connections to the game that you may have forgotten about.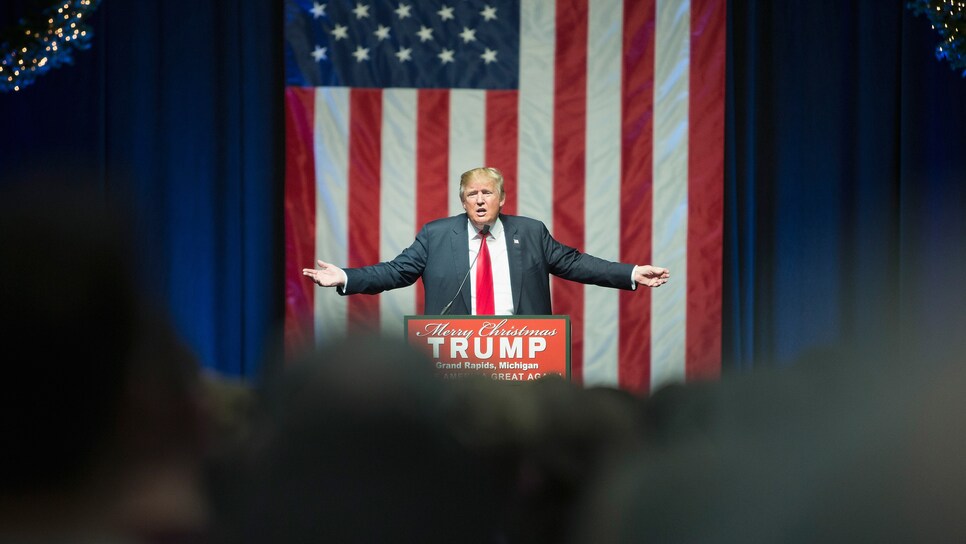 He was a supporter of the LPGA Tour. For eight years beginning in 2001, Trump International Golf Club in West Palm Beach was home for the LPGA Tour's season-ending ADT Championship. The last three of those years, the event drew buzz for awarding a $1 million prize, paving the way for the current CME Group Tour Championship.
He supported golf course construction during a down economy. In recent lean years, Trump has been somewhat of a savior for golf course construction. While many courses closed and planned projects dried up, Trump pushed ahead with renovations and new courses like Trump Ferry Point in New York City, No. 2 on Golf Digest's Best New Courses list in 2015.
His Trump National Doral is the site of this week's WGC-Cadillac Championship. OK, so you probably haven't forgotten that – especially when he likes to make flashy entrances to the tournament via helicopter. Trump is expected to attend the event again this year, although sources say he'll have a lower profile than in previous years. Still, with the Florida primaries March 15, some camera time at Doral can double as a campaign stop.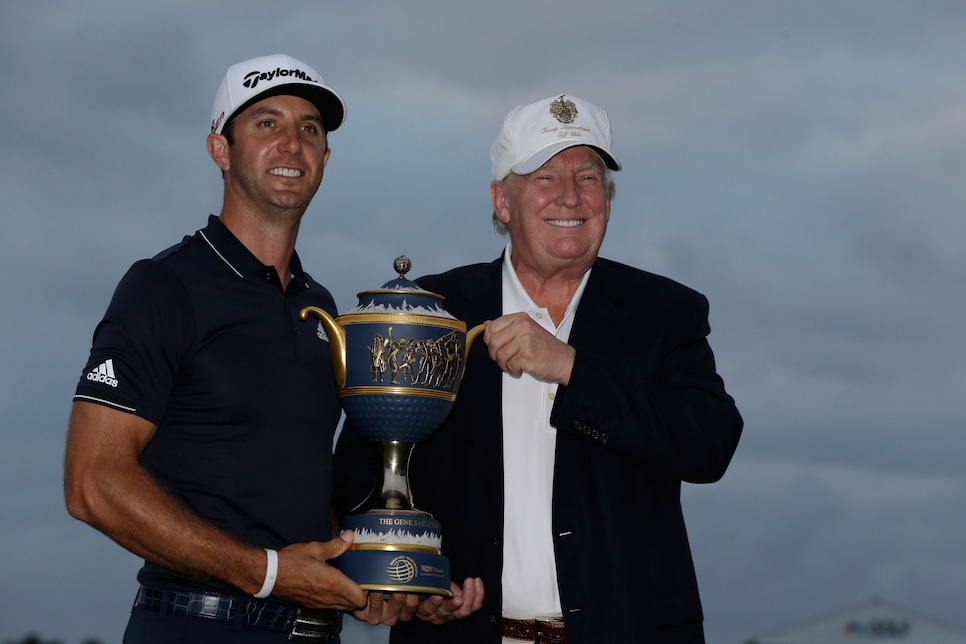 He owns one of Scotland's most famous courses. Trump purchased Turnberry Golf Links in April 2014 and renamed it Trump Turnberry. Of course. At the time, Trump appeared a lock to have one of his courses finally host a major championship with Turnberry being part of the Open Championship rota. But the course has not been awarded a future Open since, and its chances weren't helped after comments Trump made about Muslims during his campaign. "There is no way the R&A will go near the Ayrshire course while Trump is in charge," said Alex Salmond, the Scottish National Party's foreign affairs spokesman. Trump did see it host a women's major, the Women's British Open, in 2015.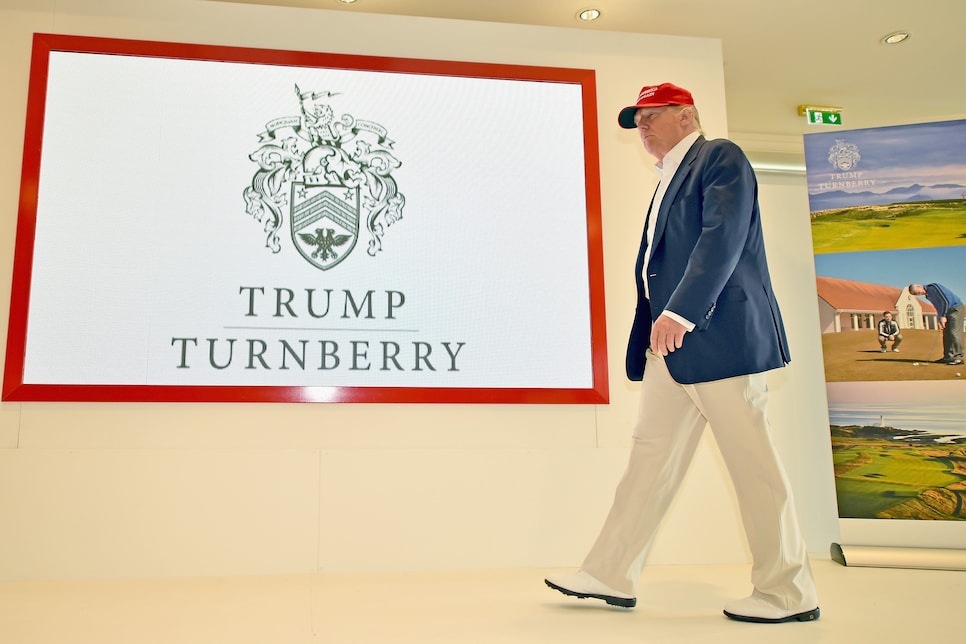 He owns one of Scotland's most controversial courses. Trump International Golf Links has been in a legal battle over local wind turbines since 2013. Essentially, Trump argues they're unsightly and the Scottish government says they're great for the economy. Trump lost this fight in December.
His courses are scheduled to host two majors in 2017. Just not the ones he really wants. Trump National Bedminster is the site of the U.S. Women's Open and Trump National Golf Club in Potomac Falls, Va., will host the Senior PGA Championship. If you're finding it tough to keep track of all the "Trump Nationals," you're not alone.
He owns Trump National Bedminster, site of the 2022 PGA Championship. In May 2014, Trump's New Jersey course was awarded the year's final major, giving the Donald his first men's major. For now. Trump's controversial comments about Mexican immigrants during a campaign speech caused golf's governing bodies to distance themselves from him. The PGA of America already pulled the 2015 Grand Slam of Golf from Trump National Los Angeles (the event was eventually cancelled). Meanwhile, there is speculation that the PGA Tour will end its relationship with Trump after this year's WGC-Cadillac. "They do not want to do that," Trump told Golf.com. "There's no site like Doral in Florida. I have the greatest site in all of Florida." Speaking of which. . .
He is very, VERY proud of his golf courses. When asked to list his 10 favorite golf courses in the world, this is the list Trump came up with: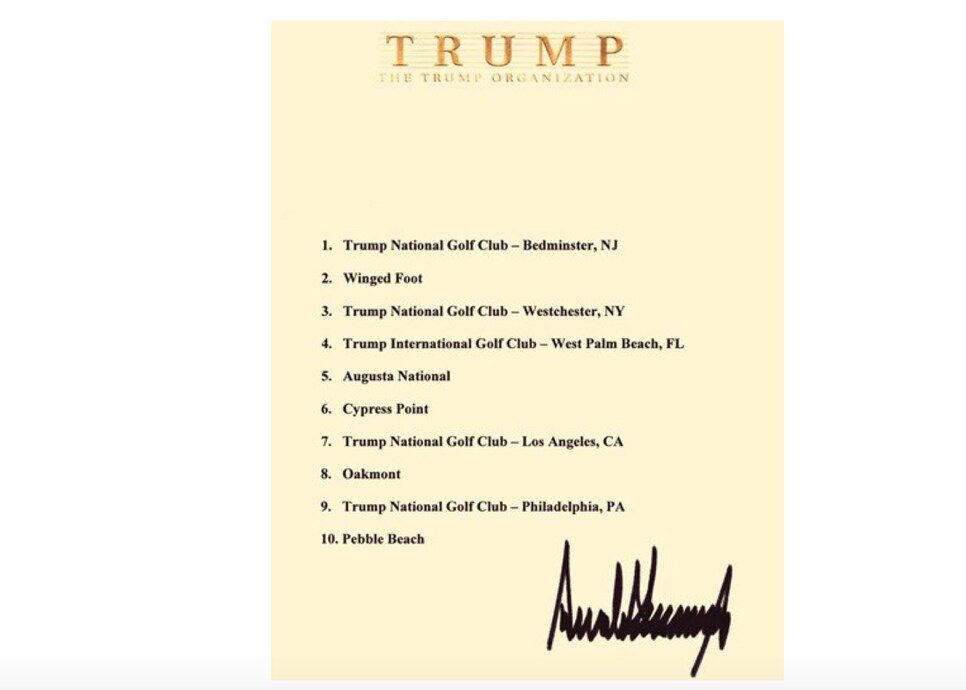 He's a very good golfer. Trump claims to have shot a 66 – the low-amateur record – at his West Palm Beach course. His current handicap index is 3.0, but he's been as low as a plus-2.6.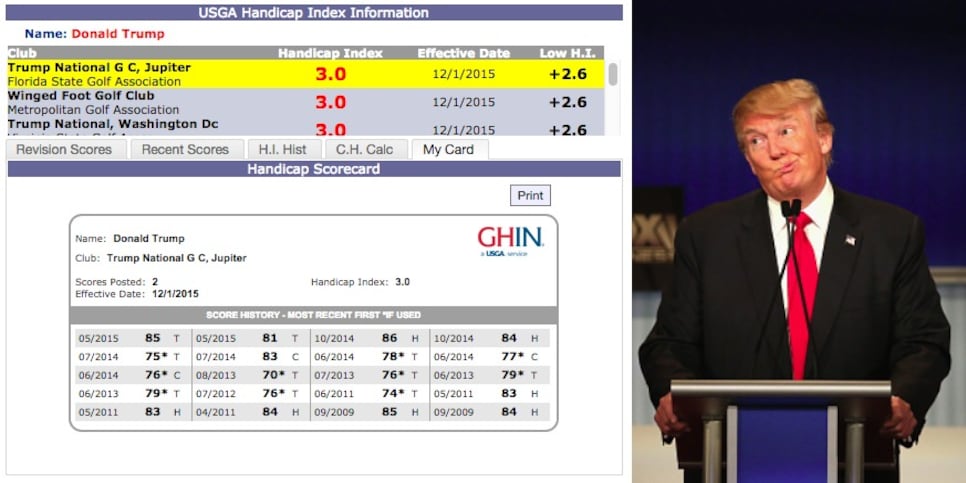 He's helped spread the game. Look at The Donald taking the time to oversee some Miss Universe contestants swing the club at his Doral course during the last year he ran the pageant:
He had a public feud with Samuel L. Jackson over golf. Specifically, Jackson called out Trump for making him a dues-paying member at a Trump course without notifying him first. Trump denied it and said the two had never even played before. Jackson then proved they had and posted a photo of the bill he promised not to pay. We're pretty sure that's one vote Trump isn't getting.