The Loop
A deadly wildlife encounter, golf's dream girl gets engaged, and Tiger Woods gives us all a scare
Welcome to another edition of The Grind, where we have our Christmas shopping done earlier than ever before. It feels great, but the hardest part is still to come. And since I never graduated beyond a first-grade level in arts and crafts, wrapping presents is an absolute nightmare. Seriously, you'd think I've never used scissors or tape in my life. And the amount of time it takes to put together my creations is even more embarrassing. But before I start that painful process, let's talk some golf.
"Little John" Daly: Forcing your kid to wear ridiculous-looking golf clothes could be considered a form of child abuse. But in this case, we loved it. Big John and Little John rocked matching pants/shorts at the PNC Father/Son Challenge all week. And they played pretty well too, finishing T-9 out of 20 teams. According to Big John, Little John "actually has a good swing." No argument here!
At just 13, Little John might also be one of the most entertaining figures in golf. Look at him calmly stick an approach shot inside of his dad:
And how about him walking in yet another birdie putt?
The kid's got game. And some serious swagger.
Team Kuchar-Harris: The biggest lock in golf might be Matt Kuchar and Harris English in the Franklin Templeton Shootout. After winning over the weekend, the dynamic duo has now finished 1-2-2-1 the past four years in the event. With all due respect to Jason Day and Rickie Fowler, I think we have an early favorite at the Zurich Classic.
Jim Renner: The journeyman shot a final-round 63 to win medalist honors at Q School and earn full status on the Web.com Tour for next season. Congrats to Jim and to the other 51 players who earned some sort of status on the developmental tour.
Bryson's side-saddle putting: This reminds me of all the times Shaq was urged to try shooting free throws underhand, but he never did because he didn't want to look goofy. Bryson DeChambeau, however, has no such worries. It doesn't look great, but we've got to give Bryson DeChambeau credit for actually going through a side-saddle putting trial. And for one event, it actually seemed to work.
Tiger tossing a baseball: Having a catch with a seven-time Cy Young winner sounds like a good time, but seriously, Tiger, WHAT ARE YOU DOING?!
Woods was on hand to open a new short course he designed at the Diamante Resort in Cabo, but he wound up throwing a baseball around with Roger Clemens. Fortunately, Woods' back seems to have survived the encounter. But seriously, Tiger, don't scare us like that!
237 holes in 12 hours?!: We're not questioning the legitimacy of this accomplishment (Well, maybe slightly), but rather why anyone would ever put themselves through it. But apparently, New Zealand marathon runner Brad Luiten played 237 holes in 12 hours (Not days, hours) to break the Guinness World Record mark. That's about a three-minute-per-hole clip. For 12 consecutive hours! How is that possible?!
Lydia Ko's changes: The LPGA phenom is coming off a season in which she won four times, including adding a second major to her resume. So what does she do? Fire everyone. A few weeks after splitting with her caddie, Jason Hamilton, Ko also parted ways with swing coach David Leadbetter. That seems like a lot of turnover for the top-ranked woman golfer. . .
Phil's surgeries: Mickelson has reportedly undergone a second surgery for a sports hernia. Now there is no timetable for his return. After a year of going through the whole "no timetable" thing with Tiger Woods, we hope this isn't going to be a long-term thing. Get better, Phil.
Ian Poulter: The Brit only finished T-61 at the Hong Kong Open, but that's the least of our complaints with him this week. After making a quadruple bogey on one hole, Poulter publicly scolded a cameraman.
Finally, an actual quiet week in pro golf. That means this will be the 50th and final Grind of the year. But don't worry, we'll have more goodies for you over the next couple weeks. We'll be counting down the top 25 viral golf videos of the year, and, of course, bringing you The Year in WAGs. Happy holidays.
Random tournament fact: There were a lot of great viral golf videos in 2016. It might take me longer to compile this year's list than it does to wrap all the Christmas presents I bought.
RANDOM PROP BETS OF THE WEEK
-- Rory McIlroy will switch to side-saddle putting in 2017: 1 MILLION-to-1 odds
-- Ian Poulter will get the Santa Claus at his local mall fired: 5-to-1 odds
-- The Year in WAGs will get more clicks than this week's Grind: LOCK
Courtesy of the Cairns Post, we have a winner for the most terrifying wildlife on a golf course photo! This is a python eating a wallaby WHOLE on an Australian golf course.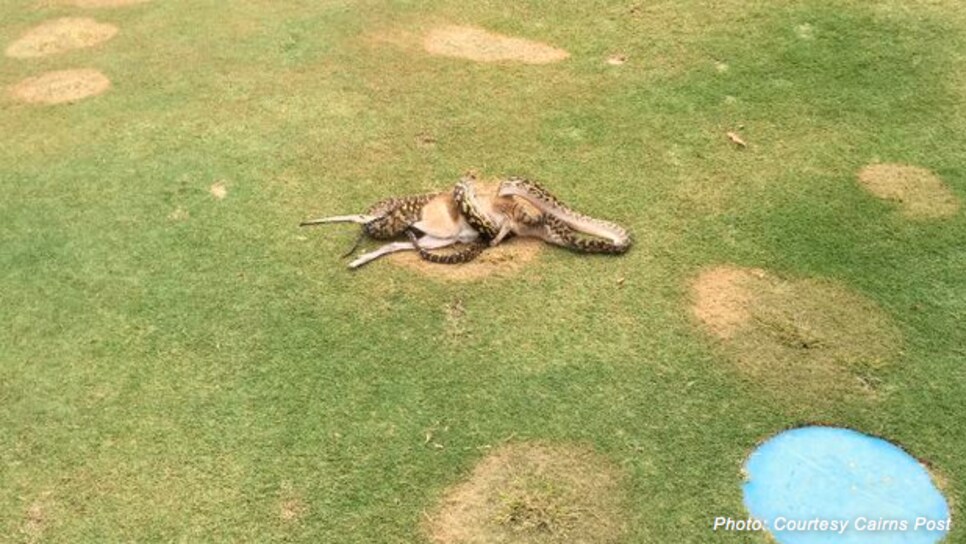 And then, he was parodied on Saturday Night Live!
"They tell her when to go to bed, what to eat, what to wear, when to practice and what to practice. And they expect her to win every tournament. They are good people, who love their daughter and want the very best for her, and Lydia has never been to college and is still young. But they are naive about golf. And at some point, they've got to let the bird fly from the nest. I would often think, 'It's not easy coaching three people.'" – David Leadbetter.
THIS WEEK IN DUSTIN JOHNSON-PAULINA GRETZKY KEEGAN BRADLEY-JILLIAN STACEY BRADLEY PUBLIC DISPLAYS OF AFFECTION
After getting married last weekend, the newlyweds look like they had a great time on their honeymoon in Italy.
THIS WEEK IN PAIGE SPIRANAC BEING PAIGE SPIRANAC
We thought Paige's big news this week would revolve around her playing in the Omega Dubai Ladies Masters. Then OMG PAIGE GOT ENGAGED!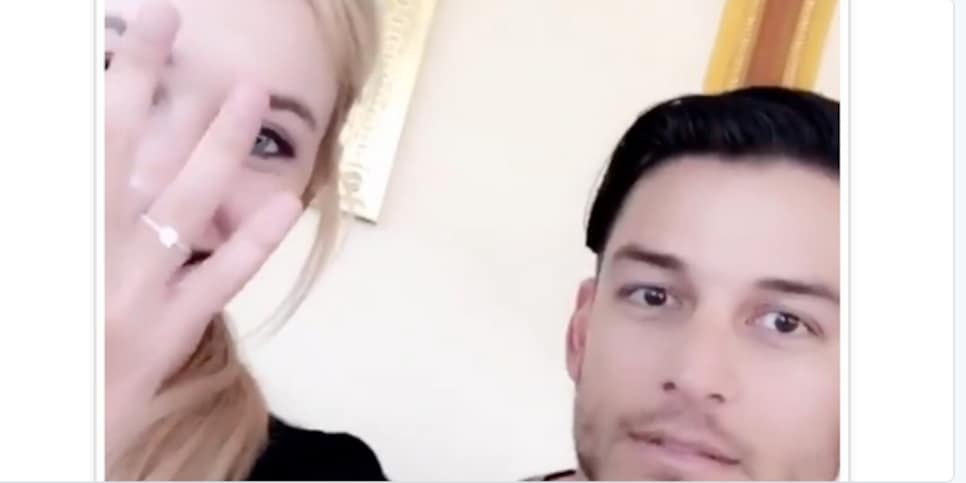 That video was posted by the lucky guy on Instagram. Here's how Paige announced the momentous occasion:
Never mind. Paige didn't mention it at all on social media. She's a savvy business woman.
Sam Brazel won his first European Tour title at the Hong Kong Open, and he did it in spectacular fashion by birdieing the final hole to beat Rafa Cabrera Bello. Well done, Sam. . . . David Duval and his stepson, Nick Karavites, won the PNC Father/Son Challenge. Well done, guys. And now David has serious bragging rights over Brandel Chamblee the next time they get into a heated debate. . . . And finally, Jason Day's son, Dash, got a haircut.
RANDOM QUESTIONS TO PONDER
What is Tiger getting for Christmas?
What am I getting for Christmas?
When do we get to see "Little John" Daly play again?