The Loop
You wail, in lively letters to us, about pace of play. Without putting too fine a point on it, a few of you are approaching homicide over the television-trained duffers you play behind. This week you'll watch the Presidents Cup and wonder how it's possible to play a two-ball that takes longer than the law boards.
Which brings me to Indian cricket. Ancient, unchanging, out-of-step, cricket.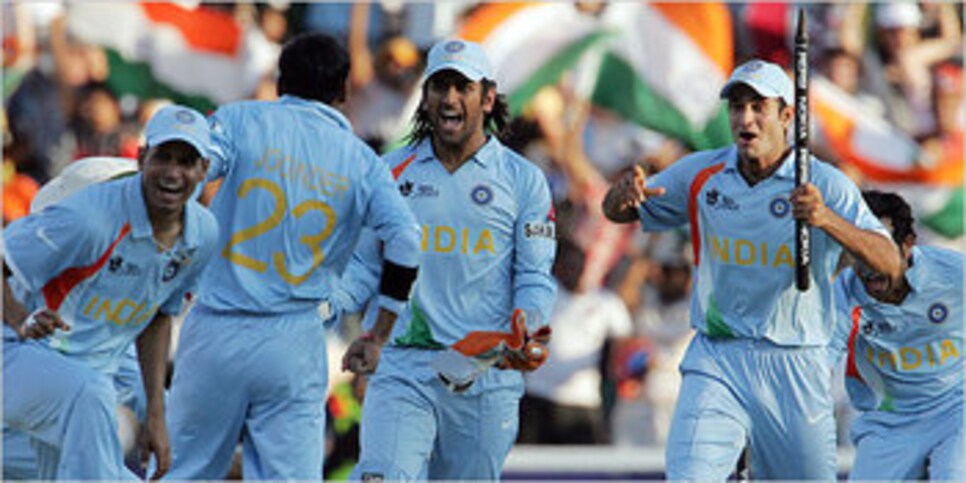 Did you catch the story in the Times yesterday about India's new compact, (3-hour instead of 5-days) version of cricket called Twenty20? Writer Somini Sengupta described the young Indian side:
Not only was the game different, but the team was unlike those past. This one was youthful, hip, dynamic and very...well, uncricket. Its members played fast and furious. They danced victoriously on the cricket pitch.....
Where gentlemen players once distinguished themselves in white trousers and knit vests, Twenty20 was accompanied by cheerleaders wearing what resembled sports bras. Restraint was out. Music was in.
This was no Play Cricket India promotion. This was "kamikaze cricket," someone called it, designed to revive a stuffy game.
Our problem is different. We're not stuffy. We're stuck. We've turned the game into a National Molasses- pouring contest. And we can't change.
Here's what I mean. This summer I played in a member-guest where flights of 8 played seven nine hole matches against one another. Two-and-half to three hours a nine.
Closer to home, our magazines, Golf World and Golf For Women on one side and Golf Digest on the other, play an annual Presidents Cup/Ryder Cup match. Most years it takes us six hours. Never less than five. Someone suggested the equivalent of kamikaze cricket: the alternate shot or foursomes format. Traditional. Quick. Still a good walk and still 18 holes. The response: Nothing doing. I want to play my own ball.
I know it's not true everywhere. We played quickly in a Cuscowilla member guest last weekend, where the competition never got in the way of the fun. But that's rare. An old editor friend said today that nine holes was our future: "Two hours, just the right amount of time." I agree. If we could play nine holes in two hours.
I'd love to think we can save the 18-hole round, too. Maybe it's time we took a lesson from that wild-and-crazy game, cricket.
(Photo: Alexander Joe/Agence France-Presse--Getty Images)