The Loop
A confident Woods isn't looking past the Memorial
DUBLIN, Ohio -- Tiger Woods put the world of golf as he sees it -- and perhaps as it should be seen -- into perspective Wednesday afternoon at Muirfield Village Golf Club.
Five-time winner of the Memorial Tournament, including last year when he surged to victory in the final round thanks to an improbable chip-in birdie on the par-3 16th hole, Woods was asked to assess the peripheral distractions currently consuming the news cycle -- from the anchoring debate to Vijay Singh's lawsuit against the PGA Tour . . . to his spat with Sergio Garcia at the Players and the subsequent racially insensitive remark Garcia uttered directed at Woods last week at the BMW PGA Championship in England.
"Well," he said, "I've won four times this year."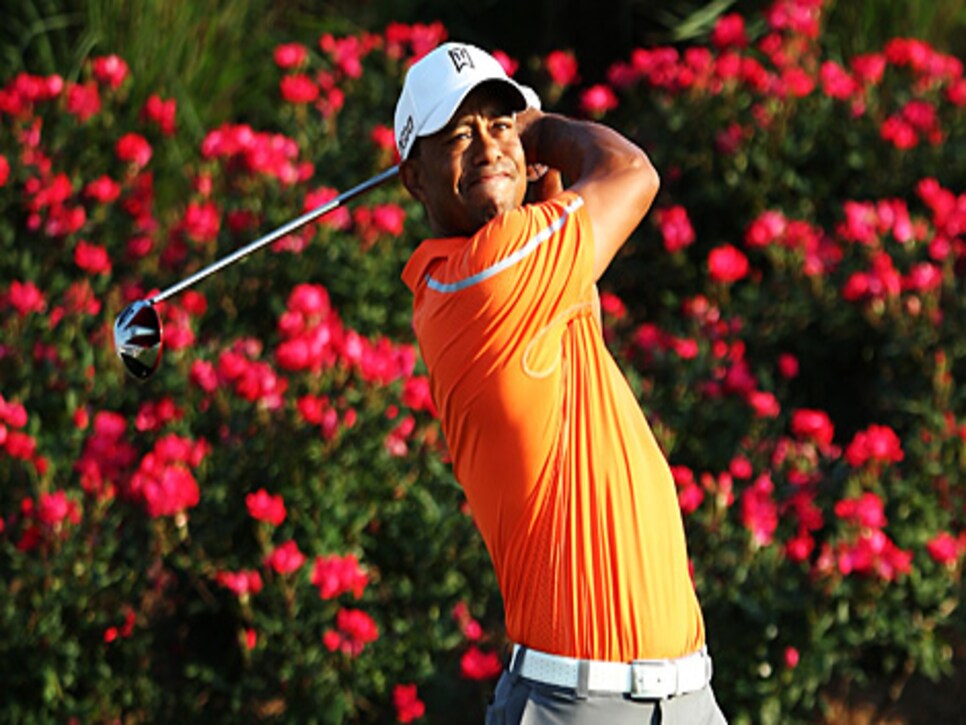 Though he fell short in the year's first major, the Masters, after an unfortunate bounce and a fortunate ruling, Woods so far is enjoying a stretch of golf that should seem eerily familiar. He has four wins in eight worldwide starts, including his second triumph in the Players. Only in 2008 has he reached four wins faster, capturing a European Tour victory at Dubai and then winning his first three U.S. starts at Torrey Pines, the WGC-Accenture Match Play and the Arnold Palmer Invitational.
"I don't think he's on the verge of [a crazy run], I think he's in one," said former world No. 1 Lee Westwood.
Since turning professional in 1996, Woods has eight seasons in which he has won five times or more on the PGA Tour. And he's a heavy favorite to make it nine this week at Jack Nicklaus' Memorial and perhaps chalk up win No. 79 on the PGA Tour, which would bring him within three of Sam Snead's all-time mark.
"Tiger seems to play very well here," said the Golden Bear, who last year watched Woods tie his tour victory total of 73 in his own ballpark. "He's got several golf courses he plays well at: Pebble, St. Andrews, Augusta ... plays well at Bay Hill. I'm delighted that this is one of the golf courses that he likes."
"Most golf courses set up well for Tiger Woods," said No. 2 Rory McIlroy, who is winless thus far in 2013. "He's won the Players this year, and that was a golf course that everyone said didn't quite suit him. The guy is good wherever he goes and plays."
Especially when he is filled with confidence, like he is at the current time. To that he credits his understanding of his golf swing that he's honed with the help of Sean Foley.
"I feel comfortable with the motion I'm making, and I think ... all the stretches where I've played well for a few years, a few tournaments, five plus or whatever it was, I just felt good about what I was able to do as far as my misses, and being able to fix it on the fly," he said. "That's huge. To be able to make those tinkerings from shot to shot and day to day and know where within this model what my tendencies are. That took a little bit of time, and I finally have turned the corner to that. And I think that's what you're seeing this year is that I've gotten more precise and I've been able to work on other parts of my game and made them strengths."
Woods stopped by Merion GC Tuesday for a practice round in preparation for the U.S. Open in two weeks. He didn't learn as much as he'd hoped to; it was cold, rainy and windy, which made the relatively short East Course play long and difficult. But the trip was still worthwhile.
"It was nice to see and get an understanding of what I need to visualize in my prep next week and get ready for that," said Woods, a three-time U.S. Open champion. "Have a nice understanding of where my sight lines are going to be and where I need to land the ball. Obviously it will be different clubs. Won't be quite as long as it was playing yesterday."
The U.S. Open isn't yet his primary concern, however. He enjoys the Memorial and playing in the company of founder and host Jack Nicklaus.
"It's about playing well, hopefully winning the event and carrying that confidence into the Open," Woods said of his goal for the week. "I already have, as I said, most of the lines and the things that I've been working on, but it's about this week and it's about winning this event. I've won it in the past, I'm defending this year. I'm looking forward to the next four days. This golf course the way it's drying out and getting thunderstorms later in the week, it's going to be a heck of a test."