The Loop
A closer look at Tiger's swing reveals a work in progress
__Editor's Note:__Contributing Editor Pete McDaniel collaborated with Tiger Woods on instruction articles for Golf Digest for 14 years.
JOHNS CREEK, Ga. -- Tiger Woods' first swing of the opening round might have provided an augury of his rusty, out-of-control game and the kind of rollercoaster ride the former world No. 1 has done his best to downplay this year. Aiming a fairway wood down the right side of the dogleg left, Woods launched a perfectly straight shot that came to rest a few feet from the first cut of rough.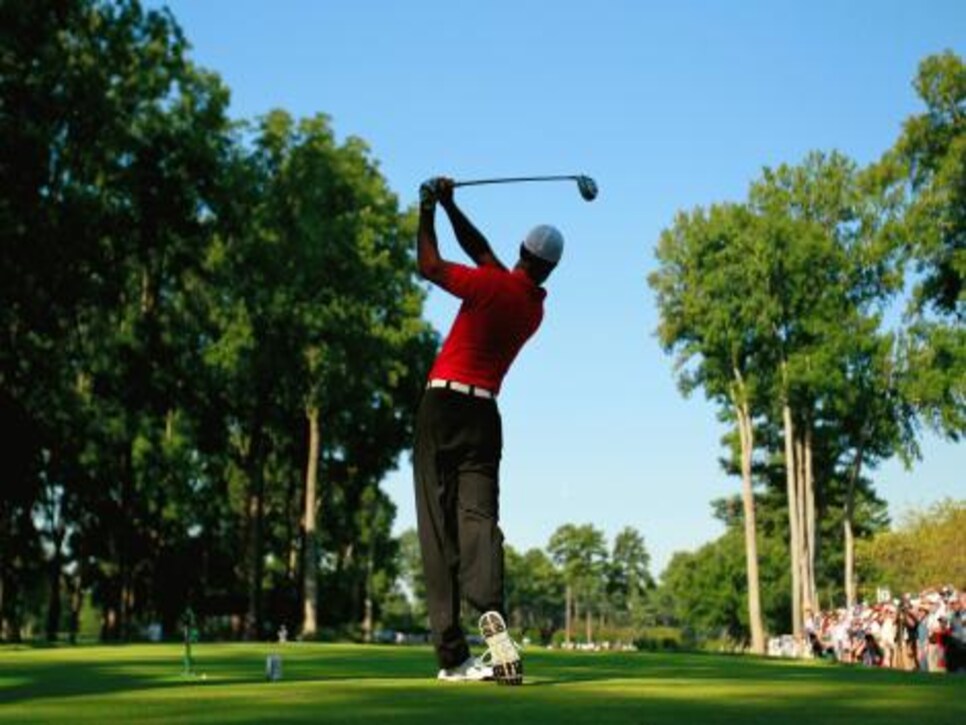 *Woods' ability -- or more often these days, inability -- to remain balanced through impact has been a key for him. Photo by Getty Images
On the surface, it appeared that he pulled off the shot just as planned, leaving him a short iron to the green -- which he hit to 15 feet before converting the birdie putt, incidentally. However, he had set up to draw the ball (intending to swing along the feet line of a slightly closed stance), failed to release the club through impact and left the ball hanging out to the right. That same swing flaw caused him to trash a three-under start with more right-hold-on-fear-the-left swings than a cross-eyed Republican over the tortuous final four holes of the Atlanta Athletic Club.
For the record, Woods played that stretch in five-over, including a pair of double bogeys of the bailout variety.
Instructionally, it is understandable that Woods' retooled swing lacks consistency. Injuries have surely stunted his progress as he's attempted to implement Sean Foley's method. He's not kidding when he says he needs reps...plenty of them -- especially with a driver that has an aversion to finding the fairway.  As an observer and collaborator on instruction articles with Tiger most of the past 14 years (from Butch Harmon to Hank Haney), I contend that, with the exception of a couple of years during his magnificent run-up to the Tiger Slam, accuracy with the big stick has never been Tiger's strong suit. He could simply find it, manufacture a shot and get it in the hole better and faster than everyone else.
From my viewpoint, some of the changes espoused by Foley -- most importantly staying centered over the ball on the backswing as opposed to the pre-Foley dramatic lateral head movement- -- are apparent. When Tiger stays centered and tall through impact, he bombs the driver along the intended line. That was the case on the par-4 13th, where he launched a soaring gentle draw over the fairway bunkers into the middle of the fairway. He then hit a short iron to four feet to go three-under. A nice, balanced swing with crisp contact and a great result. Repeating it, however, has been problematic for Tiger.
In a stock strategy to control his tee shots, Tiger has narrowed his stance, especially with the driver. The move has produced a less violent pass that works well in tandem with good rhythm, another thing hampered by the layoff. The quieter lower body action might also be an attempt to protect his rehabbed left knee. His timing has clearly suffered from inactivity as he is having trouble matching up the speed of his upper and lower body. Loose shots with long- and middle-irons, once uncommon sights from Tiger, are now the norm.
Naturally, rust and mental mistakes have affected his entire game. Foley's changes notwithstanding, Tiger needs more reps with every club in his bag to reclaim a once magical game that appeared to operate on autopilot. I guess appearances, like fast starts, can be deceiving.