The 2021 fall season comes to an end this weekend on St. Simon's Island, Ga., with the playing of the RSM Classic, and while this fact may not be widely mourned—at least until fans realize there's no weekend golf for two months—it's hard not to see the growing merit in the fall game.
Since the PGA Tour began its wraparound schedule nine years ago, the fields, the winners and the drama have steadily improved, to the point that this year's fall champions list includes Rory McIlroy, Hideki Matsuyama and Viktor Hovland. The silly season is no longer quite so silly, and almost a decade in, it's time to look back and honor autumn's best tournaments from the wraparound era. The only rule here is that the WGC doesn't count, because while it does fall in the fall the fields are too strong to truly be in the right spirit. With that disclaimer in mind, here are the nine best from nine different tournaments over the last nine years.
9. Bermuda Championship, 2019: Todd's rise from the abyss
This is the one tournament on our list that wasn't particularly close—Brendon Todd won by four strokes over Harry Higgs—but it was massive in what it represented for his career. Todd truly came from the depths of professional golf to win this one, to the point that a few months before, he was so far gone that he was on the verge of quitting and buying a fast-food franchise. Instead, he embarked on what remains the greatest fall season by a single golfer ever, and it all started in Bermuda.
8. Safeway Open, 2018: Tway's closing tear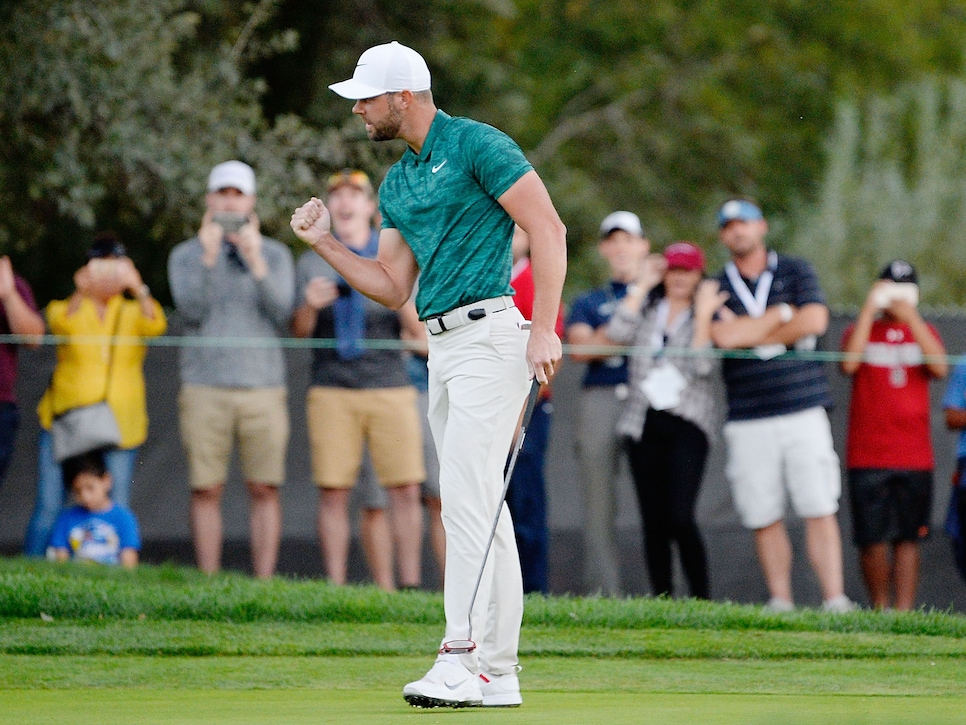 Kevin Tway celebrates in 2018 Safeway Open.
Robert Laberge
Kevin Tway came in second at last weekend's Houston Open, but his best fall start remains the Safeway in 2018. He only had a modest final round that Sunday, at least for 16 holes. Then, one over for the day, he birdied 17 and 18 to force his way into a playoff with Ryan Moore and Brandt Snedeker, where he proceeded to make three more birdies. In essence, he was faced with a birdie-or-go-home situation for four straight holes, passed the test on all four, and then added a fifth for good measure to capture his first (and still only) PGA Tour title.
7. Shriners Children's Open, 2018: DeChambeau and the first eagle
Bryson DeChambeau has made some massive eagles in his career, and just a few weeks ago, in Sunday singles at the Ryder Cup, we saw him drive the green on the first hole at Whistling Straits and then bury the long eagle putt to send the crowd over the moon and basically bury Sergio Garcia before their match had even begun. But the biggest eagle he had in 2018 came at the Shriners, when he found himself in a Sunday duel with Patrick Cantlay and a few others and needed some magic on the par-5 16th to get back in the lead. He reached the green in two and made the 57-foot eagle putt.
He won by a shot over Cantlay, it was a duel we'd see again, in spectacular fashion, at this year's BMW Championship.
6. CJ Cup, 2021: Rory's redemption
Call it recency bias if you want, but coming off his Ryder Cup performance—and the tears he shared with the world after his Sunday match—this felt like a bit of happy redemption for McIlroy. Not only that, but he had to contend with a red-hot Collin Morikawa shooting 62 on Sunday to take the fight to the very last hole. Pound-for-pound, that might be the strongest mano-a-mano duel in fall golf history, and Rory was up to the task, leaving himself tap-in pars on the last four holes to hang on by a thread.
5. Sanderson Farms, 2020: Garcia sticks it
This one's on the list for two big reasons. First, it's Sergio Garcia, who is a big name for a fall tournament winner. Second, because he needed a birdie on the 72nd hole to beat Peter Malnati—who had finished two hours earlier—and delivered a gorgeous 8-iron from 172 yards away that stopped less than three feet from the hole, and made the tournament-winning putt a gimme:
The third reason this is on here is that even before the 18th, it was a classic Sergio performance, with a risky second shot that barely cleared a bunker on the par-5 14th, leading to eagle, and some excellent scrambling afterward. But the lasting image will always be Sergio walking after that (almost) walk-off iron.
4. RSM Classic, 2016: Hughes and the massive playoff
You like playoffs? How about five-man playoffs? That was one shy of the PGA Tour record, and at 17 under in Sea Island, Hughes had to contend with Billy Horschel, Henrik Norlander, Blayne Barber, and Camilo Villegas for the title … on a Monday morning, no less. Amazingly, in three holes of playoff golf, exactly zero birdies were made, and on the par-3 17th on Monday, with everyone missing the green, Hughes putted first and made his 18-footer for par. Then he watched as Norlander, Barber, and Villegas each missed from inside 10 feet.
3. Mayakoba Classic, 2020: Hovland's opus
What can we say? We love walk-off putts, especially tricky right-to-left downhill walk-off putts. Needing a birdie on 18 to reach 20 under and avoid a playoff with Aaron Wise, Hovland hit a solid approach to give himself a chance. What happened next can only be appreciated when experienced in outrageously excited Norwegian:
2. CIMB Classic, 2015: Justin Thomas and the great recovery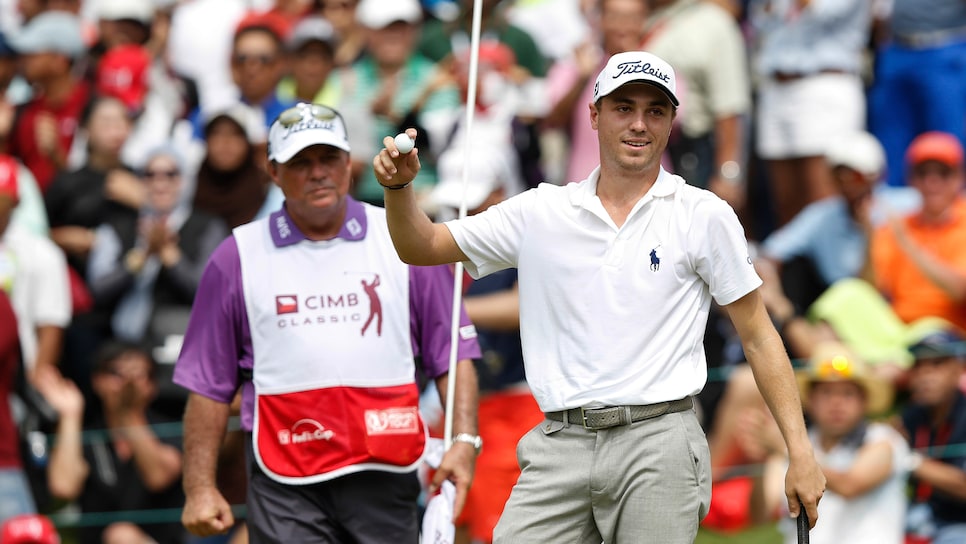 Aside from the facts that there were two great names in the hunt, and that this was Thomas' first PGA Tour win, the greatness of this tournament comes down to JT's act of resilience. This was back when we knew him as "a close friend of Jordan Spieth," but Thomas began to prove he was much more than a buddy to the stars. He set the course record with a 61 on Saturday, but the action got really good, strangely, after a seemingly disastrous double bogey on the 14th hole cost him the lead and looked like it would cost him the tournament.
Adam Scott was in the midst of shooting a 63 that would put him at 25 under, and the CIMB seemed to be his. That's when Thomas showed a tremendous act of courage for someone who had never won before, with birdies on three straight holes to retake the lead. He needed par on the final hole, and though he made it tough on himself, Thomas canned the six-footer to finish the job and cement one of the best instant bounce-backs of the season.
1. Zozo Championship, 2019: Tiger's 82nd Symphony
What better way to end the list than the event where the greatest golfer ever made history? Playing at Narashino Country Club in Japan—the first official PGA Tour event in the golf-mad country—Tiger prevailed over a star-studded leader board that included Hideki Matsuyama and Rory McIlroy to tie Sam Snead for the most PGA Tour wins of all time. Two straight 64s over the first two rounds propelled him to a two-shot lead, and he barely faltered over the weekend, posting 66-67 to win by three shots over Matsuyama. We hope this is not the last time we see Tiger Woods win, but if it was, at least we'll have the video below, where we can revisit almost every shot, including the birdie putt on 18 that sealed the deal.