Masters Rookie
Masters 2022: Cameron Young has gone from golf's wilderness to Augusta invite in 18 months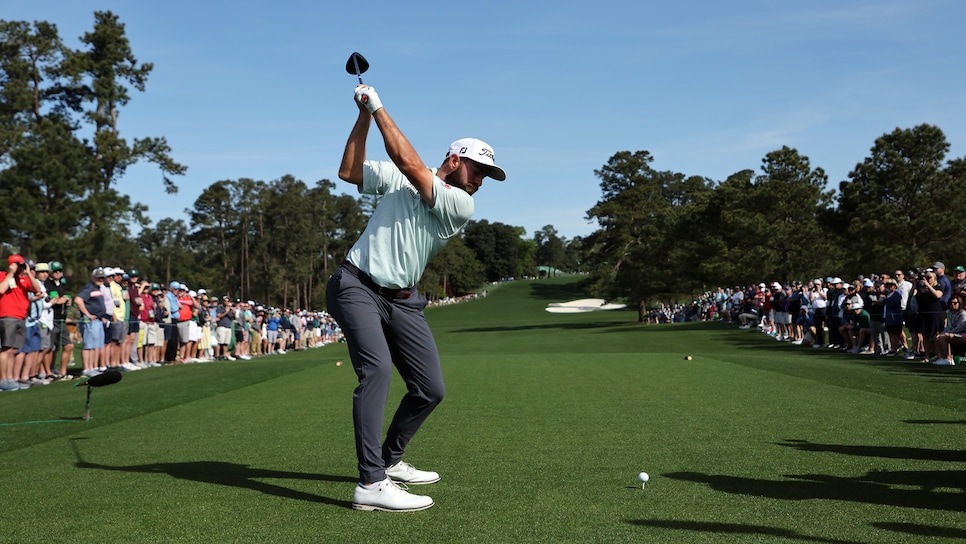 Cameron Young plays his shot from the first tee during a practice round prior to the Masters at Augusta National Golf Club.
Gregory Shamus
AUGUSTA, Ga. – Not every fine player gets to play in the Masters. Not every fine player is supposed to play in the Masters. Cameron Young is one of those fine players who seemingly was supposed to play in the Masters.
Destiny is a quietly static phenomenon, inert, resting on the point of a pin. It requires energy to initiate it, action of intent, belief systems, hard work. And even then, it will not reveal itself until the moment it is fulfilled.
Which brings us to Young, who, until recently, despite his pedigree, didn't appear to be destined for anything except that bloated category of pro golfer who had all the goods to succeed but didn't. Or certainly wasn't on any fast track to success. About 18 months ago he had no status on any tour. Eleven months ago, he possessed mere temporary membership status on the Korn Ferry Tour, a tenuous orientation that provides little certainty in pursuit of a career. You're an outlier, waiting to be released from suspended animation. You can't see the PGA Tour from a tenuous entry in the KFT's AdventHealth Championship in Kansas City, Mo., and by extension, you certainly can't get so much as a whiff of the azaleas at Augusta National Golf Club.
On Thursday, Young will make his Masters debut. It does not feel at all strange or foreign or overwhelming to him. "I'm more comfortable than I thought I would be," said the 25-year-old New Yorker.
That actually makes sense. Son of a golf pro … a golfer since age 4 … a phenom at 14 … a college hotshot at Wake Forest on the same squad with Will Zalatoris. Young is at home on a golf course, even at a place he's never been to before, except in his dreams.
The dream became reality because he went out and won that AdventHealth Championship last May, and then followed up the next week at the Evans Scholars Invitational, becoming the 10th player in KFT history to win back-to-back weeks. More impressively, he did it by leading outright in seven of the eight rounds and shared the lead in the other, which never had been done before.
Young went on to finish 19th in the regular season points list to earn his PGA Tour card. But he fashioned an encore with a second-place finish in the Sanderson Farms Championship and a T-2 at the Genesis Invitational—played at Riviera Country Club, a big-boy course and one of the most revered layouts on the tour. Those performances fueled a rise to his current station of 47th in the world, earning him a Masters invitation for residing in the top 50.
Less than three years ago, when he qualified for the U.S. Open at Pebble Beach, he was 2,066th.
"I feel like a lot of people, if you ask them, that are actually out here, I'm sure a lot of them got that far in their dreams," Young said. "It's always a dream until you end up actually sitting here. Yeah, I think it was something that I always wanted and then became a very real possibility kind of this [past] fall and became more of a goal than a dream starting earlier this year."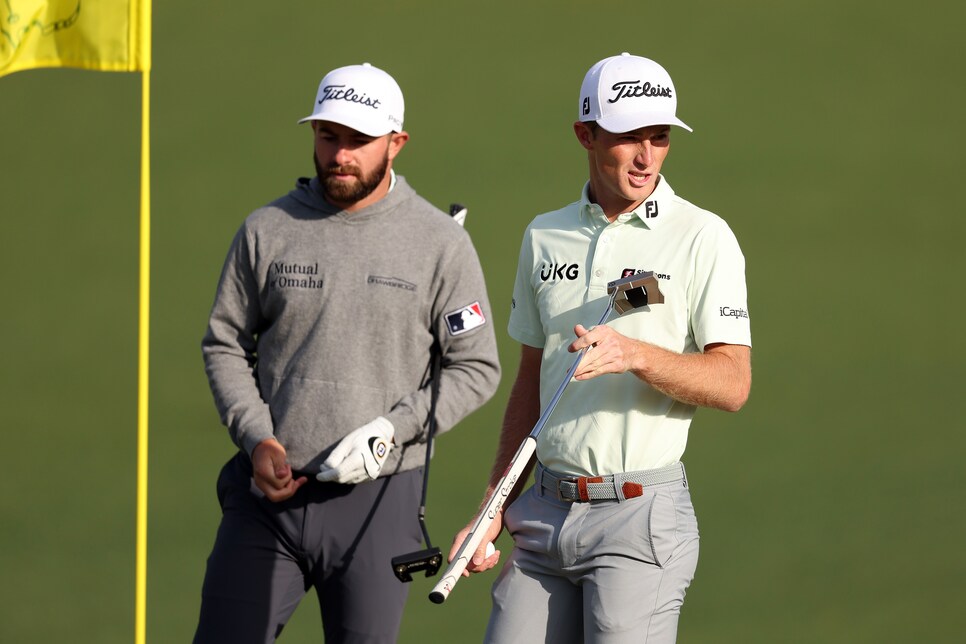 Will Zalatoris of the United States and Cameron Young of the United States during a practice round.
Gregory Shamus
It's well-chronicled that Young's father David is the head professional at Sleepy Hollow Country Club in Briarcliff Manor, N.Y. Sure, he saw the potential in his son. He saw how frustrated he was earlier in his professional career. He knows better than most how hard the game can be, how maddening. And, in a sense, while he is filled with great pride, he's as bewildered as any stranger would be at the sudden rising of his son.
"A year-and-a-half-ago he had no status, and now here he is at Augusta, and it's still something … dreams really come true," said the elder Young, who as a member of the PGA Rules Committee worked the 2007 Masters as a rules official. "Who knows what the difference is. It's little things. Putts go in instead of lipping out. You see your scores get better.
"As a parent, it's nerve-racking to watch. You always want the best for your children. You want them to be successful and happy in whatever they're doing, and Cameron chose a profession that is not the easiest to be successful or happy at."
David and his wife Barbara, Cameron's mother, walked Augusta National watching their son the last two days. On Tuesday, he played nine holes with Webb Simpson, Mackenzie Hughes and two-time Masters winner Bubba Watson. What made dad smile most was not watching his son hit shots off the verdant, storied turf but how he interacted with a pair of major winners, getting instruction from Watson, enjoying himself.
"You kind of marvel at what you're seeing," he said. "You know, you believe that he has what it takes to get to this level, but you're never really sure until it happens. How many good players never get this far? I think it's something inside that sets you apart. He's worked hard for it. And the payoff is great."
For Cameron, the best part of his visit to what he calls, "the pinnacle of what we do," is sharing it with his father, who, by the way, shot par 72 (from the member tees) a little more than a year ago, when he came up to play a casual round with one of the members of Sleepy Hollow who also is a member of Augusta National.
"It's been fun on the PGA TOUR in general, but for him to be here is awesome," Young said. "My mom and my dad, they've obviously both been involved in golf for a long time, and Augusta National being what it is, and the Masters being what it is, it's special for them to just be here. Never mind with me getting to play.
"My dad and I got to hang out on the practice area [on Sunday], and we sat out there and chipped and putted. He watched me hit some balls for a couple hours. It's just an unbelievable place to spend any time at all. I mean, just to even just walk out on that practice area is so special."
OK, just because he feels comfortable here doesn't mean he can't still be in awe of it, too.
Young begins his opening round at 8:55 a.m. ET Thursday with Min Woo Lee of Australia and Hudson Swafford. He said that being in the hunt at Riviera was perhaps the best preparation for the test that awaits and the pressure of the moment. He held up well at the Genesis, but simply got outplayed by winner Joaquin Niemann.
He expects to have "a really nice week," and he didn't sound cocky or overconfident when he said it.
"I typically drive it quite well. I think that's rewarded out here," said Young, who ranks second on tour in driving distance with an average of 319.6 yards and is 39th in strokes gained—tee to green. "The driving, you can just make it simpler from hitting good tee shots. I know it's very complicated around the greens and very tricky, and I have a lot to learn, but I think if I can kind of keep my wits about me and make smart decisions around the greens, I'll do all right."
More Masters 2022 stories from Golf Digest