Masters 2022
Masters 2022: An under-the-radar former champ is off to a promising start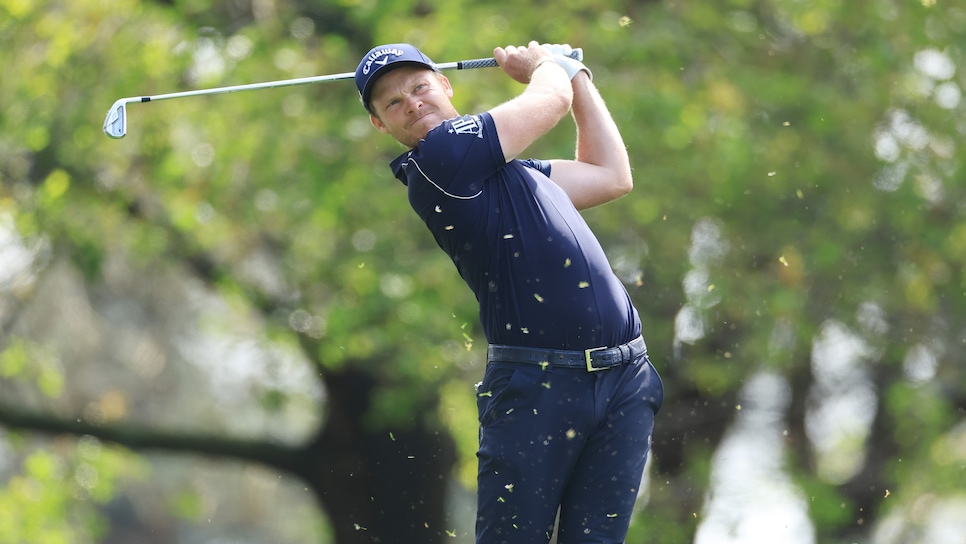 Danny Willett plays his shot from the fourth tee during the first round of the Masters.
David Cannon
AUGUSTA, Ga.—Six years have passed since Danny Willett became one of the more unlikely Masters champions of recent times. Ach, make that just about any time. And since that heady day when he shot a bogey-free final round of 67 to wrestle the green jacket from the torso of a faltering Jordan Spieth, Willett has, at least at Augusta National, basically returned whence he came. Four times in the last five years he has missed the halfway cut; only twice had he broken par before the 69 that on Thursday had him high on the leader board.
To be fair, lofty prospects aren't exactly unknown territory for the 34-year old Englishman, who is the son of a preacher man and, surely uniquely in major championship golf, a Swedish mathematics teacher. Just three months before he would win the Masters, Willett finished first at the Dubai Desert Classic. And his three European (now DP World) Tour victories since then have all come in events of real stature: the 2018 DP World Championship (the elite-field climax to the Old World circuit), the 2019 BMW PGA Championship (the tour's so-called "flagship event") and, last year, the big-money Dunhill Links Championship that climaxes over the Old Course at St. Andrews.
So nothing about where he finds himself this week is likely to faze Willett, a member of the 2007 Great Britain & Ireland Walker Cup side alongside Rory McIlroy. And he has the ultimate experience to draw on.
"You can't come to this place and not wake up every morning with a smile on your face," he said. "I think it's impossible. It's impossible for the players, and I think it's impossible for the 25,000 patrons who come and walk round here every day. It's a pretty special place. And for me, the memories are always nice. Just good vibes. You kind of remember certain breaks, certain putts.
"But by the same token, every year Augusta National change little things. That's why we play Monday through Wednesday to get to know them. And sure enough, there's a few more changes again this week. The golf course is playing probably the longest it's played, especially with how wet it's been."
Another positive: Willett is a man known for making the most of chances, even if he arrived in Augusta having failed to record even one top-20 finish in nine PGA Tour starts and three DP World Tour appearances this season.
"Things have been trending nicely," he claimed, despite much recent evidence to the contrary. "I'm playing nice. The body's good. And this place lends itself to the golf shots I've been working on and trying to hit. It obviously doesn't mean I'm going to hit them, but it's always nice when the things you've been working for and what you've been working at pay off. It doesn't mean they're going to pay off the next three days either, but it's always nice to get a good start around this place."
Indeed, Willett's three-under par day—he made five birdies and dropped two shots—is his best beginning in what are now eight Masters appearances.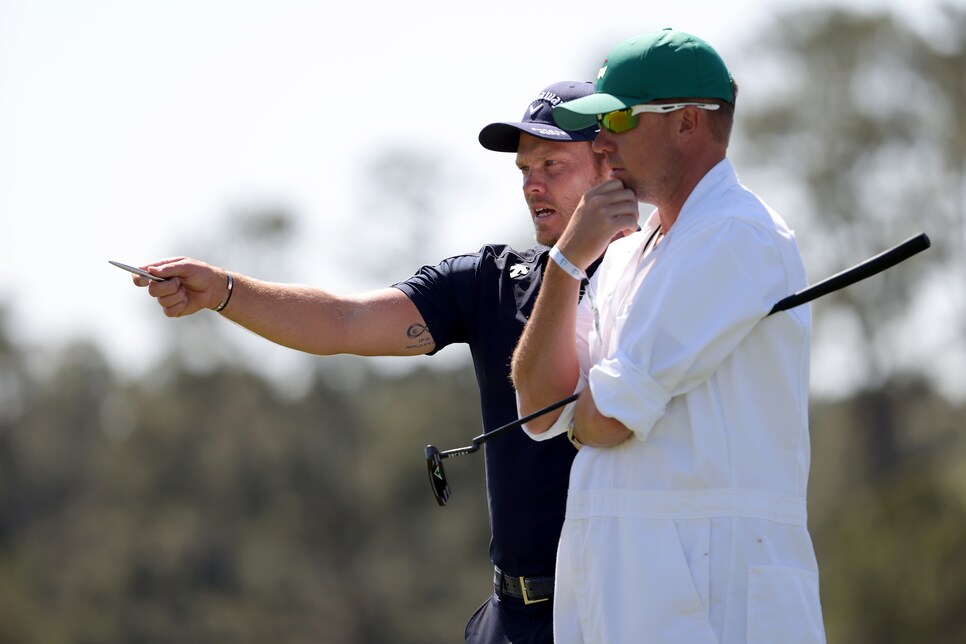 Danny Willett and caddie Jonathan Smart line up a putt on the 18th green during the first round of the Masters.
Jamie Squire
"I didn't get in too much trouble," he revealed. "I got lucky on the first with a mud ball trying to move it around the tree, so it was a little bit tricky. This was just a really good, clean round of golf in what are really tricky conditions. We all know you don't have to be that far off around this golf course to make it really difficult for yourself. Still, when I did get out of position a couple of times, I hit into the areas where I had the best chance of getting up and down. All in all, I kept it relatively stress free the last 11, 12 holes, after a great [bogey] four on six."
In closing, Willett was asked if he felt like he had anything to prove given the paucity of his Masters performances since his 2016 peak. It was a premise he was quick to dismiss.
"If you come back to a golf course like this with your game ready, hitting the shots that you know you're going to need then you're capable [of winning]," he said. "That's why you see quite a few repeat winners, often spaced a while apart. Even if the course gets longer, you still remember certain breaks, certain putts that guys who have played it only a couple of times might not see or might not know. Playing this place over and over really helps."
So, you never know. He did it once. Twice is far from impossible.