The Loop
Luka Doncic is the only man who can stop the inevitable Kawhi-Lebron collision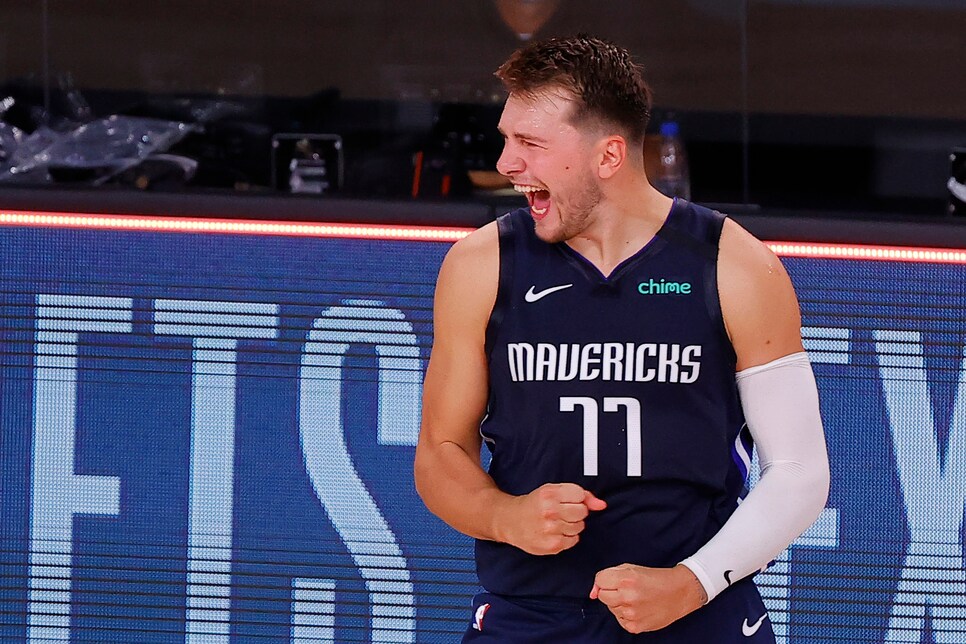 That shot, by the 21-year-old genius Luka Doncic, threw a temporary wrench into the Kawhi-LeBron clash that seemed to be written into the NBA's bubble destiny.
The shot comes amid some David v. Goliath drama that's been brewing in the western conference playoffs for the last week, where the two best teams, the Clippers and the Lakers, are both matched up against very fun first round opponents.
For the Clips, it's the Mavericks, a quirky, exciting team with guys like Kristaps Porzingis, Tim Hardaway Jr., Trey Burke, and the inimitable Boban. The main attraction, though, is Doncic, one of the five best players in the NBA, someone who came really damn close to averaging a triple double in the regular season, and a complete magician on the court. The shot he just made is a new level of greatness, but he'll fairly regularly do things like this:
The Mavs managed to win game two, and heading into Friday night's third game, it seemed like they might have a chance to pull off a major upset. Then, Kawhi Leonard happened. The man who finds NBA championships like a moth finds light had 36 points, 9 boards, and 8 assists, and the way he ground the Mavs into dust (as Doncic struggled with an ankle injury) felt like old school brutality. More than any other quality, the beatdown smacked of inevitability. It was just plays like this, over and over:
Doncic struck back in a big way Sunday night, and there's still a lot of series left, but it's going to take a miracle for his unique brand of wizardry to overcome the lunch pail brilliance Kawhi brings every game.
With the top-seeded Lakers, the situation was almost identical heading into the playoffs. No team in the bubble was hotter than their opponent, the Blazers, and if you want to read me gushing about Damien Lillard and his team, I've already done that plenty here. They're the most fun team going right now. In this case, the Blazers kept their mojo for game one, putting together a brilliant final five minutes to take a 1-0 lead and encourage all of us to dream.
Then, like the cold hammer of reality, LeBron happened. Other than his passing, which is a marvel, LeBron's game has a bludgeoning quality, and lacks the elegant dynamism of someone like Lillard or Steph Curry...but it's so damn effective. His line was 38/12/8 in game three, and along with Anthony Davis he essentially neutered the Blazers. Poor Jusuf Nurkic was completely outclassed, to the extent that it's almost cruel, and even Lillard seemed reduced to a sideshow, his magic erased by the steady clobbering from LeBron. How do you stop this?
Their offensive prowess alone would be enough to make this kind of domination unfair, but the truth is that both Kawhi and LeBron are elite defenders, too. To call an athlete "superhuman" is a cliche, but these guys really do transcend even their fellow pros.
And the great news, for us as fans, is that even though they may decimate the fun teams, they're also bound for an epic collision in the conference finals...unless Luka Doncic can stop them. The Rockets and Jazz don't have a prayer in the next round, barring major injury, and it's pretty great that this bubble is working and that even if the Mavs lose, we get to see the titanic fight we've been dreaming about since Kawhi made his move to the west coast. Get ready for an earthquake.
The Weirdest Stat of the Week: NBA Playoffs
With his win Saturday night against the Blazers, LeBron became the second-winningest player in NBA playoff history, moving past Tim Duncan with a total of 158 wins. That's not the weird part; you'd expect LeBron and Duncan to be in the top three. The weird part is the man at the top. Who would you guess? Kareem? Bill Russell? Maybe Kobe?
How does that compute? Well, the playoffs have expanded over the years, so there's a built-in advantage for modern players, hence Kareem, who played forever, is only at no. 5, and Russell isn't even in sight. Then there's the fact that Fisher, though he was never an all-star, constantly found himself on good teams (the man won five championships) and played until he was almost 40.
If I were going to guess a role player, it would have been Big Shot Bob Horry, and indeed he's close behind in fourth place. But it's Fisher who's king now...at least for another week or two. His total of 161 is just three games away for LeBron.
Disturbing "Why Are Humans LIke This?" News of the Week: The Coffee Nightmare
Washington Nationals fire employee for throwing coffee at woman
If that sounds messed up, well, watch the video:
That's Jazhiel Morel, the administrator of a Nationals academy in the Dominican Republic, and he's since turned himself in to police and been fired by the Nats. There's no way to answer this question, but I'll ask it anyway: what on earth possessed him to do something like that? And on a broader level: why are we like this? It's a shame that the ugly side of humanity so reliably clouds the good things about sport.
Least Explicable Sports Thing of the Week: Baseball Cards and Money
A signed Mike Trout rookie card sold for $3.96 million at auction this past week, making it the highest selling sports card ever and eclipsing the record set by a 1909 Honus Wagner card.
Now let me admit something that might make me look stupid: I don't get it. I understand baseball cards well enough—I collected them myself as a kid, and had a whole fancy album—and I get that the value of collectibles is largely based on rarity. But I can't get past the idea that a piece of cardboard with a picture and a signature can be worth almost $4 million. On a fundamental level, this is messed up. And why is Trout's card worth more than Honus f'ing Wagner, who at least has the weight and rarity of history behind him? Also—ALSO—this is two years after that same exact card sold on eBay for $400,000. Why did its value increase tenfold in two years? Why does any of this make sense?
Mostly, I'm just mad I don't have some piece of memorabilia that cost me $2 in 2009 and would now let me live my dream life of owning a swimming pool made of diamonds.