LPGA Tour
Outlook is rosy for Zhang to seize LPGA title in her first pro start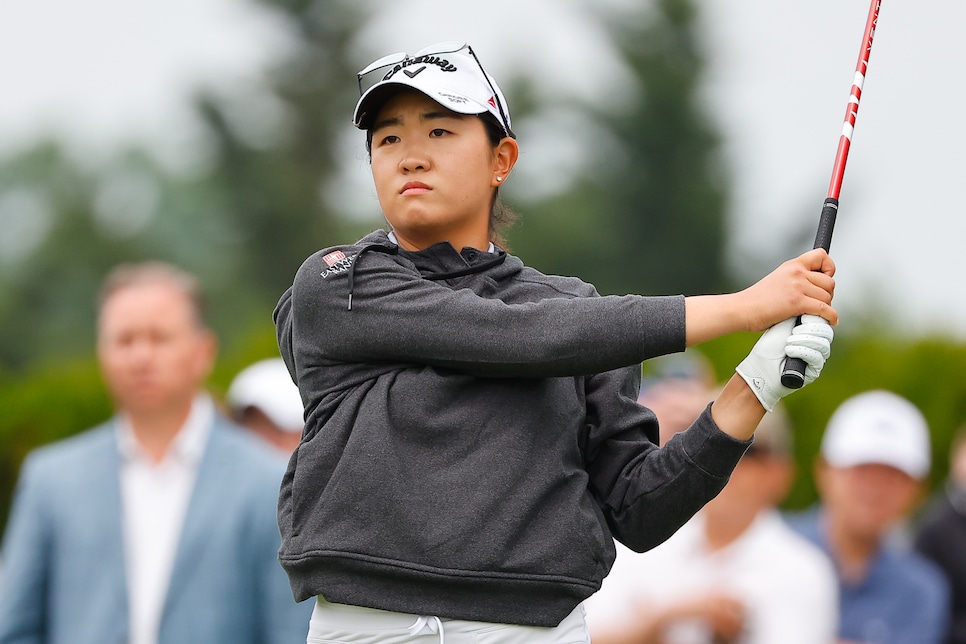 Rose Zhang can become only the second player ever to win on the LPGA in her first pro start.
Icon Sportswire
One question permeates the Mizuho Americas Open heading into the final round. Will Rose Zhang add another historic chapter to her career in her professional debut? The 20-year-old sure looks ready for it. Zhang's bogey-free 66 Saturday at Liberty National earned her a two-stroke lead at 11 under par. A victory for Zhang would join her with Beverly Hanson as the only two players to win their professional debuts on the LPGA Tour.
It's been nearly the lifespan of the LPGA since it last happened, as Hanson won her debut 72 years ago at the 1951 Eastern Open.
"Certainly, there are expectations on me, but like I said before, I feel like that's just a compliment and testament to what I've been doing well so far," Zhang said. "I've been very thankful along the way."
Zhang's potentially historic week is marked by the consistency she displayed throughout her illustrious amateur golf career. The Irvine, Calif., resident has shot under par and improved in every round, posting 70, 69, and 66 going into Sunday.
Cheyenne Knight, Aditi Ashok, and Atthaya Thitikul sit two behind Zhang at nine under par.
Zhang's near-albatross on the 254-yard par-4 16th, with her tee shot trickling off the backstop of the green behind the pin to within three feet, set up a birdie to deliver Zhang's first professional lead only two weeks after she became the first player to win two NCAA Division I women's individual titles. A victory would give Zhang immediate LPGA membership, while also granting the 2023 Augusta National Women's Amateur winner eligibility to be part of Team USA's Solheim Cup squad in Spain in September.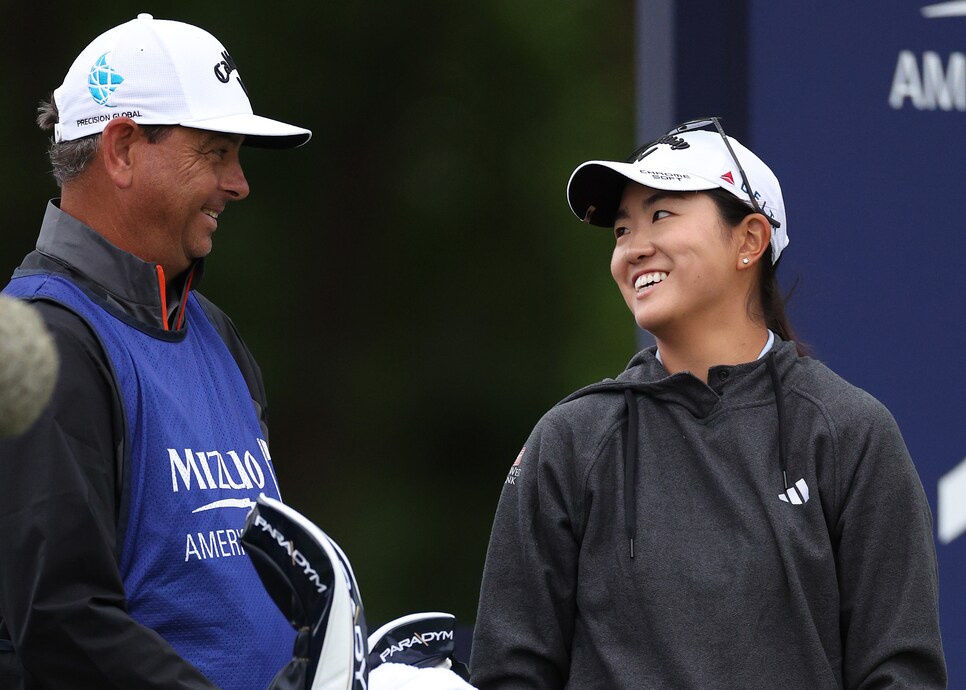 Rose Zhang talks with her caddie on the 16th tee after nearly making an albatross on Saturday.
Elsa
If the 12-time winner in college at Stanford doesn't close out her 54-hole lead, a likely top-10 finish would still help Zhang, as she'd gain entry into next week's Shoprite LPGA Classic. However, Zhang's focus is to rely on her experience in marquee amateur tournaments to perform well in the final round.
"I feel like I've been in very high-caliber events," Zhang said. "Played in USGA events, major championships as an amateur, so there has been a lot of media slowly elevating throughout the years, but I have just been trying to take it in my own stride. I found out that at the end of the day I'm still playing my own golf ball and it's important to take care of that first. So, with that in mind, I've only been thinking about that."
Her closest pursuers at two back—Knight, Ashok, and Thitikul—have shown strong form on tour recently.
Ashok, 25, looks to earn a historic victory of her own following a third-round four-under 68. With a win, the six-year tour veteran would become the first LPGA champion from India. Ashok's been trending in that direction, with both of her career top-5 finishes occurring over her last three starts, including a playoff loss in April's JM Eagle LA Open.
"I feel like every week 10 or 15 girls play the best golf, but one of them ends up winning," Ashok said. "I think I really have to shoot a good round [to win]."
Knight, 26, shot a two-under 70 Saturday, and the Aledo, Texas, native has notched three consecutive top-10 finishes coming into this week.
Thitikul is a fellow accomplished 20-year-old in the chase group behind Zhang. The No. 6 player in the Rolex Women's World Rankings posted a 69 Saturday. The former World No. 1 has finished in the top 10 in five of her seven events in 2023.
Minjee Lee sits four back in fifth place at seven under following an even-par round, once again finding herself in contention in New Jersey after losing a playoff to Jin Young Ko at the Cognizant Founder's Cup three weeks ago. It's not an insurmountable gap for the Australian, as Lee trailed by seven going into the final round at the 2021 Amundi Evian Championship before winning in a playoff for her maiden major title.
Concurrent to the LPGA event, AJGA players are competing in their own event at Liberty National alongside the pros in a Modified Stableford format. Anna Davis, the 2022 ANWA champion, and Yana Wilson share the lead at 110 points. Wilson, the 2022 U.S. Girls' Junior Championship winner scored 31 points to remain at the top, while Davis shot 66, good for 43 points to catch up to Wilson.
"I think just even in general, amateurs versus pros, they make a lot fewer mistakes than we do," Davis said. "Just like kind of stupid things. I hit a shot today from the left rough and I hit it to a bunker, whereas it's kind of like a par hole at that point. You want to hit it on the green, not just hit it in the bunker."
It's a transition from the amateur game to the professional ranks that Zhang, announcing her decision to turn pro last Wednesday, has made seamlessly through the first 54 holes of her debut.