Golfers We Like
99-year-old golfer hits into group ahead, makes hole-in-one, is an absolute legend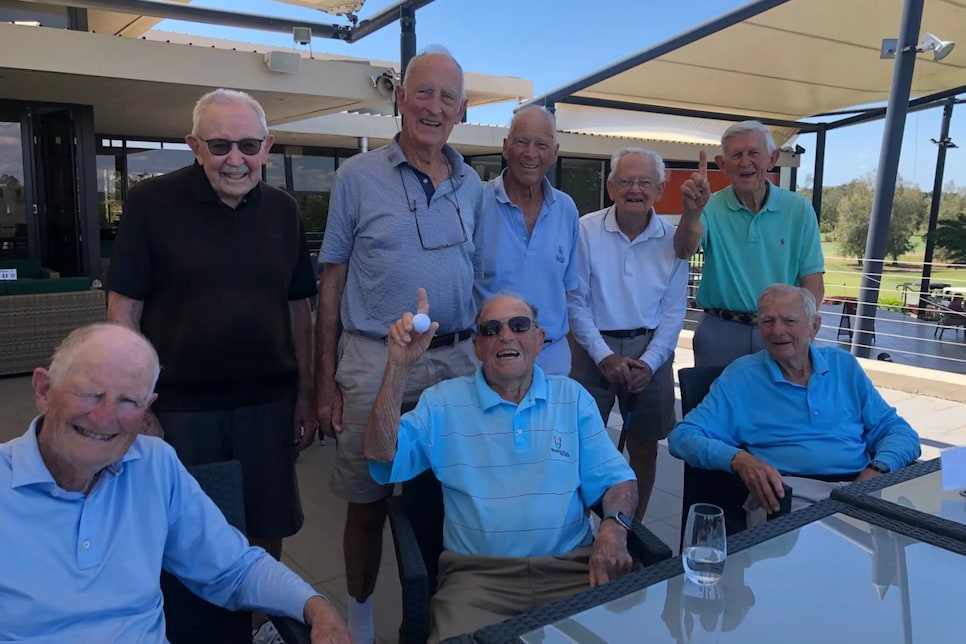 If you're a golfer, there's not a more sickening feeling than hearing people shouting and realizing you accidentally hit into the group ahead. Even if that group was playing too slowly. And holding up the entire course. And they probably had it coming. And you just wanted to send them a message. it's still not cool. But it happens—even on the PGA Tour.
When a 99-year-old does it, however, that's a slightly different scenario. Especially when he winds up hitting the shot of his life.
Introducing Hugh Brown, an Aussie who is just two months shy of the big one-oh-oh. Brown was playing the fifth hole of the blue nine at Indooroopilly Golf Club (what a name!) when he heard yelling from his friends up ahead. Brown had blasted driver like he does on probably every hole these days—again, the dude is 99!—thinking he couldn't reach the 145-meter par 3.
But not only did Brown reach the green, his golf ball found the bottom of the cup. And those screams weren't cries of help, but rather cries of joy. It's a lot easier to forgive this cardinal sin of golf when the person perpetuating it was born just after World War I ended.
Check out this fantastic report from 9News Queenland that includes one of Brown's buddies scolding him ("He shouldn't have hit!) and Brown dropping some expletives:
What a legend. Apparently, Brown is part of the club's "Old and Bold" group that still plays three times a week. And it's the second hole-in-one of his life, the first of which came 61(!) years ago.
As Brown tells it, that bar tab was a lot more expensive back then. In other words, he got away with both a possible manslaughter charge and a cheaper celebration! Good on ya, Hugh.