The Loop
9 reasons to be optimistic that Fox's U.S. Open coverage will be better at Oakmont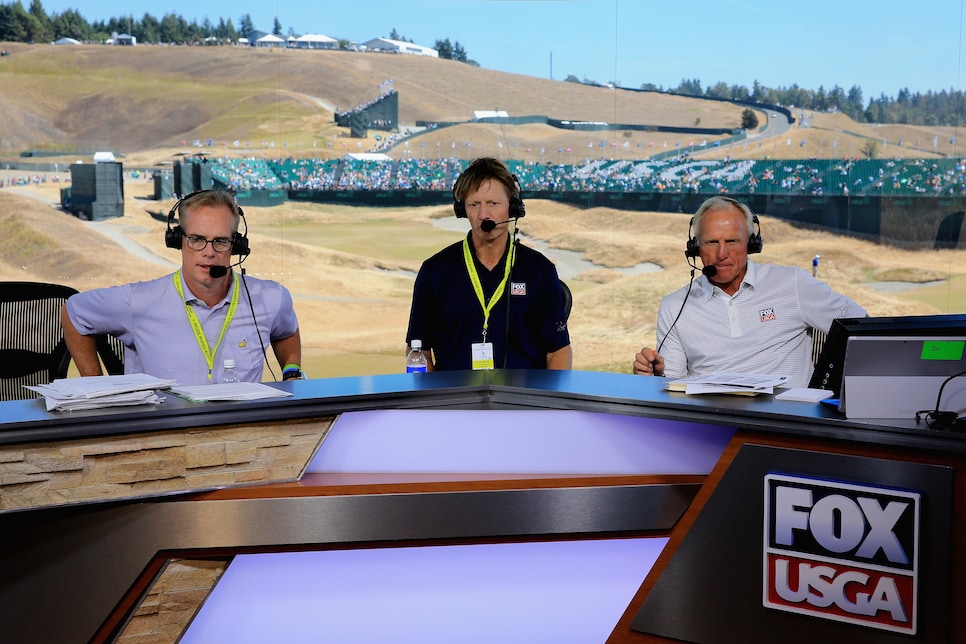 Golfers aren't the only ones who need mulligans. That was the takeaway from Fox's inaugural season as the USGA broadcast partner.
Taking over the U.S. Open from NBC was not going to be an easy task; Johnny Miller predicted that Fox would experience "growing pains" in its debut. But there's a difference between fledgling missteps and smack-your-forehead gaffes, and the 2015 U.S. Open viewing experience was filled with the latter.
A non-working scoreboard. Awkward player interviews. Cameras unable to catch balls in flight. Confusions among the announcers. Greg Norman's unfamiliarity with players' tendencies and swings. The decision to follow Jason Day walking between holes as he battled vertigo. It was a comedy of errors.
The New York Times referred to Fox as amateurish in its Open review; USA Today wondered if the USGA brand was tarnished.
Yet, gearing up for its sophomore try, we have reason to believe Fox can bounce back from its Chambers Bay bogeys. Here are nine reasons why we are bullish on Fox's coverage at Oakmont: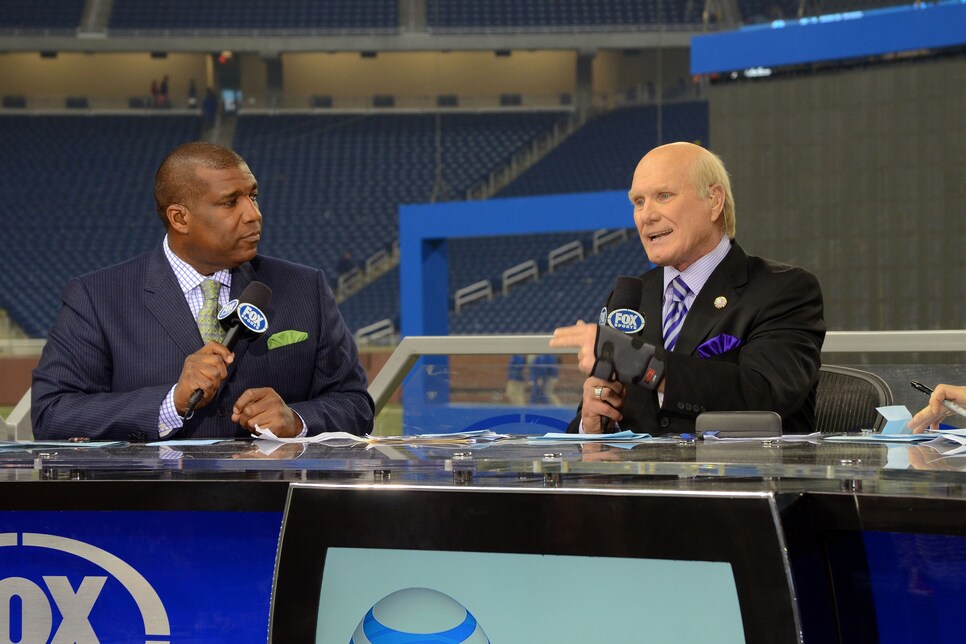 Know why studio hosts like Bob Costas, Greg Gumbel, James Brown, and Ernie Johnson have seemingly been around since eight-tracks? It's because the position is really, really hard to do well. (Note: Gumbel hasn't aged in 30 years. I'm convinced CBS puts him in a cryogenic chamber between shows.)
Case in point: Curt Menefee, who is a vital cog of Fox's NFL pre-game show but was out of sorts at the Open. The normally smooth-talking Menefee was tongue-tied trying to talk golf. At one point, he called Jordan Spieth a consistent golfer who "doesn't do anything great," only for Brad Faxon to call Menefee out with "Actually, he's one of the best at every facet of the game." It was so rough that some on Twitter were comparing Menefee to Parks and Recreation's Perd Hapley:
It came as little surprise when Fox announced Menefee wouldn't be returning in 2016. Sometimes in life, you need to stay in your lane. In Menefee's case, that lane is pigskin.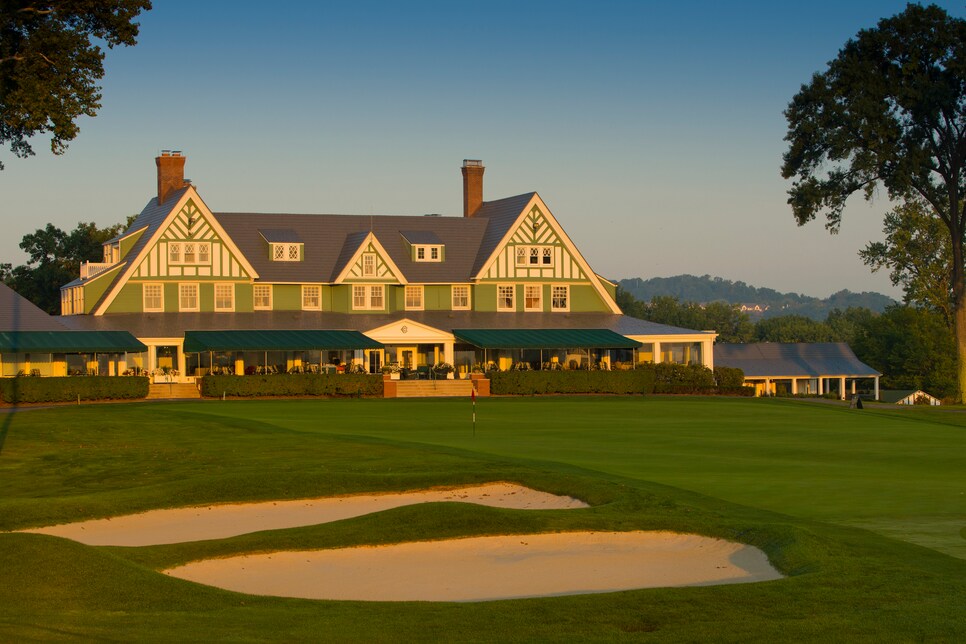 The USGA headquarters are in Far Hills, N.J., but it's de facto home is at Oakmont. The U.S. Amateur has been played five times at the course, and the U.S. Open is making its record ninth appearance on the grounds. There's a reason Oakmont holds such prestigious events: It's one of the best layouts, in terms of aesthetics and challenge, in the world. Chambers Bay isn't as bad as the critics say; nevertheless, it's leagues away as a venue compared to Oakmont. Having a respected, well-known backdrop for its broadcast gives Fox a bullet in the chamber it lacked in 2015.
The arrival of Paul Azinger and Curtis Strange
The addition of this duo helps on two fronts. The first is obvious: Both are esteemed, knowledgeable voices, capable of communicating the proceedings to novice fans while simultaneously educating and adding an extra layer of savvy that zealots expect out of color commentators. During the Saturday washout at St. Andrews, Azinger was the MVP of the telecast, earning his paycheck by adding life and interest to the hours and hours of dead air.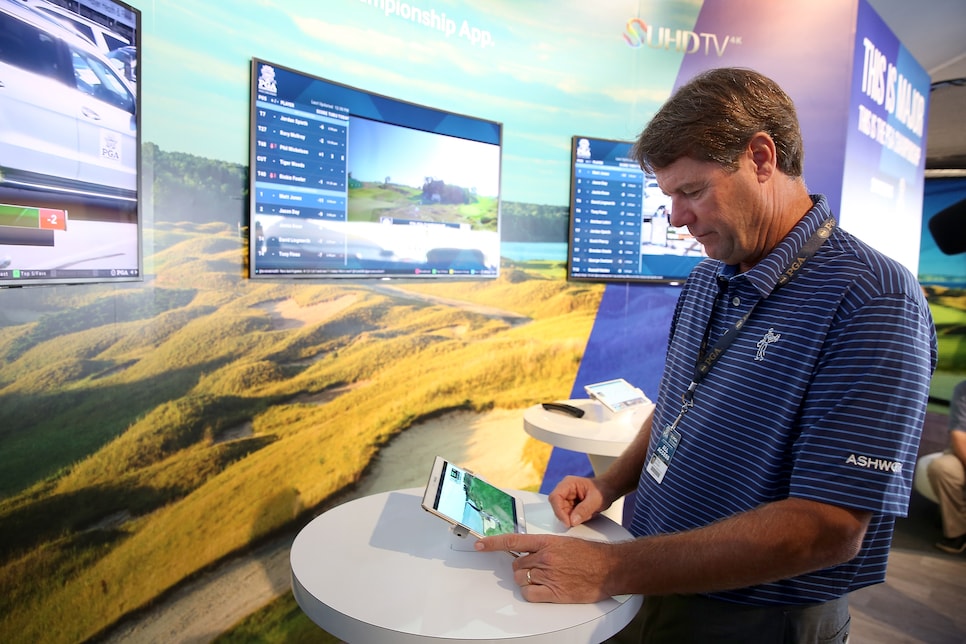 The second benefit, while not straightforward, is intrinsic to the hires: Both have equity with viewers. Most of the Fox crew last year, including the duo in the 18th tower (more on this in a moment), were greenhorns to golf telecasts. As such, audiences were more distrustful and quicker to judge. With Azinger and Strange, viewers will have a sense of familiarity, like they're in good hands. As we saw in 2015, the worst part of a viewing experience is having broadcasters actively detract from the performance. That won't be a worry in 2016.
Let's be honest: Even for a first go, Greg Norman's job behind the mic left much to be desired. He mistakenly diagnosed Day's vertigo symptoms. He said he'd never seen Patrick Reed move his foot during his swing, even though Reed has that quirk on every single swipe. He was infamously quiet on Dustin Johnson's putts on the 72nd green -- he didn't tell the audience the break, what other players had done throughout the day -- and provided no analysis after the three-jack, disappointing given, if you had to choose one player to discuss a "choke" moment, it would be Greg Norman.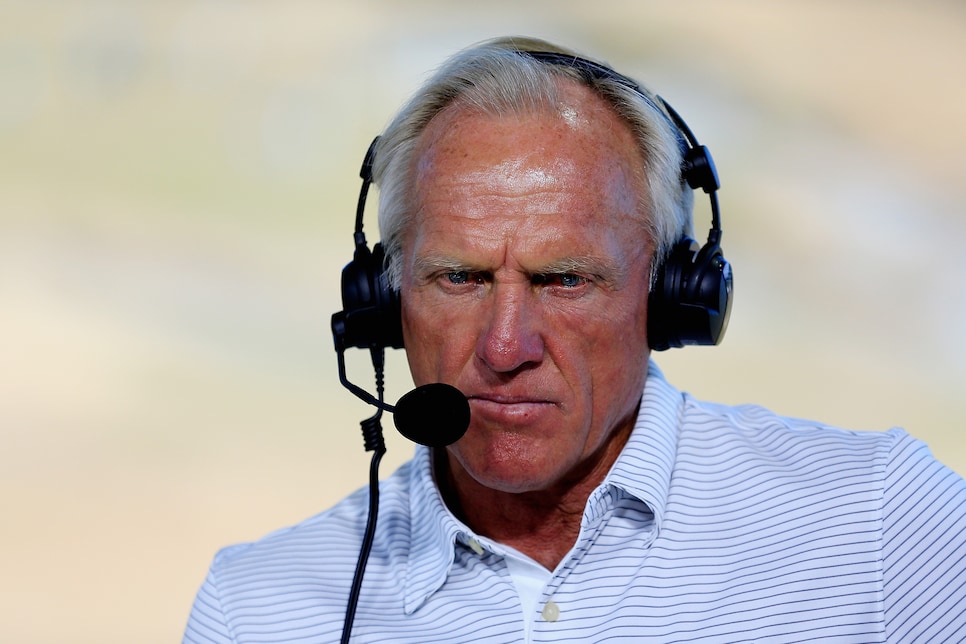 Fox let Norman go, a move that took the two-time major winner by surprise. "I got nothing but compliments from the right people that knew what's going on," Norman told Golf Digest. "I thought I was handcuffed, to tell you the truth. There was a lot of stuff I wanted to say, but the final comment they told me [was that] I was too unpredictable. I thought that's what they want you to do in that role."
Perhaps Norman will get another shot in the booth. Luckily for viewers, it won't be at Oakmont.
I'm told this wasn't technically Fox's fault: A stat-feed issue caused this blunder. Conversely, I emailed a buddy who works for a rival sports entity about the snafu. "That happens to us all the time," he replied. "We have contingency plans on contingency plays. How they didn't defies belief."
After last year's chaos, we're guessing Fox has a backup itinerary, too.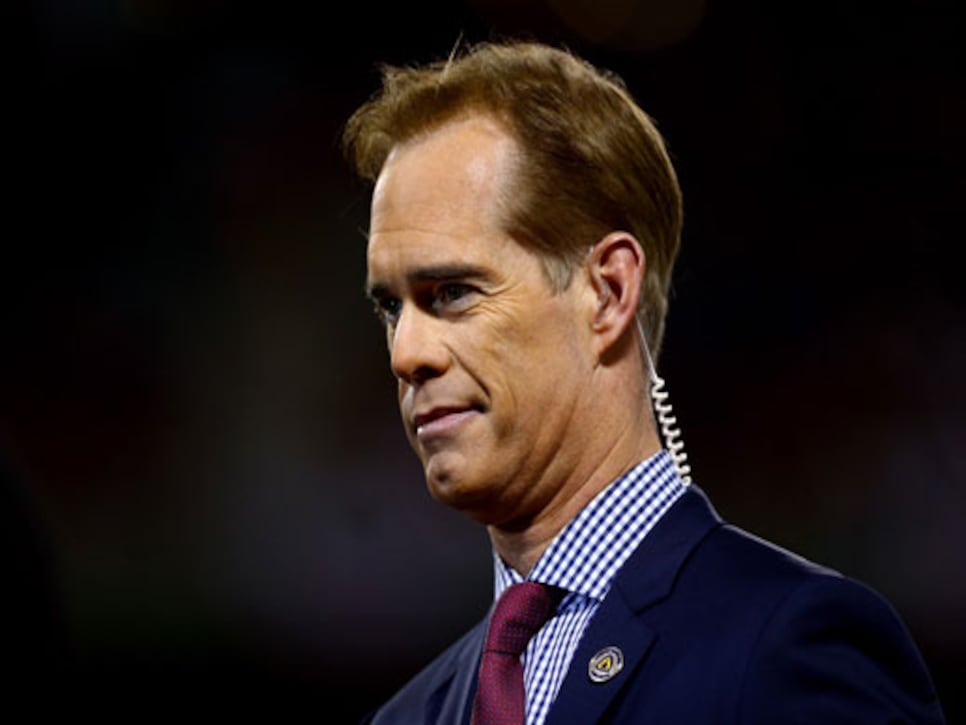 Yes, he's a divisive sort among sports fans. In the same vein, he's one of the leading authorities in his profession. No matter the assignment, the coveted few in that echelon rarely falter. That Buck's initial foray into golf was rocky wasn't totally surprising, but it will be a shock if we see a repeat performance.
His peers sing about his preparation; you can bet he's watched replays of last year's Open to fine tune this year's execution. He's surrounded by a better team, making his job as broadcast quarterback easier.
There's also something to be said for the spoiled nature of golf audiences. Nantz, Hicks, Tirico are tough acts to follow. Just because Buck fell short of their standard doesn't make him bad.
One development to watch: Buck's a hell of a golfer -- he owns a 4.5 handicap -- an affinity he mostly kept under wraps during the 2015 telecast. Sharing this love could go ways into building goodwill and rapport with the audience.
Remember the flames that, pun intended, engulfed Chambers Bay -- as well as the broadcast -- last year? You don't? Oh, well here's a refresher on the incident, as well as its coverage:
The moment became symbolic of the telecast: Something with such much promise, going up in smoke. In the rare case such an event happens at Oakmont, don't envision similar time and resources dedicated to a dust-up.
Holly Sonders returns to her wheelhouse
Comedian Mitch Hedberg once said that just because you're a good cook, it doesn't mean you can farm. It's an apt description of Holly Sonders' theatrics at Chambers Bay.
Anyone who watched Holly at the Golf Channel won't question her pedigree or abilities. She's damn good in the studio, has a sharp wit and knows more about the game than the majority of the industry.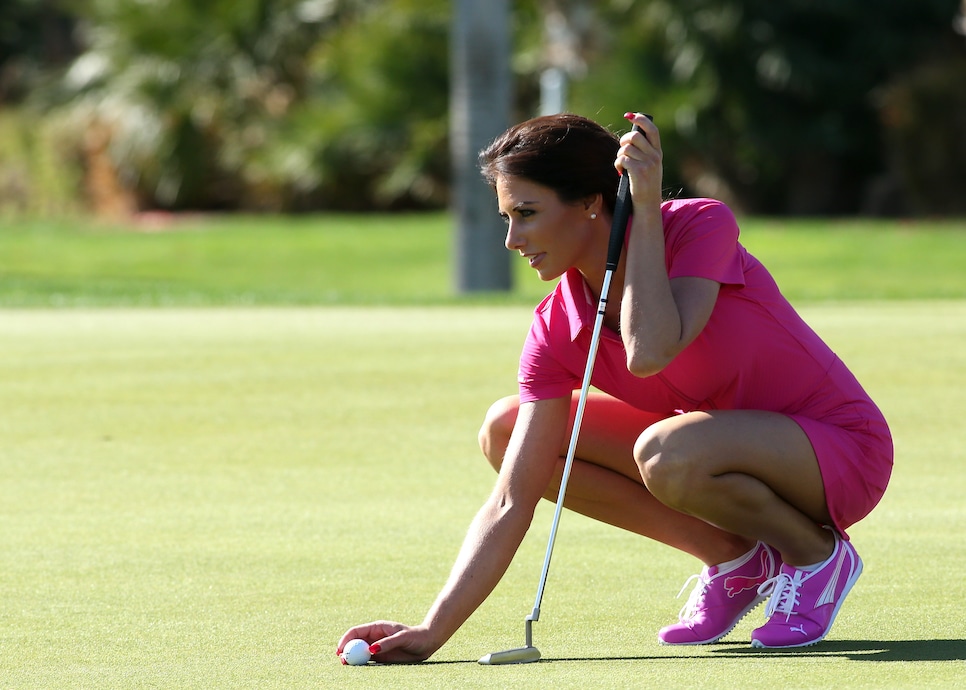 Unfortunately, major championships attract fringe eyeballs, and to this crowd, Sonders was out of place as an interviewer. She used too many crutches ("We were just talking before we came on" was heard roughly 40 times), her humor fell on deaf ears and, to be frank, some of the conversations were simply awkward or inappropriate.
However, the Fox brass has faith in Holly, returning her to a natural setting as studio host. Her presence will enhance Fox's studio discussions, and it prevents some of the cringe-worthy interactions with players. A win-win.
It's never love at first sight
Life is about reps. Fox stumbled out of the gate, but that doesn't mean we'll see similar bombs for the next decade. You don't become a global media franchise by continuing your mistakes.
Fox may still fall short of the lofty benchmark set by NBC for U.S. Open coverage in 2016. But you can guarantee it will be better than last year.