The Loop
7 reasons why you should enjoy Tiger Woods while you can
Enjoy the PGA Championship. Enjoy Tiger, the greatest or second-greatest player ever, depending how you judge it. Enjoy even this recovery-room version of Tiger. As Brandel Chamblee said this week: "There will never be another." Given the way the professional game is proceeding, the chance of there being another golfer as dominant as either Tiger or Jack Nicklaus is nil. Nicklaus continues to hold the majors record, with Woods close behind. Woods has a record, too, that will never be matched: He's won a record 27 percent of the professional tournaments in which he's played. That's like batting .400 for a career. Some of us have been spoiled to able to watch the two of them in their primes. And whether Tiger ever reaches Jack's record or not, their two careers, entwined by this fictional total-majors race, will one day be as distant as Joe DiMaggio's hit streak, Oscar Robertson's triple-double per-game season, Gretzky's 92 goals, Bob Gibson's 1.12 ERA. Eighteen majors? Fifteen majors? Doesn't matter. Neither will ever happen again. Enjoy it while it lasts. There will be McIlroys and Trevinos and Millers and Faldos and Kaymers and Mickelsons. There will be Watsons and Els and Stensons. But no more Tigers and no more Jacks. Here's why:
Jack Nicklaus has argued, for as long as I can remember, that kids should play lots of sports and wait to specialize. But who does that anymore? Kids start beating balls in elementary school and don't stop until they're 50…maybe. They don't play golf, they work golf, and like the ACLs of adult basketball players who've been doing it since they were 5, their bodies can't take it. Ask Tiger Woods. Work ethic is a two-edged weapon; it gets you there, but it breaks you down on the way. The current insistence on specialization, on long hours of practice, some of it purposeful, some of it not, takes a toll. Professional golfers will get younger, like Jordan Spieth, and they will, effectively, retire younger, too. Major winners in the future could be very young, but they won't be very old. The Masters at 46? Not again, despite the fact that players work to stay fit longer.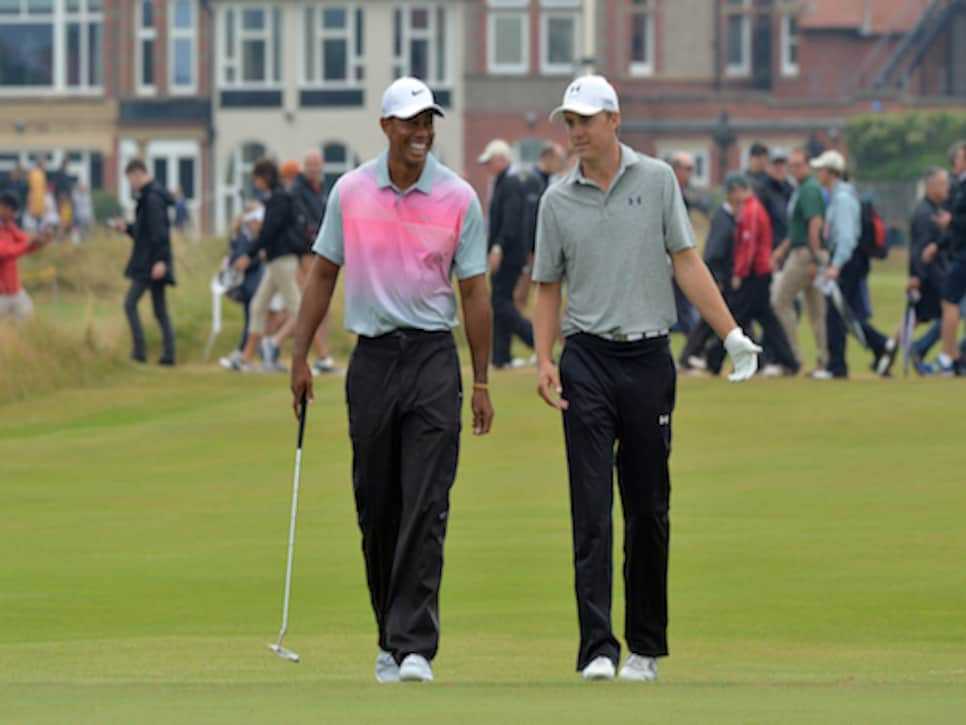 It's de rigueur these days for golfers to leave or skip tournaments to attend the birth of their children, or, in Phil Mickelson's well-celebrated case, the graduation of his grade-schooler. Jack Nicklaus built his schedule around majors in part to attend to family obligations, redefining what it meant to be great. Modern players, especially married younger players -- McIlroy dodged that one -- expect even more balance in an unbalanced profession. Graeme McDowell talked about missing the Scottish Open for family obligations. In his Q&A Henrik Stenson was asked about his motivation for winning, given that he's amassed so much prize money and has a wonderful wife and two children. It's not a question Jimmy Demaret got, I suspect. It will get more and more difficult to maintain the kind of focus that Woods and Nicklaus have had on golf. Even if the body holds up, the mind, and the tug of family obligations, will work to undermine it. Grinding from grade school to grandfatherdom will burn players out mentally even faster than physical wear and tear. "If they're 40 and have been out here for almost 20 years and have earned their $40 million or $50 million or whatever it is, it's a grind," veteran Chris DiMarco said. "There are other things they might want to do."
The FedEx Cup, not to mention the World Golf Championships, dangles so much money in front of players, it forces them to play events beyond the majors that increase the challenge of Nos. 1 and 2. Would Jack have said no to the FedEx Cup to stay with his major concentration? Would Tiger have said yes if it were there at the beginning of his career? "The tough thing for myself and a number of other Americans is it's a huge stretch from here through The Tour Championship," Matt Kuchar said of his scheduling changes. "It would really be a tough stretch with the British Open followed by the Canadian Open, followed by the Bridgestone Invitational, the PGA Championship, Greensboro, and then right away our four playoff events start. So to have any sort of chance to play well through that stretch, hard to figure out just how much to play beforehand." He did not mention that there are, in alternate years, the Ryder Cup and the Presidents Cup. Jack was able to plan his schedule around the majors. Tiger has, but has compromised by playing in these other events. His body may be paying the toll.
In the same way that the enormous purses can alter schedules, they can also alter career goals -- and longevity. Take the FedEx Cup. With $10 million on the line, where does a player focus? If you're not chasing history, how much money do you need? If you've won a major or two, have lucrative endorsement deals, does it matter if you're considered the "best ever"? Will a player with the potential to win double-digit majors even see the point? Some people who know Tiger well say the idea of his chasing Jack's record was ours, not his. Not sure I buy that, but how many massively talented players in the future will see the point anyway of chasing either Woods or Nicklaus' majors record? I don't hear Rory talking like that.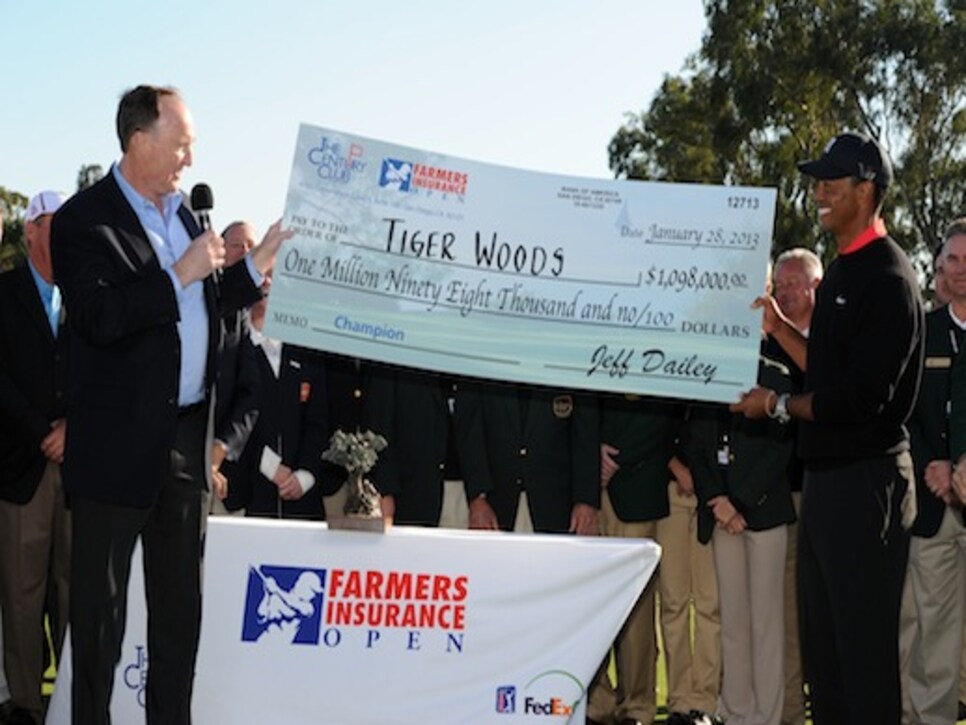 Nicklaus refined the definition of golf greatness by accentuating the importance of the four majors. Winning majors, and, to an extent not emphasized until he came along, winning all four of them at least once, became the goal. Today, "near majors" like the the Players, the WGC events, and the FedEx Cup, have grown in significance, and Ryder Cup participation means more than in its "exhibition" days. Will majors remain the main measure? It's not a sure thing. Over time the near-majors may lessen the weight of the four, and give players the opportunity to define their success differently.
As Tiger knows, and learned for certain in 2009, there is no place to hide. The unceasing pressure from media of all kinds, in good times and especially bad, will only grow, with social media showing the capacity to intrude even further than print, TV or web. Such scrutiny only increases as a player succeeds. Will any player tolerate this kind of pressure for, say, 20-25 years? One might argue that Tiger was the modern media's first "major" victim.
It appears that more of America's best athletes are choosing golf, and so are many athletes globally. The Olympics should magnify the appeal of golf in many countries where it's a lesser sport now, deepening the depth of competition. (China alone changes the balance.) As more talent chasing more money with more and more technical and consultative help enters the game, the dream of dominance diminishes. Enjoy Tiger while you can. There won't be another.