Talking about practice
Why understanding this 68 percent rule is the key to upgrading your practice
There's more information about the way players play golf than ever before, which is great news for amateur golfers. It gives us an opportunity to learn from those findings to help us practice more efficiently, and shot lower scores because of it.
My co-host Maddi MacClurg and I break it down on the latest episode of the Golf IQ podcast which you can listen to below (and subscribe to right here)
How the 68 percent rule works
There's a little bit of math involved, but stay with me.
Let's look at a golfer with a 10 handicap; someone who's capable of breaking 80 on their best days, but usually one who lives around 85. Using two Arccos stats as a baseline (you can sign up for a free Arccos trial right here, by the way)...
The average 10 handicap hits about six greens in regulation per round
The average 10 handicap has about 32 putts per round
Add those 32 putts with the 14 drives you hit on par 4s and 5s, and you've got 46 shots. Add one short game shot — a chip or bunker shot — on each of those 12 greens in regulation that 10 handicap golfers miss, and you're at 58 shots.
The 68 percent rule is that 68 percent of your your practice sessions should be spent hitting those three clubs. That means, if you have 100 golf balls to warm up, you should be hitting about 25 putts, 25 drivers, 23 wedge shots, then your final 27 golf balls should be spread out amoung all your other irons, hybrids and fairway woods.
And there you go! 58 shots on a round of 85 is 68 percent. That's the rule: It means that 68 percent of your shots, during a round where you shoot 85, are hit with either your driver, putter, or wedge.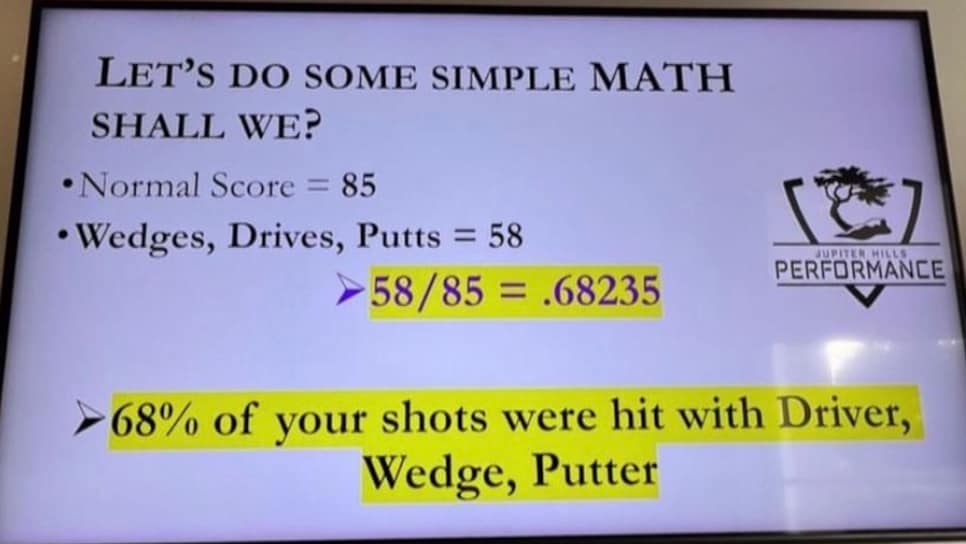 In other words, no more spending half your warm up hitting 6-irons.
Once again you can listen to that podcast, and subscribe, below (or right here!)