The Loop
6 things we learned from Tuesday's Masters press conferences
AUGUSTA, Ga. -- A who's who of top players stopped by the Masters media center to talk about their prospects this week. Here are the seven thing we learned from sitting in on Tuesday's pressers.
1. There's no consensus on how many golfers are legitimate contenders this week.
Rory McIlroy joked that 70 guys have a chance to win. Justin Rose said if you're outside the top 50 you still have a great chance considering how the PGA Tour has played out this season. Phil Mickelson says it depends on when the "Masters speed" returns to the greens. "If the course plays firm and fast, I think you're looking at less than a dozen," he noted. "But if it doesn't, I think you're looking at almost half the field."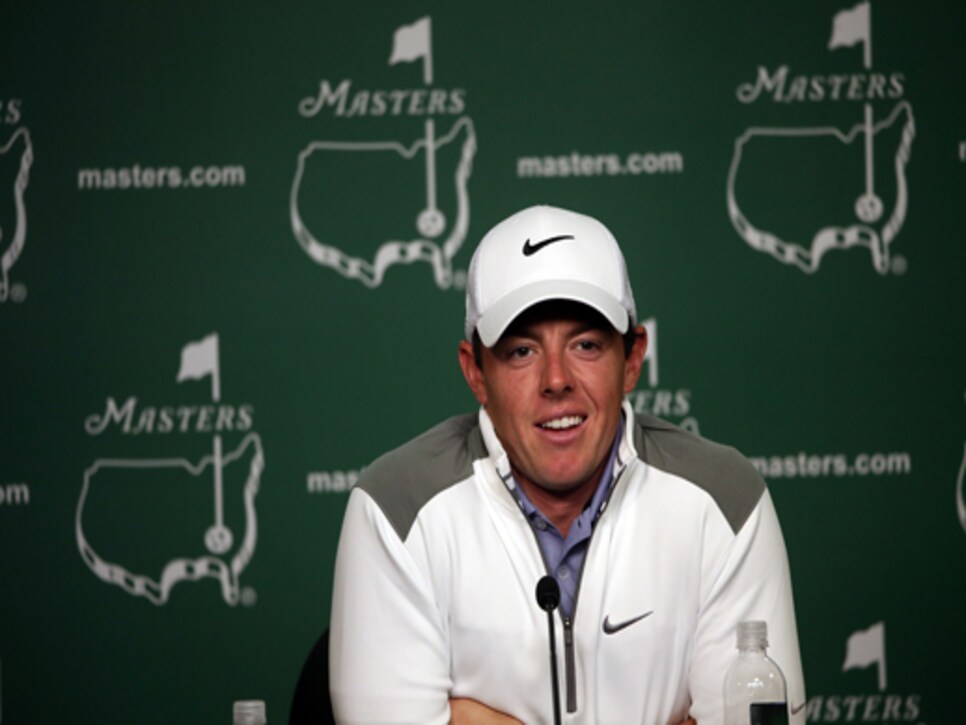 2. Rory McIlroy better hope Ian Woosnam isn't thinking about returning as European Ryder Cup captain.
After getting some laughs for saying 70 players had a chance to win, he then proceeded to digging a bit of a hole for himself when he tried to narrow down the number. "Obviously there's a few past champions that play that might not be able to compete," he said. "There might be a few first-timers or a few amateurs that won't compete. But then you've got the rest; I'm just looking down the list here: Stewart Cink, Tim Clark, Ian Woosnam, no; John Huh -- sorry, Woosie. But I'm talking about the people that are playing regularly on the PGA Tour, sorry, Woosie, didn't mean that." __
3. Adam Scott has a bug fetish.
The Aussie was coy about what's on what delicacies he's got planned for this evening's Champions dinner, confirming that kangaroo and crocodile aren't on the menu, but that Moreton Bay bugs, allegedly an Australian delicacy, are. "They're here. The bugs are here."
4. Not everyone is missing the Eisenhower Tree. And just because it's gone doesn't make the hole that much easier.
Justin Rose does the honors: "It's still a chute. There's no room for error. If you hit it down the left edge of the fairway, you're blocked out by trees, because you get underneath them. And the right side, there's trees all the way down the right. But it definitely opens up the hole. But obviously, if I go back to 2007, that was a tee shot that really hurt me in a way. Had a great chance to win there in 2007 and made double bogey on 17. So for me, maybe it's going to suit my eye just a little better."
5. There is a different vibe without Tiger Woods in the field.
Interesting, it was among his chief rivals who was the most candid about this. "It's a weird feeling not having him here, isn't it?" said Phil Mickelson. "He's been such a mainstay in professional golf and in the majors. It's awkward to not have him here. I hope he gets back soon. I mean, I hope he's back for the other Majors, and as much as I want to win and I know how great he is and tough to beat, it also makes it -- it makes it special when he's in the field and you're able to win."
6. You need to be careful if you're watching the Masters before bed.
Henrik Stenson was asked about his first memories of watching the Masters as a boy in Sweden: "I fell asleep many nights to the Masters Tournament, very soothing music and the flowers. When it goes to commercial break over here, it's like [mimics nodding off], because it's the middle of the night. As a kid, the one kind of clear memory I have, is when Sandy Lyle hit the 7-iron out of the bunker on 18 in '88. So that's probably my first Masters memory from television.