The Loop
6 interesting pairings worth watching at the British Open
You might have to get up pretty early for some of them (or if you're on the West Coast just not go to bed), but of all the groups at this year's British Open here are the pairings we think are worth keeping an eye on for the first 36 holes of the tournament.
All times listed are Eastern Daylight Time, with their first-round tee time followed by their second-round time.
3:37 a.m., 8:38 a.m.: Luke Donald/Rickie Fowler/Sergio Garcia
Time is running out for Donald to win his first major, and he knows it. Fowler, at 25, has inched closer to his first title in the last two majors, but has a little more time on his side. Sergio played well here in 2006, finishing T-5, and as long as he doesn't wear all yellow again this Sunday, has the potential to improve on that finish.
4:04 a.m., 9:05 a.m.: Tiger Woods/Angel Cabrera/Henrik Stenson
Regardless of how he plays, all eyes will of course be on Tiger. Stenson finished second last year and deserves a major sooner rather than later, and Cabrera has a habit of popping up at the year's biggest events.
4:26 a.m., 9:27 a.m.: Rory McIlroy/Hideki Matsuyama/Jordan Spieth
This could potentially be the "big three" of the future. Each of these young guns are playing well at the moment, and Matsuyama finished T-6 at last year's British Open. Rory's habit of collapsing mid-tournament and Spieth's poor ball striking -- he is 127th and 117th in driving accuracy and greens in regulation, respectively -- are the two key questions marks from this group.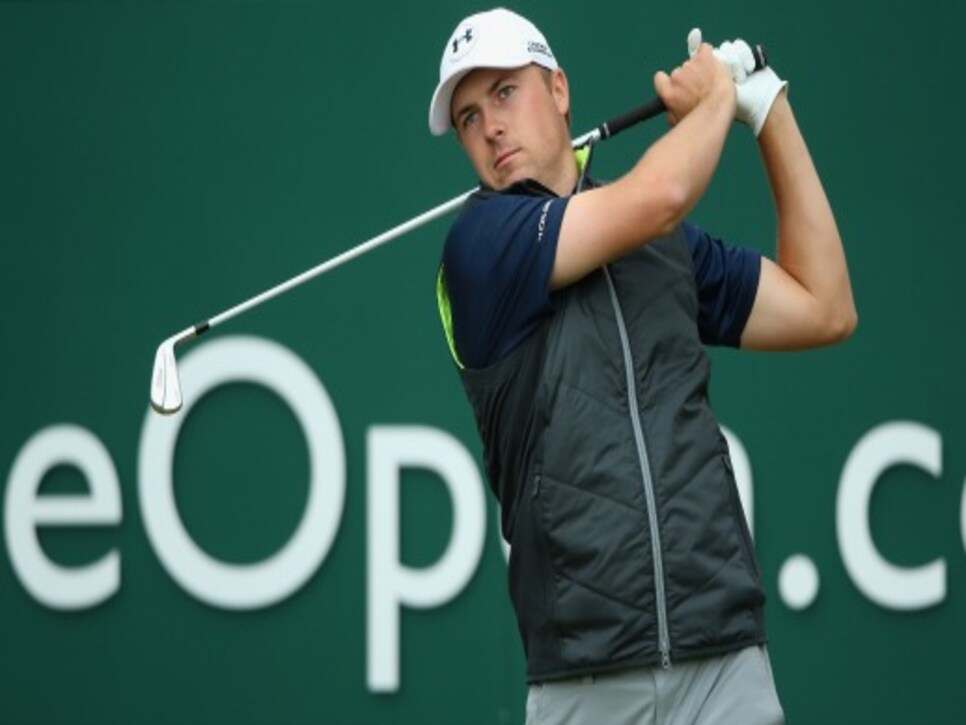 Exactly how the memory of Kaymer's Pinehurst pummeling has seemed to fade in just a month's time since his U.S. Open win is beyond us, but it appears to have -- at least in the minds of punters here in England who have his odds to win dropping to about 25/1. A very good 2014 season can turn great with another good event in Hoylake for Kaymer, who will be helped by a pairing with the affable Day and Johnson.
9:05 a.m.,4:04 a.m.: Phil Mickelson/Ernie Els/Bubba Watson
Spectators might want to look alive given this threesome's propensity for hitting drives all over the lot. Considering Mickelson and Els seem to still be searching for their swings, the potential for somebody getting an autographed golf glove after being grazed by an inadvertent shot is reasonable. That said, even if this trio is off form, their golf promises to be entertaining.
9:27 a.m., 4:26 a.m.: Adam Scott/Justin Rose/Jason Dufner
The trio will forever be linked having each won their first career major in 2013. The question is which one can grab a second. Scott's 2014 has included eight top-14 finishes in 10 starts. Rose is coming off two straight wins and, except for a MC at Memorial, hasn't finished worse than 25th since April. Dufner is the slacker in the bunch, having missed his last two cuts and yet to play on the weekend in a major since his PGA triumph.