Equipment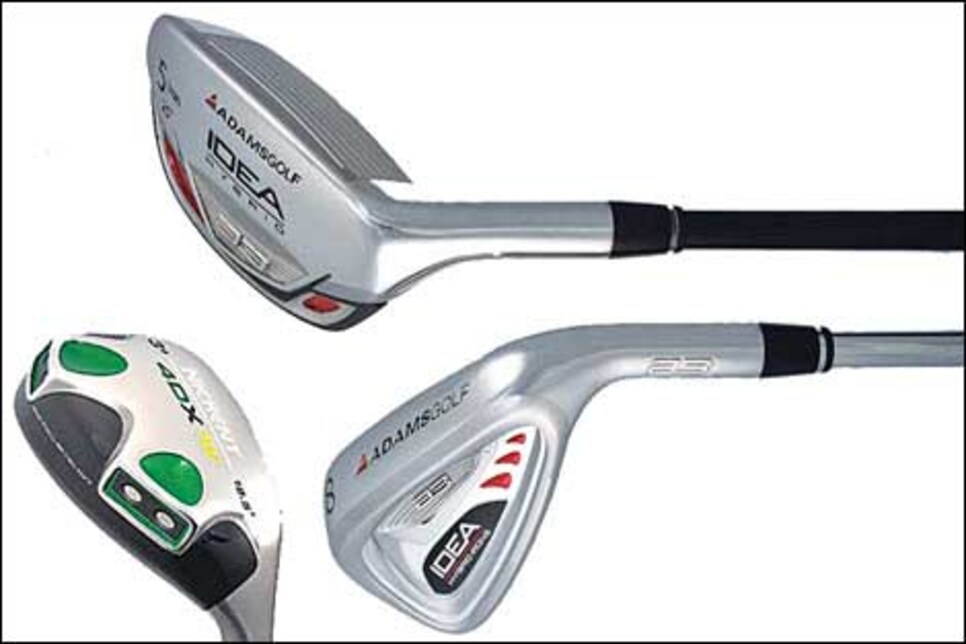 In relatively short order, regardless of whether you're a 25-handicapper or a top-five player in the world, the half-wood, half-iron club has summarily killed off the 2-, 3- and in many cases the 4-iron. The 5-iron appears to be next.
It's not a completely new idea, of course. Full hybrid sets that include a 5-iron-loft hybrid have been around for decades in limited use, and although they have reemerged in recent years with sets like the TOUR EDGE Bazooka JMax Iron-Wood and CLEVELAND's HiBore irons, the idea of a mainstream set without a 5-iron is groundbreaking. Not surprisingly, ADAMS GOLF is leading the movement. The new Idea a3 set features five cavity-back irons mixed with three a3 Boxer hybrids ($700, adamsgolf.com). The hybrids have a maraging-steel face insert and a long, deep rectangular form that is designed to move the mass away from the center of gravity. The result is a moment of inertia (that is, resistance to twisting on off-center hits) on the 3-iron hybrid that is a third higher than on typical hybrids, according to Tim Reed, vice president of research and development at Adams.
The benefit of MOI in hybrids, Reed says, is the same as it is with drivers: It's getting the average player to produce consistently accurate distances on slight mis-hits, even with middle irons. If you extend weight away from the center of gravity (like in a hybrid compared to a typical one-piece construction iron), you'll get a clubhead that is more stable. "If you get the inertias higher, it's going to be a positive change," Reed says. "It's not so much a left-right correction. It's about a consistency in distance."
More golfers seem to be considering ditching the 5-iron. CALLAWAY, for example, says more than 20 percent of its hybrid sales are of the 5-iron loft or higher, and__NICKNET's__ latest line of 4DX hybrids continue the company's tradition of offering multiple high-loft options. The 4DX Ironwood, which features a weight-saving, brazed titanium crown that is just 0.4 millimeters thick, comes in 11 lofts, including 27.5 and 29 degrees ($180, nickentgolf.com).
One concern: distance gaps. Inserting a hybrid with 5-iron loft might trade one problem for another. That's a benefit to a set like the Adams a3, which incorporates true distance gaps through its set (shaft length is an important consideration). A solution is to use the latest TrackMan and Flightscope launch monitors, which include a feature that charts distances for each club, regardless of weather conditions. Also, fitting systems such as those developed by PING,COBRA, Callaway and__TAYLORMADE__ incorporate an analysis of how many hybrids work best for each player. If you don't think this applies to you, realize that about a third of the players on the PGA Tour carry fewer than eight true irons in their bags.