The Loop
5 things to talk about with your buddies on the course this weekend
From sports to TV to politics (OK, so mostly the first two), we offer five hot topics that are sure to liven up your round of golf:
1. Kansas City Royals: This team simply can't lose! After coming back from a 7-3 deficit in their one-game wildcard playoff against Oakland, the Royals swept the Angels and the Orioles to reach the World Series for the first time since 1985. That also happened to be the last time this franchise was even relevant. Four of their eight playoff wins have come in extra innings and another two victories have come by one run. Can you say "team of destiny"?
2. San Francisco Giants: Not so fast, says this Bay-area team that may be even more charmed. The Giants also had to survive a one-game playoff and they've won two extra-inning games, including an 18-inning marathon against the Washington Nationals. The Giants finished off the St. Louis Cardinals in the NLCS thanks to a walk-off home run by a guy who hit three home runs all season. They'll be looking for their third World Series title in five years when the Fall Classic commences on Tuesday. We're rooting for the Royals to win because their fans have been waiting so long and because superfan Paul Rudd (below) will probably throw another keg party at his mom's house.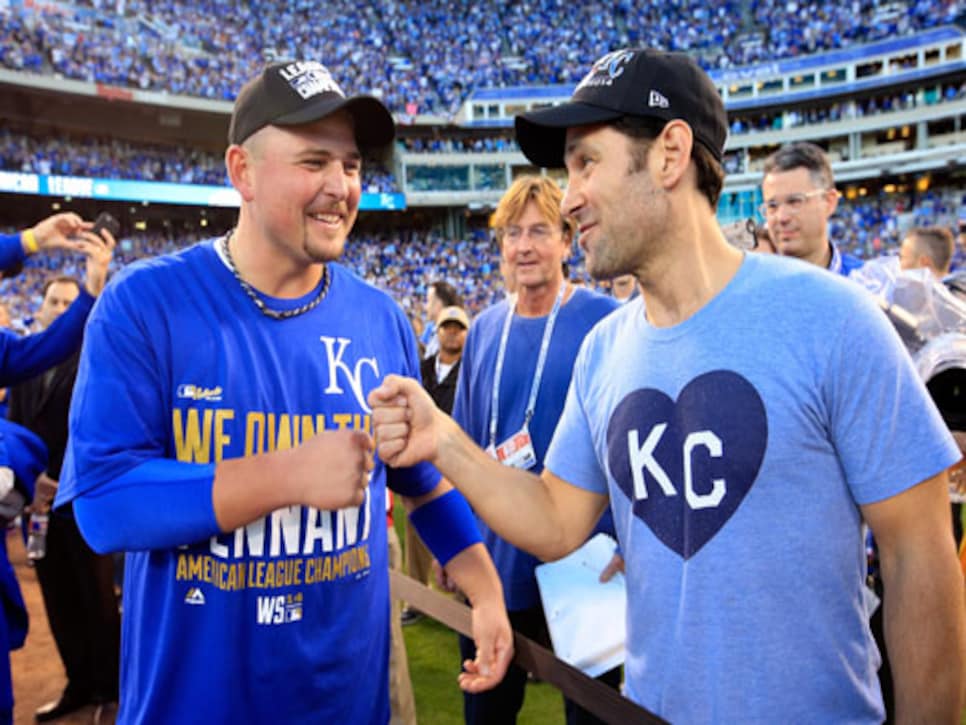 A celebrity Kansas City Royals fan? That's original.
3. Ebola: Eh, let's not talk about Ebola. This stuff is awful.
4. NBA game length: The NBA regular season -- like every regular season besides the NFL -- is too long. We all know that. But instead of shortening from 82 games, the NBA is thinking of making games shorter. Four minutes shorter. The thought is to have less wear and tear on players and to speed up the games. The problem is no players come close to averaging playing a full 48 minutes per game or even 44 minutes (Carmelo Anthony led the league at 38.7 minutes) so how is this benefitting them exactly? And if you want to shorten the length of the games, here's an easier solution: Don't give each team EIGHT timeouts per game!
5. Eating... mattresses?: This week in "what my fiancee made me watch on TV" focuses on a TLC show called "Strange Addictions." On this particular episode, there was a young woman who has been eating foam mattresses for 20 years. Yes, she actually tears foam out of various mattresses -- often sneaking/grazing around her house -- and eats it. Thanks, TLC. Suddenly, my addiction to soda and Chili's doesn't seem so bad.