The Loop
5 reasons Pinehurst No. 2 should be the future of golf
PINEHURST, N.C. -- Stop me if you've heard this one before. A sportswriter walks into a bar and a couple from Sarasota sits down next to him. "I just saw the worst golf course in my life," the guy says to nods from his female companion. "I wouldn't pay $20 to play that cow pasture," says the cynic from the Sunshine State.
While certainly entitled to their opinion, Sara and Uncle Sy Sota are what Dan Jenkins would call "point-missers."
The restored No. 2 course at the Pinehurst Resort is not only a perfect venue for the U.S. Open -- demanding imagination and shot-making -- but it also provides a roadmap for the future of golf.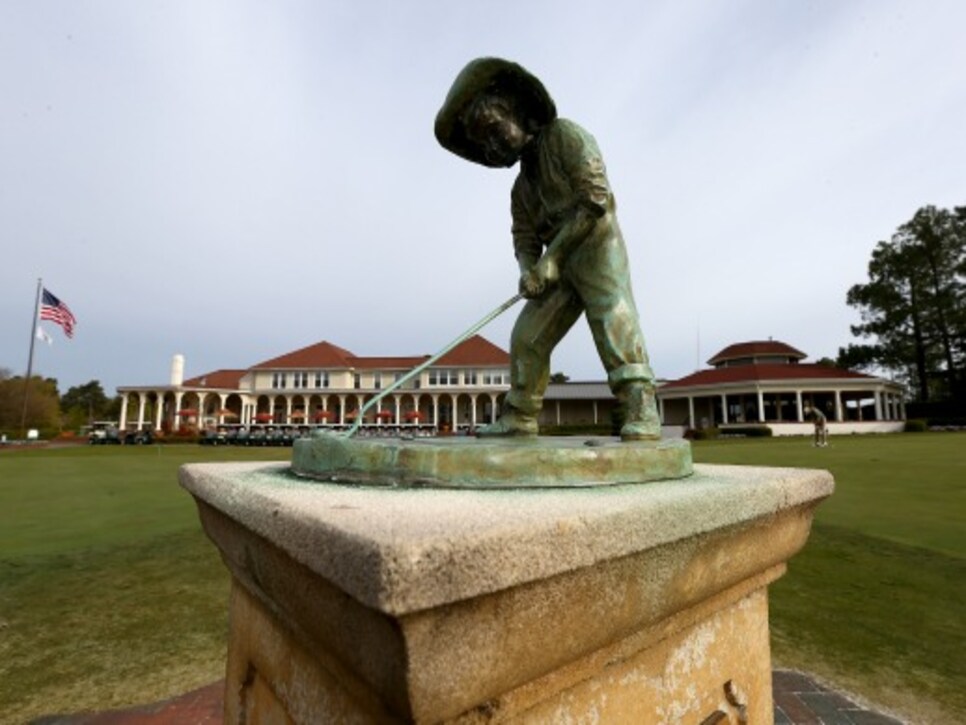 But think about it: This isn't the way golf once was. This is the way we have made it.
The game's roots are decidedly brown, dyed green in the quest of greenbacks.And that strategy, while successful for a while, now needs to be abandoned if the game is to grow again.
During the gravy train days of the 1990s, when the economy was running hot and they were literally building a golf course a day in the United States, a lot of bad ones were constructed. They were too expensive to build, too expensive to maintain, too expensive to play, and too difficult to enjoy.
I think back to a quote Jim Furyk gave me some years back after Colonial CC, the old gem in Fort Worth, Texas, was restored. "It's easy to make a golf course harder," Furyk told me. "But it's hard to make a golf course better."
Colonial was made better, and Bill Coore and Ben Crenshaw have made Pinehurst No. 2 better.
Here are the five reasons the genius of Coore/Crenshaw needs to be used to rethink the nature of golf courses.
__1.__By removing 40 acres of rough and returning it to natural vegetation and soil found in the Sandhills of North Carolina they reduced water usage by millions of gallons a year.
As USGA executive director Mike Davis said Wednesday in his pre-tournament news conference: "Long-term, water is going to be the biggest obstacle to participation."
Yes, water will be the new oil. The price is just going to continue to rise.
__2.__By eliminating rough and allowing the golf ball to roll where nature takes it, the number of lost balls will be reduced even more dramatically than water use.
That's a cost incentive for the player right there. What's more annoying than paying a pricey green fee and then losing a half-dozen balls on top of that?
__3.__Eliminating the search for lost balls will also improve pace of play as less time is spent whacking through shin-high rough looking for wayward shots. True, not every course has the natural defense provided by the sandy soil at Pinehurst, but what's wrong with just letting the ball roll into trees as the penalty for going long and wrong?
__4.__Pinehurst No. 2 has no water hazards, except a small pond on No. 16 that's pretty much out of play. Hooray for that. The point of a hazard should be to have a chance to erase the mistake with a great recovery shot. Hit in the water, add a stroke and lose the price of the ball. What's the fun there?
__5.__Playing firm, fast golf is fun. Not everyone can hit a 200-yard shot with spin, but most can make the ball scoot along the ground that far. Last summer, I played Crail and Elie in Scotland near St. Andrews. The genius of both courses -- and the fun -- is that there are no forced carries. Keep the ball in front of you and all will be fine. Bogeys are easy; pars and birdies are hard.
Golf is a game. We play it. Somewhere along the way we took the fun out of it and charged a premium to be punished.
Embrace the brown of Pinehurst No. 2. It's the way golf needs to look -- and play -- if we are to get the game growing again.