The Loop
5 interesting backstories that accompany LSU's victory at the NCAA men's championship
The LSU Tigers, with a 4-1 victory over USC on Wednesday at The Concession G.C. in Bradenton, Fla., are the kings of the men's college golf world, becoming the fifth program to win the NCAA title since the format added match play seven years ago, joining Texas A&M (2009), Augusta State (2010, 2011), Texas (2012) and Alabama (2013, 2014).
Among LSU's starting five of Brandon Pierce, Ben Taylor, Zach Wright, Eric Ricard and Stewart Jolly, no one was ranked better than 41st individually according to the Golfweek Sagarin ratings entering the week. However, all five were ranked inside the top 100, making coach Chuck Winstead's squad one of only three schools in the field (along with Texas and Auburn) who could boast that kind of depth. It goes a long way in explaining how the team, which won the school's first SEC title since 1987 in April, grabbed the seventh seed in the 72 holes of stroke play, then marched to the title with wins over SEC rivals Vanderbilt and Georgia before knocking off the Trojans.
As LSU fans celebrate the championship -- including notable shoutouts from alums David Toms and John Peterson -- here are five interesting wrinkles that accompany the Tigers' triumph.
I'm shotgunning beers and crying at the same time congrats on history @LSUMensGolf
1. It was LSU's fifth NCAA team title but first since 1955.
Winstead, in his 10th year at LSU, knows his program has a impressive history. It's just that it was more ancient than modern. LSU's first NCAA title came in 1940 and it was followed by wins in 1942, 1947 and most recently (if you will) in 1955. Peterson did win the individual title in 2011. Winstead himself joked how the last title came in the days of black and white TV, making it feel more like LSU's first time around than it's fifth.
2. The Tigers barely qualified for the NCAA Championship in the first place.
Entering the final round of the NCAA Regional at Connecticut's Yale G.C., LSU sat in 10th place, 11 strokes out of the fifth and final spot the team needed to be in to reach NCAAs. But the Tigers mounted a furious rally, closing with a 12-under 268 (Taylor and Pierce shooting 65s) to move into fifth and advance to nationals for the fifth time in six seasons.
Ask the players and they'll insist they weren't too nervous about their position. "We've had several tournaments where we started off poorly, but we have played very, very well in the final round," said Jolly, a senior. "After the second round, we all got together and had a little talk, and we started getting our minds wrapped around that we could actually make the comeback, and we went out there ready to play and played phenomenal and got ourselves here."
Winstead also had a feeling his team's season wasn't going to end at Yale, but knows things got a lot tougher than need be. "I think I need to be a better coach and get the 284 on the front end because these guys are great players," Winstead joked last week.
3. Taylor is the first player to win team titles at D-I and D-II.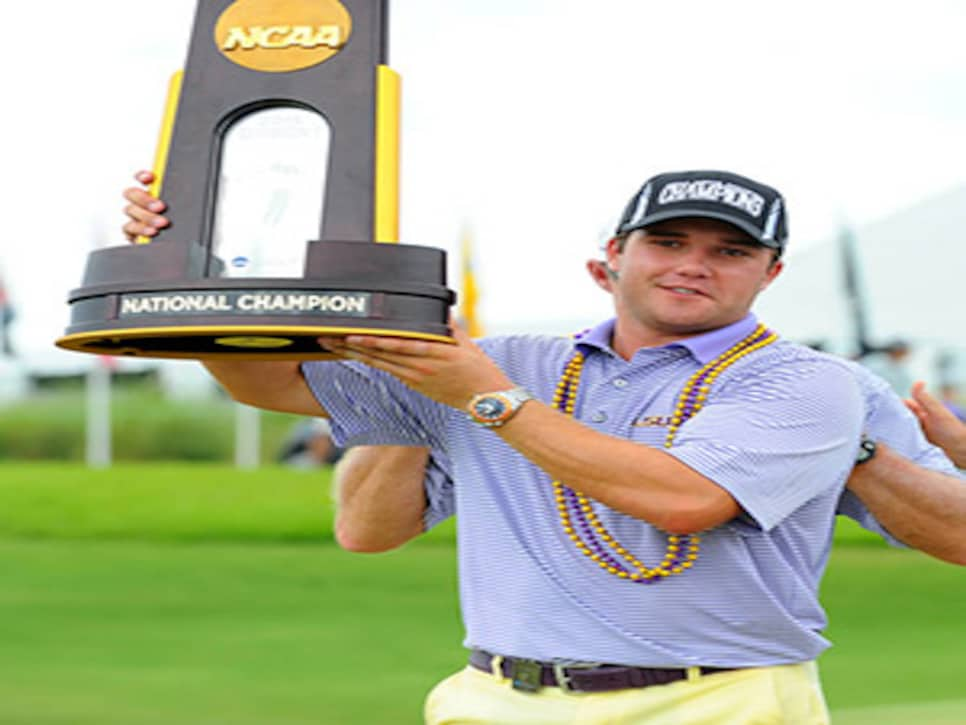 The senior from England ended his college career by holing an eight-foot birdie putt on the 18th green to beat USC's Bobby Gojuangco, 1 up, and secure the championship-winning third point for the Tigers. Taylor joined the LSU program two seasons ago after originally playing at Division II Nova Southeastern, where he won the 2012 NCAA player of the year and helped lead the Sharks to the D-II title as a freshman under coach Garrett Reunion. When Reunion left that job to become an assistant at LSU, he brought Taylor along for the ride. Fittingly it was Reunion who walked the entire round with Taylor on Wednesday.
"I'm very lucky having competed for two very special schools," Taylor said. "To win both national championships is awesome, but to come here to Concession and hole that putt to win the Division I national championship is very, very special.
4. Winstead didn't realize they were playing 72 holes of stroke play until hours before the championship.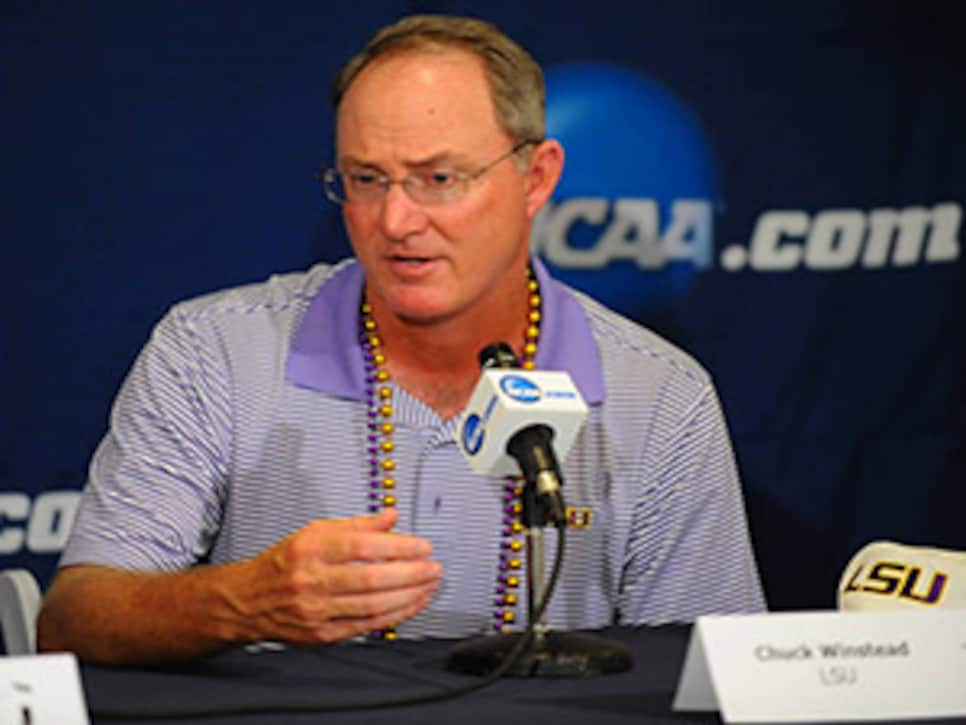 Since changing the format in 2009, the eight teams that reach match play have been determined after 54 holes of stroke-play qualifying. That was the schedule when LSU advanced to match play last year, losing in the semifinals to Alabama. This year, however, the NCAA added a fourth stroke-play round , in part so that the individual champion would be crowned after 72 holes.
If Winstead (right), considered one of the top instructors among college coaches, realized the change had been made, he surprising forgot about it until reminded in a coaches meeting with NCAA rules officials last Thursday, less than 12 hours before the championship was to start.
"Ten years of doing this ... these guys will laugh because details aren't my thing," Winstead said. "The biggest one and the first one. It was that big. There's lots of other ones, but how crazy is that?"
"At the end of the day, it doesn't really matter," Winstead said. "If you don't play great, you're not going to be around, whether you play 54, 72, 36 or 108."
5. Next year's LSU team has the No. 1 ranked junior in the country coming in.
Many thought that the best shot for LSU to content for a national title was in the 2015-'16 season given the arrival of 2014 AJGA Player of the Year Sam Burns in Baton Rouge. Burns is one of a talented fivesome of players that will join the Tigers roster in the fall, including Nathan Jeansonne, Luis Gagne, Philip Barberee Jr. and Carter Toms (son of David).