Living in the Present
Early Scottish Open leader Jack Senior is ready to move on from questions about his amateur days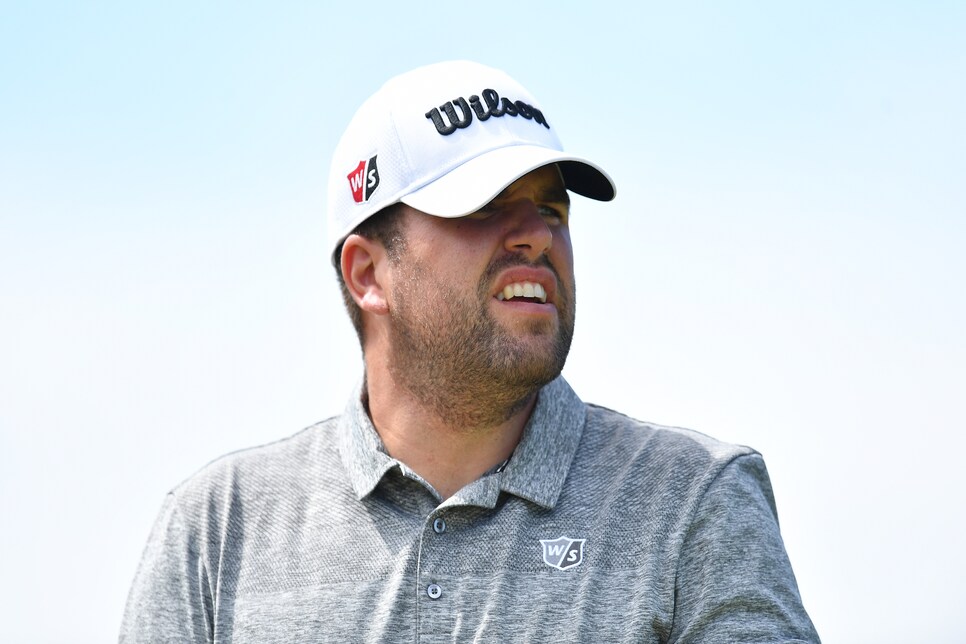 Because he finished inside the top 15 money winners on the 2019 Challenge Tour, Jack Senior is playing in the Scottish Open Championship this week. And he's doing rather well so far. The 32-year-old Englishman, ranked 353rd in the world, opened with a seven-under par 64 over the Tom Doak-designed Renaissance Club to claim the early lead in this $8 million "Rolex Series" event.
In other words, not too shabby for someone playing in only his 62nd European Tour event and whose previous best in a decade-long professional career is T-4 in last year's South African Open. But Senior is a man with a past. Before switching from the amateur ranks, the Lancashire native was something of a stud.
After claiming the 2011 Lytham Trophy (the unofficial British amateur stroke play championship), Senior was a member of the Great Britain & Ireland Walker Cup side at Royal Aberdeen. A distinguished member at that. Senior contributed 2.5 precious points as the home team claimed the trophy by 14 points to 12. His only loss came in the first day singles, when he went down 3&2 to a young lad by the name of Jordan Spieth.
All of which was no surprise. Three weeks earlier, Senior had made his way to the semifinal of the U.S. Amateur Championship at Erin Hills, where he lost to the eventual champion, Kelly Kraft. An impressive accomplishment indeed. But en route, the then 23-year old took out a couple of young guns by the names of Justin Thomas and, wait for it, Jordan Spieth. Thomas fell by 4&3 in the second round; Spieth by one hole in the quarterfinal.
Those are matches you might imagine Senior would be happy to talk about forever more. But that ship has apparently left the harbor for good. Post-64, he was in no mood to discuss what he clearly feels is ancient history.
"This comes up every time I play well, do you know what I mean?" he asked (not for the last time), presumably rhetorically. "I have done other things in life in the last ten years since I've been a pro. But this is a topic that obviously comes up a lot. All I try and do is try and play the best golf I can every single week. And this week, I've played really well in the first round. But that doesn't make a difference. It's where you end up at the end of the week that matters."
Oh, but his interrogators weren't quite ready to let the Thomas/Spieth angle go. Asked if he found reminders of past glories irritating, Senior made his feelings on the matter clear. Pair a tone of exasperation with the following quote:
"It doesn't particularly annoy me because they are world-class players, aren't they? Everyone is trying to be the best possible golfer they can be. I'm trying to be the best possible golfer I can be every single week. I try to learn as much as I can while trying to take on board the experiences I'm gaining. I try to make myself as a round a golfer as I can possibly be."
Yes, yes. But just one last question before we move on to the eight birdies you made today: Jordan and Justin are world-class players; what's holding you back from getting to that level?
"I don't really know," was Senior's response. "If someone could tell me the answer, then I'd be willing to listen. I'm just trying to work on my weaknesses as much as I can. I know I've got weaknesses. But I played flawless golf out there today, and didn't really put myself in any trouble. So when you have a day like that, you are going to shoot a good score."
Fair enough, but Senior's obvious touchiness wasn't quite finished. There was just time for one final, provocative query:
If someone said, 'Jack Senior is on the top of the board in the first round of The Scottish Open,' what would you think the (typical) response would be?
"Don't know," sighed Senior. "You'd have to go and ask people. I'm not a mind reader, do you know what I mean? Obviously there are people who have seen me play at a really high level. Some will obviously be surprised, but some might not be surprised, do you know what I mean? I've had a decent amateur career. I've had a steady pro career with highs and lows and things like that, and it's not been easy. But at the end of the day I wouldn't be in this field if I couldn't perform at some kind of level."
Lots of levels actually. But best we don't get into that right now.