The Loop
Masters 2020: Should there be a Masters asterisk in 2020? And why aren't we talking about it?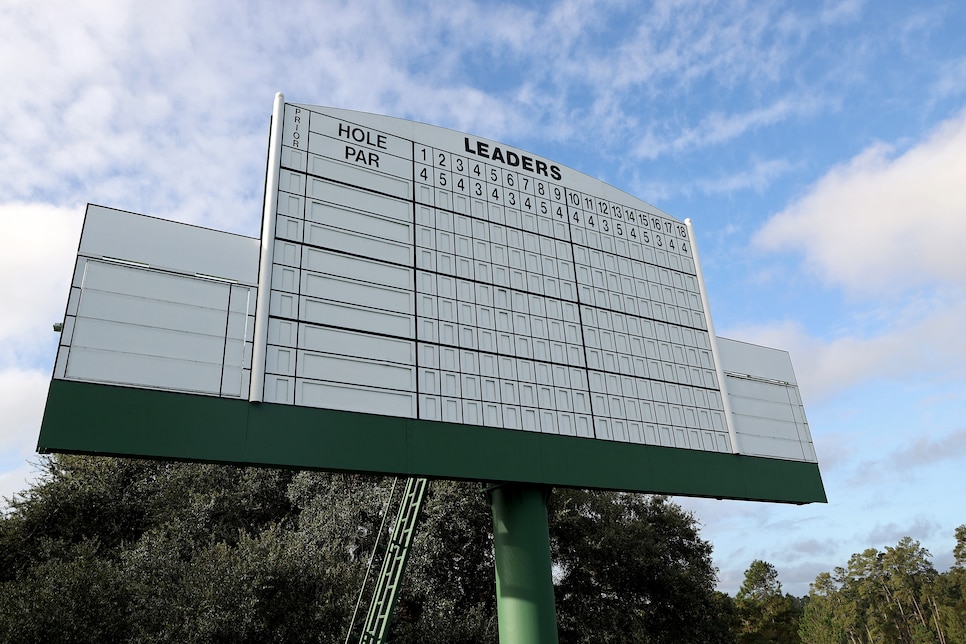 Let's pretend, for a moment, that you believe 2020's champions in professional sports deserve an asterisk next to their achievements. That breaking through in the year of corona is not illegitimate, exactly, but definitely less legitimate. On that front, and especially in golf, there are a few logical-sounding arguments to make. Our good pal COVID threw everyone's schedules and preparation out of whack, meaning the rhythm of who is playing well and who is struggling lacks the usual rhyme and reason. There are no fans, which eliminates a good chunk of the pressure-cooker atmosphere (which some believe has facilitated the triumphs of Collin Morikawa and Bryson DeChambeau, neither of whom had any experience contending on Sunday at a major). In terms of the FedExCup, fewer events meant a smaller sample size for the playoffs and the eventual champion. Nothing was normal.
If that's your take, then it follows that the Masters deserves the biggest asterisk of all. A Masterisk, if you will. (I won't apologize.) First off, it's in the fall. Elite professional golfers design the whole trajectory of their year to peak in the spring and summer. Many of them don't play in the fall, or only in one or two tournaments in order to fulfill obligations. The fall is a time for underdogs to make their names, and for the world's best players to hunker down and begin gearing up for a new season. A fall major is almost designed to stymie the blueprints of the world's best.
Second, it's a small field (and just got smaller, with Sergio Garcia's withdrawal). Don't take this the wrong way, but winning the Masters has always been the best percentage play in golf, in the sense that there are far fewer players to defeat. This year's field looks to be around 90, which is about 60 fewer than every other major, and among those 90 are more than a dozen former champs or amateurs with no realistic shot at winning. That means the true competitive field size is roughly 75, give or take. Compare that to something like the Players Championship, which arguably has the strongest field in golf, and the odds of winning just about double.
In addition, the Masters is the only major played at the same course every year, which means that it rewards both experience and a certain style of game. That's why it was always Tiger's best shot to win a 15th major. The familiarity factor, at least in theory, further reduces the field of potential winners.
The point is, if we're devaluing championships left and right—and as someone in sports media, let me assure you that we are—why aren't we talking about a Masterisk? The asterisk discourse has been robust all year, and as my editor Coleman pointed out, it's not just in golf. It's happening in every other sport too, from the NBA to the NHL to MLB and on and on and on. So who made the Masters immune?
Is it the aura? Lately, Augusta National has been releasing a handful of what passes for hype videos in the lead-up to the event. They're what you'd expect from the club—tinkly piano music, beautiful vistas, the whole gentle/awestruck kit and caboodle. A lot of them show workers preparing the course in various ways, from painting things to growing things to cranking umbrellas open, the former of which led Alan Shipnuck to make the "we're supposed to be excited about literally watching the paint dry?" crack on Twitter. One of the replies was priceless:
Kevin's confession pretty much says it all—the Masters is a hype factory, and the hype works. As I discovered when I wrote a critical piece on Augusta as a chapter in my book, it provokes an almost religious devotion in its adherents, and one that's all the more remarkable for the fact that it's actually the newest major. It inspires deep emotion, and even as someone who has been less than rhapsodic in the past, I feel it too; there's a nostalgia there, a magic that's impossible to shake.
And it's that aura, I think, that is the one and only explanation for why the Masters has escaped the asterisk discourse, even as that discourse has consumed every other golf event and every other sport in America. For golf fans, there's a holiness to the tournament that won't brook any negativity or dissent, and that includes any mention of a Masterisk.
Now, the bigger question: should there be an asterisk? Hell no! Sorry to keep this opinion under my sleeve for so long, but there are fews sports topics that infuriate me more than disclaimers about winning a big event, COVID or no COVID. How many times in NCAA basketball do we hear about a team having an "easy path" through March Madness? How many World Series champions have just been lucky because of the abbreviated format, how many NBA champs have benefited from injury, and etc. etc. etc.?
The fact is, professional athletes can only compete under the circumstances set out in front of them. Life is an asterisk, if you'll forgive the quasi-cliche, because variables are always shifting and circumstances are always changing. Adjusting to new parameters and overcoming spots of adversity, including bad luck, is a major part of success. If anything, I would argue that the stars who succeed in these bizarre times deserve even more credit than usual. They've jumped through unexpected hoops and emerged on top. I mean, imagine having to live in a damn bubble in Orlando for months in order to win an NBA championship! That's hard! (This is why I've loved Bryson DeChambeau's path so much this year—unlike many of his competitors, he treated COVID like an opportunity, and he took advantage.) If we're going to give asterisks at all in 2020, it should be to acknowledge a performance that went above and beyond normal expectations.
So no, the Masters does not deserve any asterisk discourse. The fact it doesn't seem to exist in the first place owes more to the tournament's rich mystique than any of the arguments I laid out above, but that's okay; once in a while, it's okay to be right for the wrong reasons. The ground under our feet is forever moving, adaptation is the name of the game, and the very concept of a Masterisk belongs in the trash . . . or, at the very least, hidden in the same dark lair where they keep the squirrels.