The Loop
The NBA Finals are dead; come to the dark side of Euroleague Basketball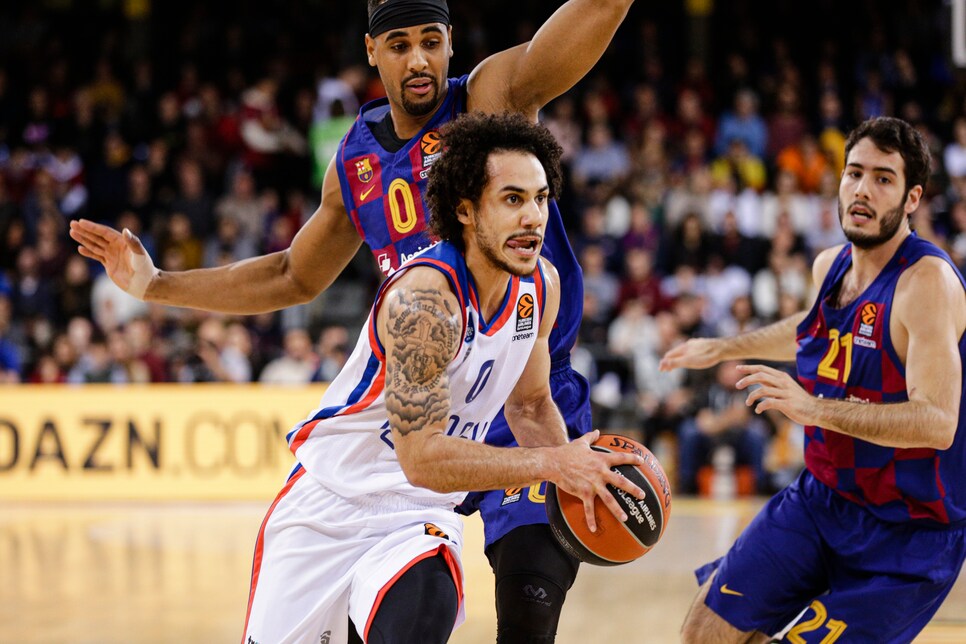 The Lakers destroyed the Heat in game one of the NBA finals on Wednesday night, Goran Dragic and Bam Adebayo may be completely done for Miami with injuries, and LeBron and AD are golden gods of the hardwood. There are two possible outcomes left for this series: the Lakers win easily, or the bubble gets nuked by an outbreak, society collapses, and basketball is functionally dead. Either way, the NBA season is over in all but name.
Which means that if you want to keep getting your basketball fix, you must follow me into the heart of darkness—Europe—where we find the world's second-best basketball institution: Euroleague!
Now, am I an expert in Euroleague basketball? No, I am not. Am I involved in a weird survivor pool this year, forcing me to become passingly familiar (no pun intended)? Yes I am. As I write this, I'm watching the first game of the season, between Anadolu Efes out of Turkey and Zenit St. Petersburg out of Russia. The game is taking place in a dark gym with no fans in Istanbul, it's tied late in the fourth quarter, and I am somewhat riveted. Also, I kind of like the fact that I may be the only person in the state of North Carolina watching this game. When has that happened before?
All of which likely makes me the most qualified person you know to tell you about this strange Occidental phenomenon. Here are the basics:
— Euroleague is basically the Champions League of basketball. Just as in soccer, Euroleague brings together the best teams from every national league across Europe, including Spain, Turkey, Russia, Greece, and many many more.
— There are 18 teams total, and they play double round-robin for a total of 34 games during the regular season, played once per week on weekday evenings (afternoons in U.S.). You can see the schedule here. After that, the top eight teams advance to the playoffs, which start with a best-of-5 series and end, oddly enough, with a single elimination Final Four...including a third-place game, since these are Europeans we're talking about.
— A lot of the teams are the same as well-known soccer teams. You've got your Barcelonas, Real Madrids, Bayern Munichs, Olympiacos...es, and more.
— The league is mostly made up of European players, but there are a handful of Americans in the mix. In the 2018-19 season, Will Clyburn (Iowa State), Brandon Davies (BYU) and Mike James (Lamar, plus the NBA) made all-Euroleage teams, and James was the leading scorer while Clyburn was the Final Four MVP. Other Americans won MVP of individual rounds, including Cory Higgins (Colorado), Zach LeDay (Virginia Tech), Johnny O'Bryant III (LSU), Derrick Williams (Arizona), Toney Douglas (FSU), and Shane Larkin (Miami). Last year, in a season shortened by COVID-19, a few more Americans joined the ranks of round MVP, Devin Booker of Clemson and Malcolm Delaney of Virginia Tech among them. You absolutely never hear these guys' names anymore, but they've made nice careers for themselves overseas.
— Some of the best Euro players, including 2019 MVP Jan Vesely, have spent at least some time in the NBA.
As for the style of play, it's heavily predicated on quick ball movement, shooting, and general efficiency. I'm not saying you won't see individual brilliance—Shane Larkin can go off for 50 points in any given game—but it's not quite on the NBA level in that sense. Basically, imagine the smart older dudes who run the court at your local YMCA, endow them with insane athleticism that falls just short of the world's best, and endow them with Euro sensibilities so they're constantly cutting and weaving and throwing one-handed crosscourt passes. It's fun, even if you're not going to see the otherworldly talent of a Giannis or LeBron (unless they happen to be a very young European on the verge of heading to America).
This league, with which I was not familiar even one year ago, is definitely only for hoops junkies, and it doesn't hurt to have a friendly rooting interest in the form of a survivor pool. That said, it has the advantage of being perfectly timed for occasional viewing. If you have a job where you can keep a game on in the background on a random Wednesday afternoon, and you're not quite ready to give up basketball until whenever the 2021 NBA season actually starts, here's your Euro alternative. Bon appetit!