News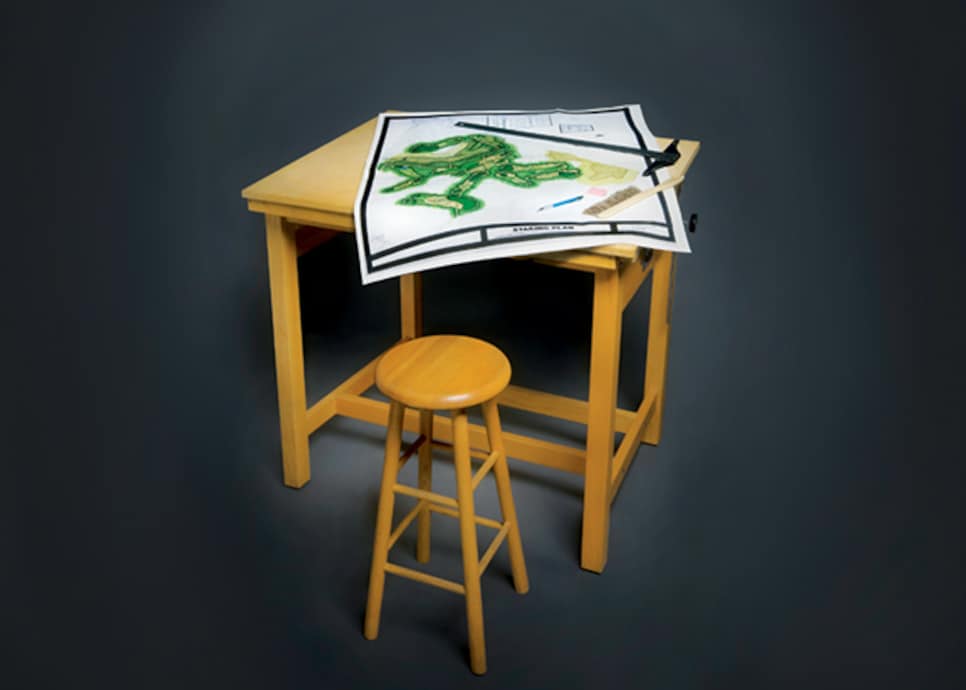 32-year-old Bryan Orellana (pronounced or-ee-ana) has a PhD in Biomedical Engineering from the University of Kentucky and works in development of new hip implants at an orthopedic company in Fort Wayne, Indiana. In his spare time, he creates imaginary golf holes using a video golf game's course design software. He's been doodling golf holes since his middle-school days in Williamsburg, Va., but only recently decided to test his skills against others in a course design contest.
So this year Orellana entered his first Lido Design competition, the annual contest co-sponsored by Golf World and the Alister MacKenzie Society, and won. His design of an uphill, double-dogleg par 5 was chosen for its daring concept, its variety of options from tee to green and its imaginative bunkering (see illustration below). Rising sixty feet uphill over 545 yards, Orellana's hole was inspired, he says, by the par-5 sixth at Pebble Beach. But instead of a demanding blind second shot to a plateau, as is found at Pebble, Orellana's hole provides some visibility and guidance through the use of bold bunkers recessed into slopes. "I feel MacKenzie liked to frame his visuals with bunkers," Orellana says. "I even placed a bunker high on the hillside well beyond the green to act as a navigational beacon."
He added a couple of ridges and dips in his fairway to break the steady uphill climb and surrounded his perfectly angled diagonal green with slopes and hollows of tightly mown turf instead of traditional bunkers. The judges found this not only refreshing but logical, for while blind bunkers are never popular, unseen grassy hollows are accepted as a lucky break.
Orellana's entry was one of 44 received in this year's contest from as far away as Australia, Finland and the Czech Republic. Golf architect Bill Love was scheduled to serve as judge, but was unable to do so due to a medical emergency, so the judging was handled by Gene Zanardi, chairman of the annual contest, and this writer.
For his victory, Orellana receives a cash prize of $3,000 and, when he and his wife, Brooke, attend the MacKenzie Society annual meeting at St. Charles C.C. in Winnipeg in late August, he'll be presented another $2,000 to defray travel expenses.
There were joint runners-up in the 2017 Lido Competition. Last year's winner, Cameron Hurdus, who also won in 2012, offered a par 5 with a broad fairway containing bowls along the left and an elevated green that flowed from front to back. He tied with Matthew King, a caddie at Whistling Straits in Wisconsin, who submitted a long but level par 5 that featured fearsome bunkers from tee to green.