News
2017 British Open morning rundown: Rahm's rules snafu, Rory's pep talk and Koepka's "prep"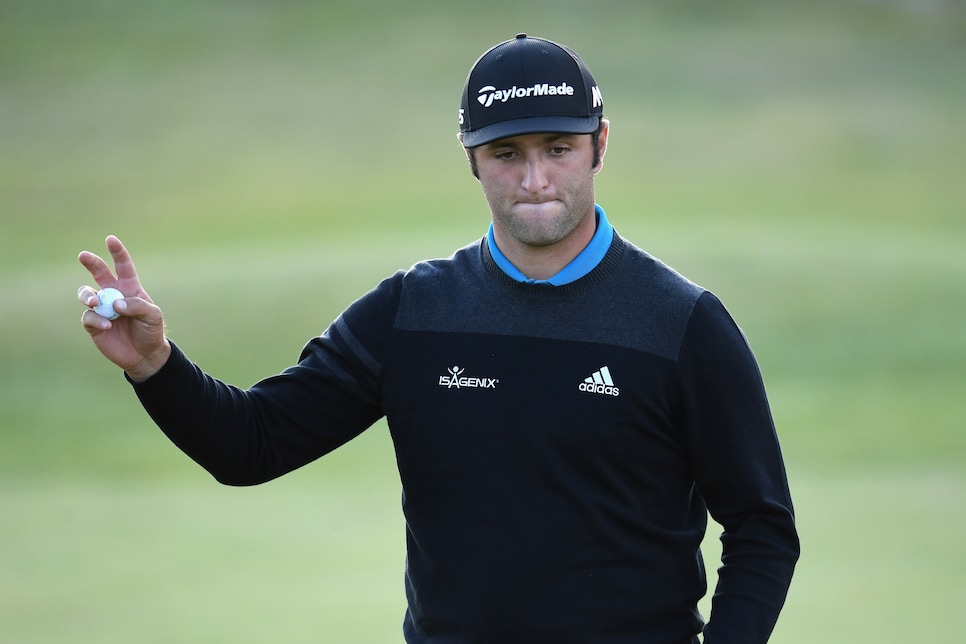 Welcome to the Dew Sweeper's Open rundown, your one-stop shop to catch up on the action from the golf world. From the professional tours, trending news, social media headlines and upcoming events, here's every golf-related thing you need to know for the morning of July 21.
Rahm escapes another rules snafu
Players are usually on the business end of bizarre rules situations, receiving a penalty which the public generally views as unjust. Jon Rahm, however, has come out clean from such circumstances in back-to-back tournaments.
Rahm, who received a favorable ruling regarding a ball mark replacement at the Irish Open, escaped another sticky situation during Thursday's Open round. On Royal Birkdale's 17th hole, the 22-year-old pulled a vine away from his ball, a move that caught playing partner Lee Westwood's eye. A rules official came over and asked if Rahm had improved his lie, with the Spaniard asserting he had not. The official did not give Rahm the all-clear signal, however, and was tentatively assessed a two-stroke penalty, with the final decision coming after the round.
But, after further discussion, it was ruled there was not enough evidence for Rahm to get penalized, lowering his score to a one-under 69.
"It would not have affected my swing, unless I hit a 50-yard slice, which was not the case for any player in the world in that situation," Rahm said.
However, with two public issues so close together, the aesthetics are not ideal. Not that Rahm seems to care.
"At the end of the day it's not my call, honestly," Rahm said. "I can describe what happened as honestly and truthfully as possible, as detailed as can happen. And they make the judgment call. It's up to them."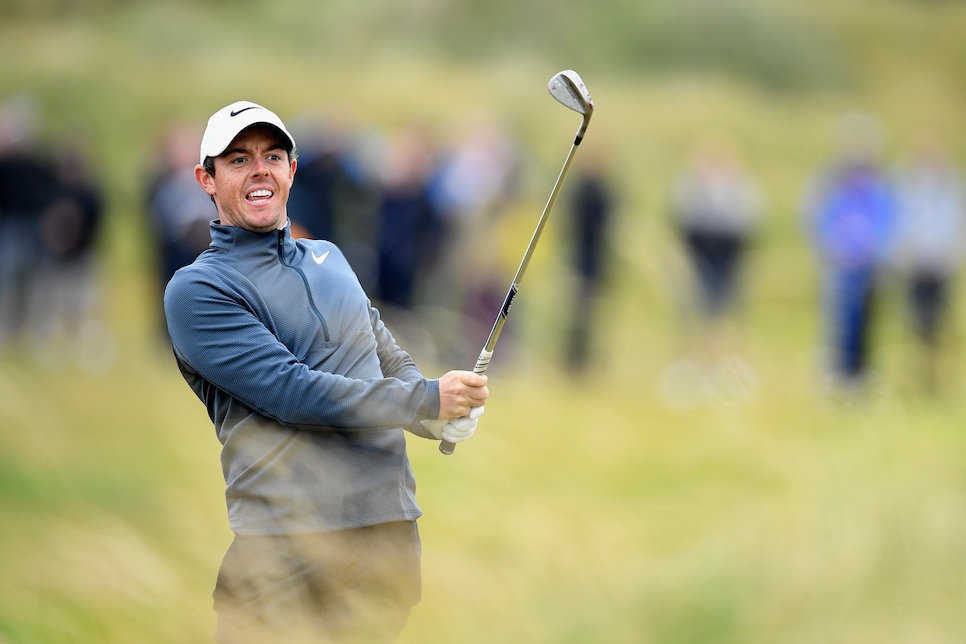 Okay, so it doesn't have the poetry of Gene Hackman's Hoosiers pregame speech, but caddie J.P. Fitzgerald clearly struck a cord with Rory McIlroy.
After the 28-year-old's terrible start -- four over through his first five holes -- Fitzgerald whispered, "You're Rory McIlroy. What the ---- are you doing?" It was a simple question, one that didn't immediately galvanize the four-time major winner, as he bogeyed the sixth. But McIlroy turned it around on the back nine to finish with a one-over 71, and carried over that fire to Friday morning, posting three birds in his first six holes.
"It definitely helped. It kept me positive," McIlroy said. "I couldn't look within myself. I was trying to look within myself. But J.P. kept me positive out there, so that was very much appreciated."
If I'm Fitz, I'm copyrighting that phrase ASAP. Because if Rory wins, you better believe Nike's turning that into an ad campaign.
Connelly announces his arrival
While the Royal Birkdale leader board was littered with household entities, one name -- "Austin Connelly" -- seemed out of place. But those watching the 20-year-old's Thursday performance -- and more importantly, those that know his story -- are not surprised. Connelly, who grew up in Texas but possesses Canadian citizenship, turned professional two years ago, spending most of his time on the Mackenzie Tour. He's also traveled the world, playing in Australia, India, Abu Dhabi, Kenya, Portugal, Italy, Sweden, Austria, France, Denmark, Scotland and Italy again this year, all in hopes of securing status on the Web.com or European Tours.
Though it's not an easy life, it's a journey Connelly believes will pay dividends. And through two days, he's not shying away from the moment, boasting an impressive one-under score heading into the weekend.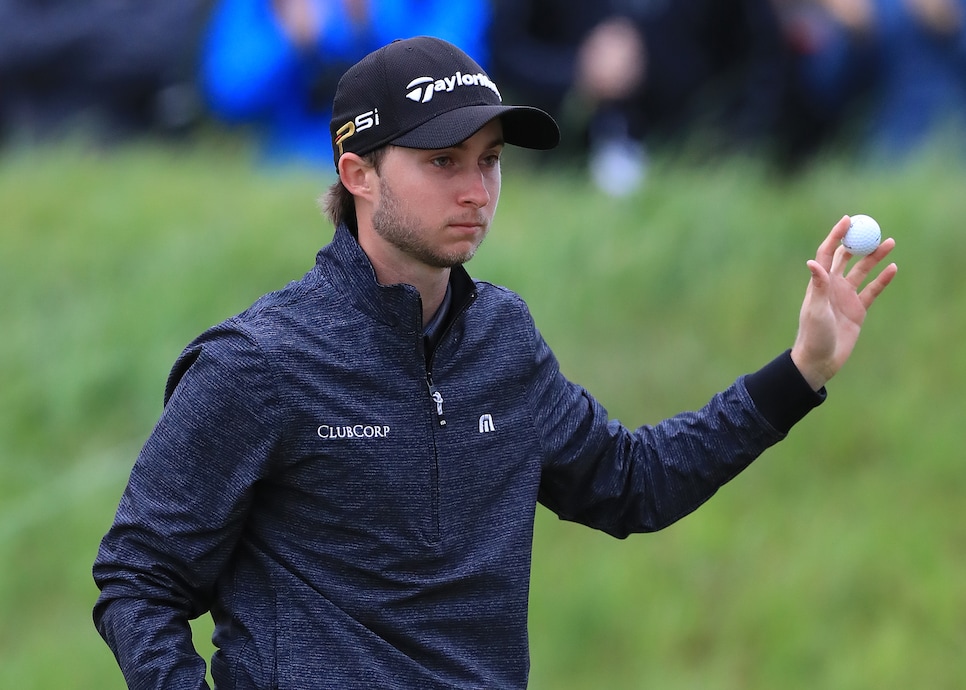 "With all the people around, it was nice to stick to the game plan and go out and execute," said Connelly on Thursday. "I think links golf suits my game very well. I think it's something I can do again. It didn't take anything extraordinary, it just took solid ball-striking with a good game plan."
The Open is rarely viewed as a coming out party; rather, it's the veterans that have historically dominated this event. But with a reserved demeanor and formidable short game, don't be surprised if Connelly quickly becomes a familiar face this weekend.
Never has "less is more" meant so much.
Brooks Koepka turned in a fabulous five-under 65 to grab the Round 1 co-lead at Royal Birkdale. Making his first appearance since his Erin Hills triumph, Koepka nonchalantly mentioned his preparation for the Open. Or rather, the lack thereof: he only touched his clubs twice since Wisconsin, one of them being a photo shoot.
"It's just a mental thing. I don't think it's anything else. If I start playing four or five weeks in a row, everything just seems to get nonchalant, I guess you could say," said Koepka. "You get to be in the routine and get used to it. And it just doesn't seem -- it just doesn't ever seem like I'm fully ready to play. If you take some time off and kind of recharge mentally, physically, I feel like I'm in really good shape right now, even with that time off mentally."
So rather than head to the range to work on your game, the lesson here is take a month off and party in Vegas. Clearly it did Koepka wonders; it will do the same for yours.
Note: It will not do the same for yours.