The Loop
What the stats project for Day 3 at the U.S. Open
Five notable second-round stats that indicate how the U.S. Open might unfold Saturday, provided by Golf World contributing writer Brett Avery, who compiles the Rank and File statistical sections for the magazine's coverage of the major championships and other significant events.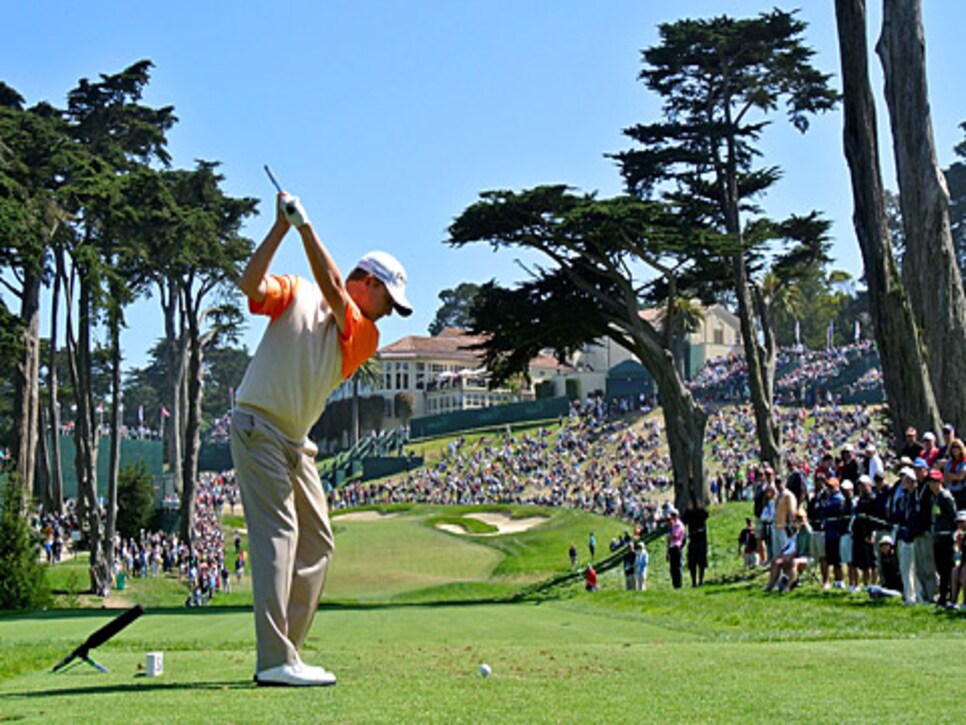 David Toms has the best third round scoring average in majors among the three 54-hole leaders. Photo by Andrew Redington/Getty Images
1. Which of the three former major championship winners who share the lead at one-under-par 139 traditionally turns in his best performances in the third round of majors? It would be tempting to guess Tiger Woods (69-70), but his lowest average round is the second (70.281), followed by the third (70.500 in 58 career third rounds). Or perhaps it's Jim Furyk (70-69), but he's also best in the second round (71.910) and Saturday is only his third-best day (72.094 in 63 rounds). Actually it's David Toms (69-70), who has averaged 71.727 in 33 career Saturday rounds in majors. Toms, however, has been inconsistent recently Saturday at majors. He shot 76 in the 2010 Open at Pebble Beach (T-33) and 75 in this year's Masters (T-50). Furyk hasn't broken 70 in the third round of a major in his last nine tries, since his 68 in the '09 Masters (T-10). And Woods has broken 70 just once in six attempts since his 2009 car crash, a 66 in the '10 Open (T-4).
2. After Michael Thompson grabbed a three-shot lead following 18 holes, the field was able to bunch up after he collapsed (66-75). By sundown 14 players remained within four shots of the frontrunners. The 36-hole leaders in the first four Opens at Olympic Club:
--1955: Tommy Bolt and Harvie Ward at four-over 144; seven others within four
--1966: Billy Casper and Arnold Palmer at three-under 137; two others within four (Rives McBee and Phil Rodgers at par 140)
--1987: Tom Watson and Mark Wiebe at 137; 21 others within four
--1998: Payne Stewart at 137; 10 others within four
There is a history of a gang of contenders sticking around through 54 holes at Olympic. Ben Hogan (217) was pursued by eight players within four shots in '55 and Watson (208) still had 19 players equally as close. Then again, Palmer and Stewart (207 apiece) each had only two players within four shots, yet lost.
3. Of the 14 players within four strokes, only two have won major championships: Graeme McDowell (69-72, 2010 Open) and Charl Schwartzel (73-70, 2011 Masters). In the true fashion of an all-comers Open, that group also featured three players in the world top 10 (Hunter Mahan, 72-71, ranked eighth; Matt Kuchar, 70-73, sixth; Jason Dufner, 72-71, ninth) and three players outside the top 500 (John Peterson, 71-70, 831st; Aaron Watkins, 72-71, T-734; amateur Beau Hossler, 70-73, unranked).
4. Hossler, 17, who temporarily took the lead at -2 after making birdie at the first hole, threatened to become the first amateur leading after an Open round since Mike Reid's 67 at Atlanta Athletic Club was the only sub-par return in 1976's Open round. He finished T-50. Hossler promptly went bogey-par-double-bogey-bogey-birdie-bogey to shoot 73 and settle into a tie for ninth. The last time an amateur led the Open through 54 holes was Jim Simons, who closed with 76 at Merion in 1971 and totaled 283. That put him in a tie for fifth, three away from the Lee Trevino-Jack Nicklaus playoff. Hossler, who missed the cut last year at Congressional, became the first high school player to qualify for consecutive Opens since Mason Rudolph in 1950-51.
5. With the cut made, everyone begins the last two rounds at the first tee. Looming in front of every competitor are the first six holes, which played to a combined +2.647 over par in the second round. The leaders versus those holes in the first 36:
--Furyk: +1 (one bogey, two birdies) --Woods: E (three bogeys, including the sixth both days; three birdies) --Toms: +2 (three bogeys, including the sixth both days; one birdie at fourth) --Peterson: +2 (double at sixth Thursday; three bogeys; three birdies) --Nicolas Colsaerts: +5 (doubles at first and third Thursday; bogey at sixth Friday) --Graeme McDowell: +1 (three bogeys, two birdies) --Thompson: +3 (five bogeys, including the fifth both days; two birdies)