GOLF DIGEST PRESENTS THE 2010 U.S. OPEN PREVIEW. PLUS, OUR INSTRUCTION GUARANTEE.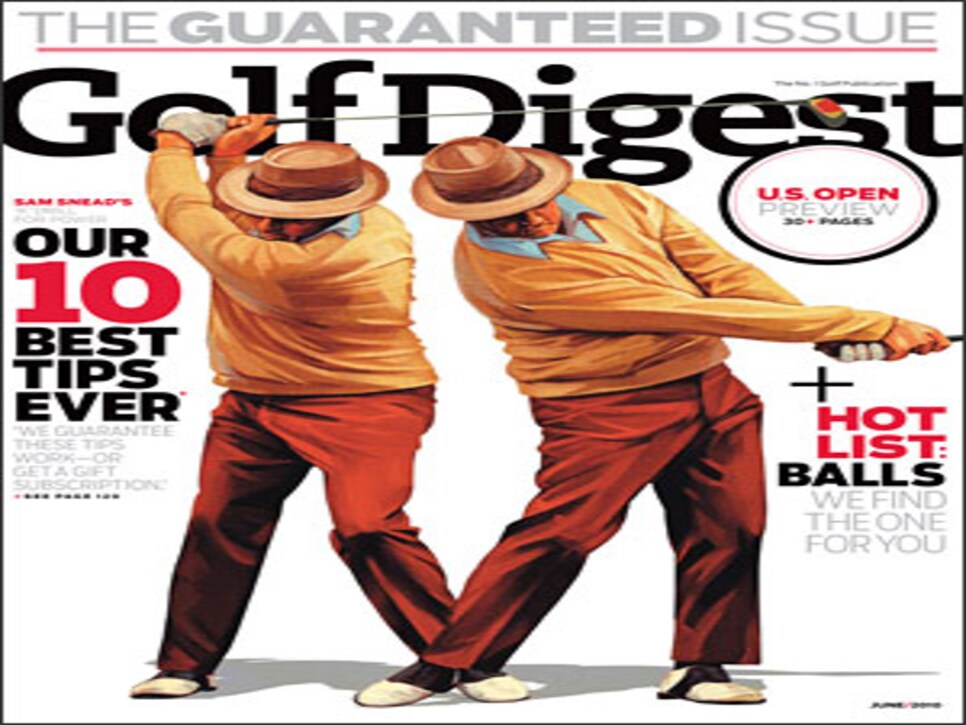 U.S. OPEN PREVIEW (page 156)
The 2010 U.S. Open Preview is full of facts and features to get you ready for the second major of the season. Highlights from the section include:
Pebble Beach — Golf Digest architecture editor Ron Whitten fills you in on what you might not know about Pebble Beach. Click here for a slide show of all 18 holes.
Tiger, 10 Years Later — A decade after Tiger's 15–stroke Open victory at Pebble, Jaime Diaz explains how his game has changed–for better and for worse.
Phil's Close Calls — Phil Mickelson's five second–place finishes show what's there—and what's missing. Says Jaime Diaz, "If he wins at Pebble Beach, he jumps to being one of the best. And if he finishes second again, he'll be closing in on tragic."
Brown Golf is Good — USGA President Jim Hyler talks about his mission to make golf environmentally sustainable and what he expects Pebble to look like come June.
OUR BEST TIPS EVER, GUARANTEED (page 120)
Since the first issue of Golf Digest in 1950, one mission has persisted: Find the teachers and players with the best instruction, and deliver those tips to our readers. To help celebrate the magazine's 60th anniversary, we've ranked the 60 Best Tips ever to appear in Golf Digest. The top–10 are featured in this month's issue and all 60 can be found here. If any of these 10 tips don't work after a fair trial, we'll give you a gift subscription for a friend.
HOT LIST: BALLS (page 75)
This year's hottest clubs and gloves have already been revealed; now, it's time to see what our Hot List judges think about the top balls on the market.
U.S. OPEN CHALLENGE (page 176)
A Hollywood hotshot, the Great One and the reigning Super Bowl MVP get their chance to break 100 at Pebble Beach. Find out how each one thinks he'll fare.
Delving into our archives turns up a curious relic: a beauty contest. "I still have copies of that issue I was in, which I cherish," says Dimmie Thompson, Golf Digest's inaugural Most Beautiful Golfer. "Golf helped my family grow together."