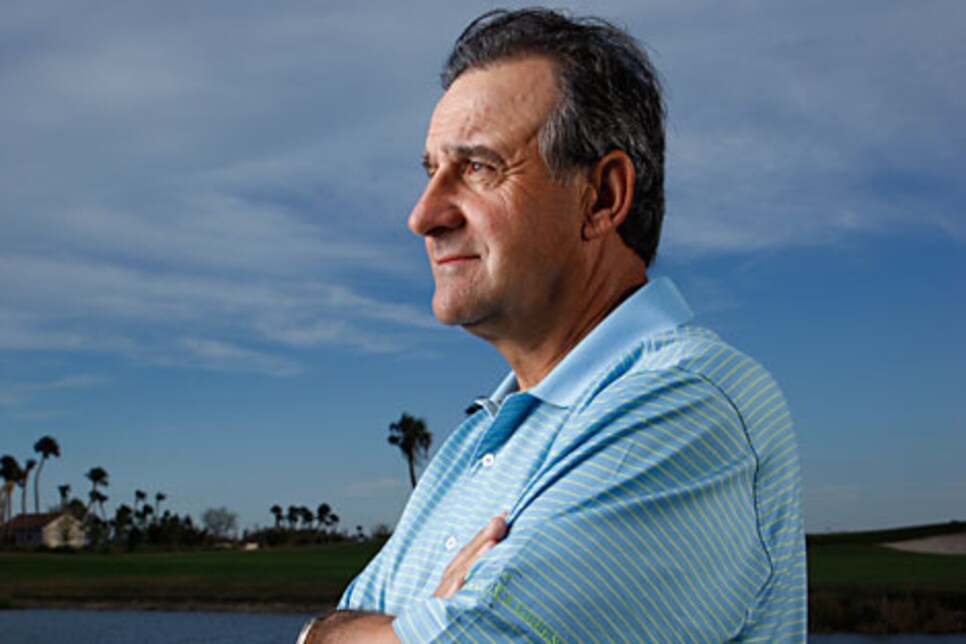 Dr. Bob Rotella usually works with stars of the game like Padraig Harrington and Davis Love III, but recently he offered counsel to Max Adler.
*Editor's Note: Golf Digest's Max Adler, a former college golfer at Washington and Lee University, is among the thousands of dreamers who hope to qualify for this June's U.S Open at Bethpage Black. In his online diary, he'll take readers through the highs and lows as he gets ready. *
What's the difference between me and the 56 other guys who will make up the field at next week's U.S. Open Local Qualifier at Misquamicut Club in Rhode Island? I bet I'm the only one who got his paws on the cell phone number of Dr. Bob Rotella, the famous sports psychologist whose clients (is "patients" too strong a word?) include Padraig Harrington, Stewart Cink, David Toms, David Love III and many other PGA Tour pros. Working at Golf Digest has its networking advantages. After our little chat I'm ready to rain down birdies and eagles using mind bullets.
All right, maybe the ten minutes I spent on the phone with the good doctor didn't provide anything that earth shattering, but it did plant some positive ideas in my head. And in a display of good will and magnanimity towards my fellow competitors, I will share those ideas here. If they're too busy practicing their chipping to read this post, their loss.
When Rotella asked what my strategy was, I told him what I've already relayed to you all: that nothing short of my best golf will qualify, and so to avoid getting overly nervy or careful I plan to play aggressively and really "go" for every shot. This didn't exactly resonate with Rotella. He warned against the urge to try to play too perfectly. The moment I try to shape a long-iron to a tucked flag and get short-sided and make a double-bogey, I'll feel like my round is over, all chances gone. Instead, play to the middle of the greens and only go flag-hunting with my scoring clubs, 8-iron through lob wedge.
Another main point of Rotella's was to not find out how many spots were available. And to not try to guess what score will qualify. Focusing on results, instead of my attitude, is a surefire way to play badly. At the end of the round, Rotella said, my goal should be to be able to say I had a clear mind on every shot. So I hereby purge from my consciousness the figures I've been tossing around since I sent in my application in March: two or three spots and 68 or 69.
And most importantly, Rotella said, was to make this one of the most fun days of my life. To summon a carefree attitude by finding ways to downplay the importance of the round. To remember that the results of this one tournament won't define me as a player.
And while that's all well and good, in the corner of my brain I can't rid the notion that if I do qualify for the U.S. Open, this will be the biggest thing that ever happened to me, sailing 300 yards past anything else I've ever done in golf. I guess I'm just a mental case. But that doesn't mean I won't have fun.