News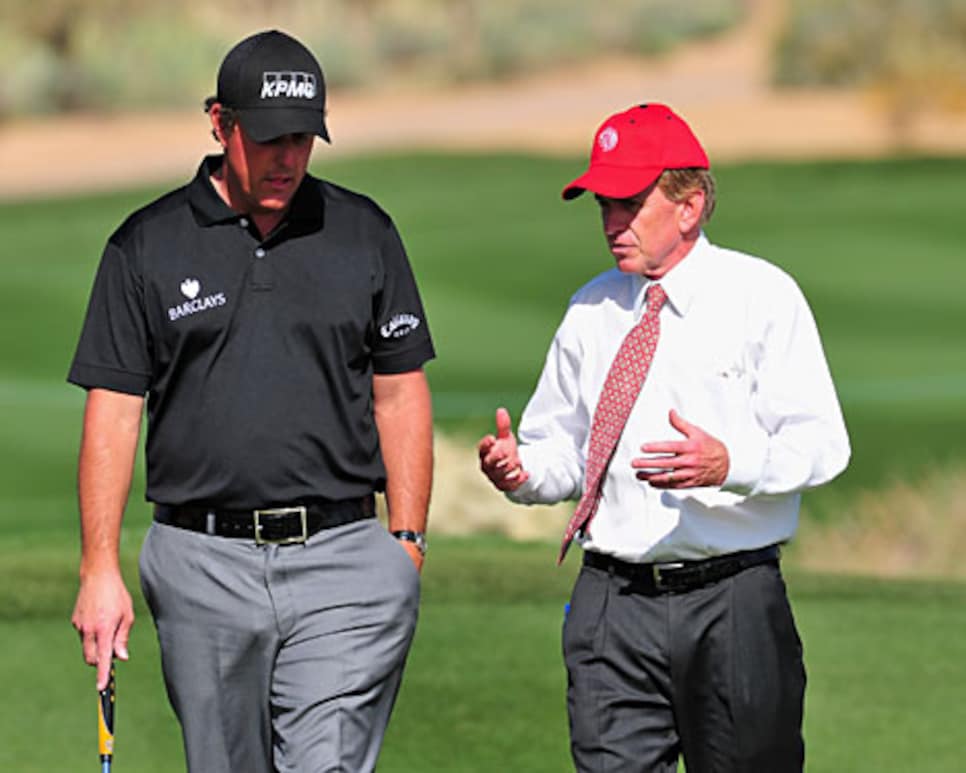 PGA Tour commissioner Tim Finchem has lobbied players like Phil Mickelson to play more to support the tour, but so far, players have been reluctant to adjust their habits.
Long gone are the days when the PGA Tour stop at Bay Hill drew one of pro golf's elite fields, not just the best U.S. players, but a nice mix of Europeans looking to Americanize themselves for the Masters. Such a scenario seemed highly improbable 10 years ago, when tournament host Arnold Palmer never had to think twice about who would show up and who wouldn't.
Past champions Phil Mickelson (1997) and Ernie Els (1998) are among the absentees this week. Anthony Kim's withdrawal Wednesday left this event with just seven of the top 20 players in the World Ranking, a startling shortage given Palmer's iconic status and the belief among many tour pros that skipping the King's event ranks somewhere between disrespectful and sacrilegious.
As much as it will bother a lot of people, I've learned to take a more pragmatic approach to such poor attendance. There has to be a reason why so many top-tier guys aren't at Bay Hill, and in fact, there are several. It has little to do with a player's level of appreciation for everything Palmer did (and continues to do) to make them wealthier than a golfer has the right to be.
If anything, the oversized-purse factor is probably the biggest reason so many guys took the week off. Since the advent of the World Golf Championships in 1999 and the inception of the FedEx Cup playoffs in 2007, Bay Hill has gone straight downhill. There are seven more "must-play" tournaments than there were 10 years ago. Add the four major championships and the Players, and we're talking about 12 premium-field events, which is good for the tour overall.
This WGC/FedEx infusion, however, has clearly hurt attendance at invitationals such as Bay Hill, Colonial and Memorial. All three of those events, interestingly enough, have been around for a long time and are played at well-known venues. Two of the three have direct ties to the game's most legendary figures: Palmer at Bay Hill, Jack Nicklaus at Memorial, while Colonial used to get a lot out of its longtime relationship with Ben Hogan.
Since Byron Nelson's death in 2006, we're seeing the same thing happen in Dallas. The gathering at TPC Las Colinas used to be one of the high points of the spring, but the fields there have gotten increasingly weaker. Woods missed the cut there in 2005 and hasn't been back, but he's not alone. Mickelson, who signed an endorsement deal with Crowne Plaza, the latest title sponsor at Colonial, passed on Dallas last year. Els, who won at Las Colinas back in 1995, hasn't returned since '06.
So what's the point? It's not so much that the world's best golfers are showing up less, but times have changed, some tournaments have leapt past others, and prize money has grown to the level where it has become counter-productive in terms of getting the top players to add events to their schedules. Should Woods feel an obligation to play in the John Deere Classic because it gave him a spot in the field shortly after he turned pro 12 years ago?
You and I may think so, but Tiger obviously doesn't, and it's hard to argue the premise that he already does plenty to promote the tour, or that he shouldn't compromise his competitive instincts just to make the John Deere people happy. More to the point, should guys like Mickelson, Els and Sergio Garcia play at Bay Hill simply as a show of respect for Palmer?
Maybe, maybe not. Mickelson has chosen to play next week in Houston, where his presence will mean more to a mediocre field than it would at Bay Hill, where it's all about Tiger. With the Masters just two weeks away, it's understandable that Lefty wouldn't want to play in three straight tournaments and four in five weeks. That's not an excuse or an explanation on his behalf, but a reason.
When tour commissioner Tim Finchem spoke at a players meeting in late January to outline the potential ramifications of America's economic crisis, the news was somewhat grim, the message clear. With corporate-sponsor relations becoming more precarious, Finchem urged everyone in the room to play more often, to understand the plight facing the tour and the fragility of the $6 million purse.
Among the persuasive devices used that evening was a video of Palmer, who turns 80 in September, personally requesting that the players, particularly the elite performers, add a couple of tournaments to their season. They may have been watching, they may have been listening, but if seeing is believing, they won't be acting.