News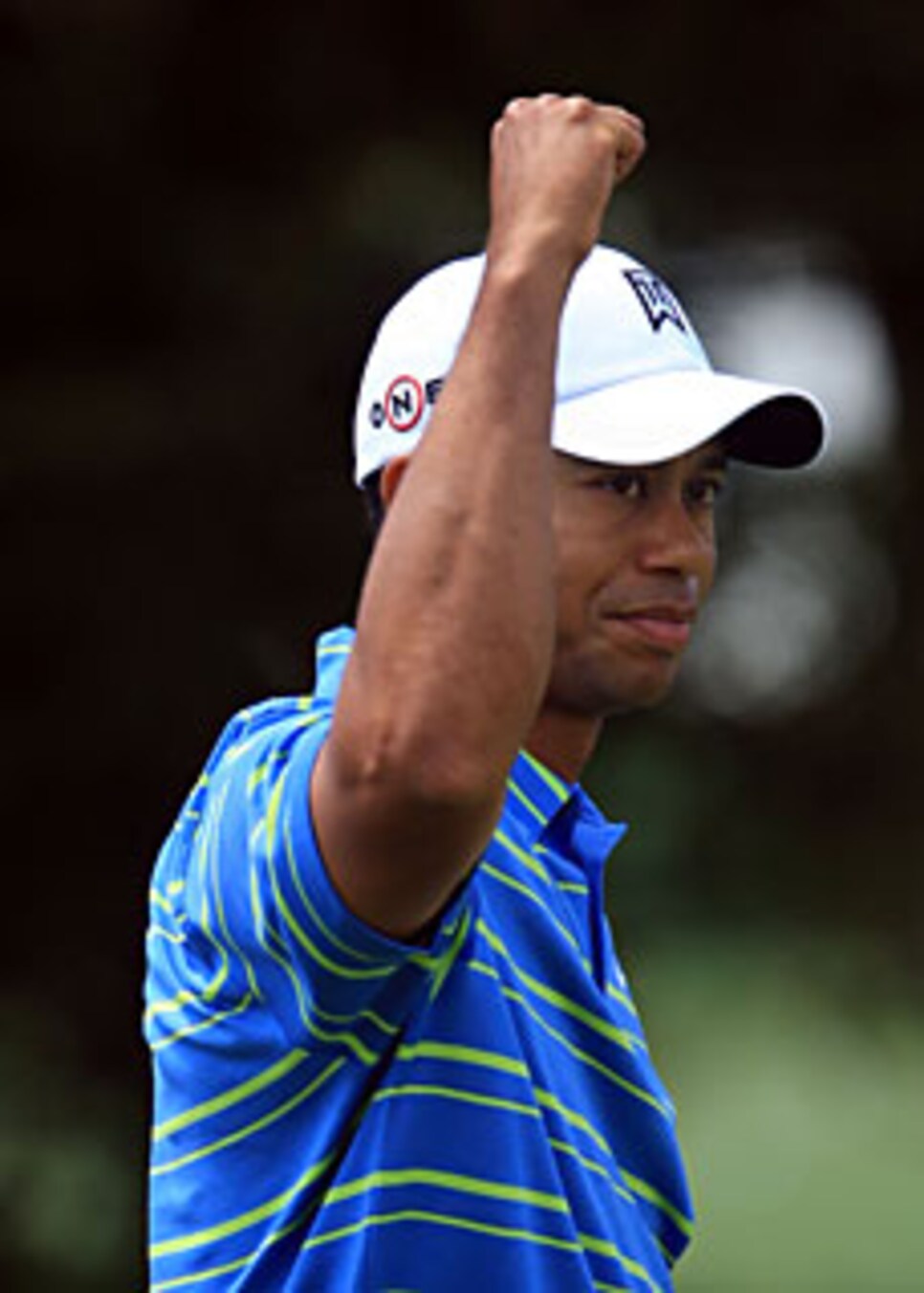 Tiger Woods one-putted eight consecutive greens en route to a 68 in the first round at Bay Hill.
ORLANDO -- Only a couple of minutes after missing a slippery downhill birdie putt at the 18th hole at Bay Hill, Tiger Woods tapped in his putt for par, removed his cap, shook hands with his playing partners and disappeared in the tunnel under the metal towers at the back of the green.
Woods walked up the steps to a portable trailer to sign his scorecard. What he autographed had a 68 on it, but it could have been lower, a lot lower, if not for a couple of glitches. They were known as a double bogey at the sixth when he knocked his tee shot in the water and a bogey at the 17th when he hit it over the green.
On the positive side, Woods rained in four birdies in a row on his back nine, their arrival heralded in bunches, just as he predicted was going to happen sometime soon as a signal things were starting to trend upward for him.
Meanwhile, there's one trend that never varies for Woods. It's the post-round commotion, or media circus, that Woods must navigate his way through. The version Thursday at Bay Hill for the first round of the Arnold Palmer Invitational was exceptional in his circus atmosphere, although you can't say it bothered Woods.
You can usually judge Woods' engagement factor by the look of his eyes. If he stares straight ahead, his eyes casting a certain frosty glaze, with PGA Tour media officials serving as human bookends, then he's all business and no nonsense.
And so it went for Woods. A radio interview here, a brief verbal exchange with a clog of reporters who the player kept at cord's length, kids leaning over the railing and screaming during the entire episode -- that's the way it went. The whole experience felt about the same as standing on a moving, crowded bus with the radio playing full blast.
Here's the way this whole scene usually ends, and it's exactly the way it came to a halt Thursday: caddie Steve Williams has the courtesy car ready, already stuffed with Woods' clubs, Tiger slides in, slams the door, and Williams hits the gas. They're off. And ready to go through the whole thing again.
As far as the day, it was actually vintage Tiger, all in all. He certainly wasn't perfect, but that's Tiger's entertainment value. He scrambled for pars on both the 8th and 9th, each time after shaky drives.
From the 8th through the 15th, Woods one-putted them all. His four straight birdies, starting at the 11th, zoomed Woods up the board, and of course, got everyone's attention, including playing partner Padraig Harrington.
Since Harrington, not Woods, is the guy with the streak of two straight majors and with the Masters being just around the corner, you might think Harrington would be the center of attention in the group. You'd be wrong.
In any event, Harrington spent enough time with Woods to offer an assessment.
"He's not hitting the ball as hard as he used to, that's for sure. He looks to be concentrating more on his rhythm. Not really putting himself under too much pressure."
There could have been a lot of that. Woods clearly made something good out of something that could have gone the other way in a hurry.
He hit just half his greens and only six of 14 fairways. What saved Woods was his putting -- he needed only 24 putts -- and that has to be encouraging for someone who identified his putting as his primary drawback right now.
He knows what he's shooting for, and it's in Augusta.
"My distance control this week, playing a little more, I'm starting to feel that again, which is nice," Woods said.
If you're driving, the distance to Augusta is about 1,620 miles. Once Woods gets there, chances are he's going to feel in control.