News
Gore Leads, Tiger In Contention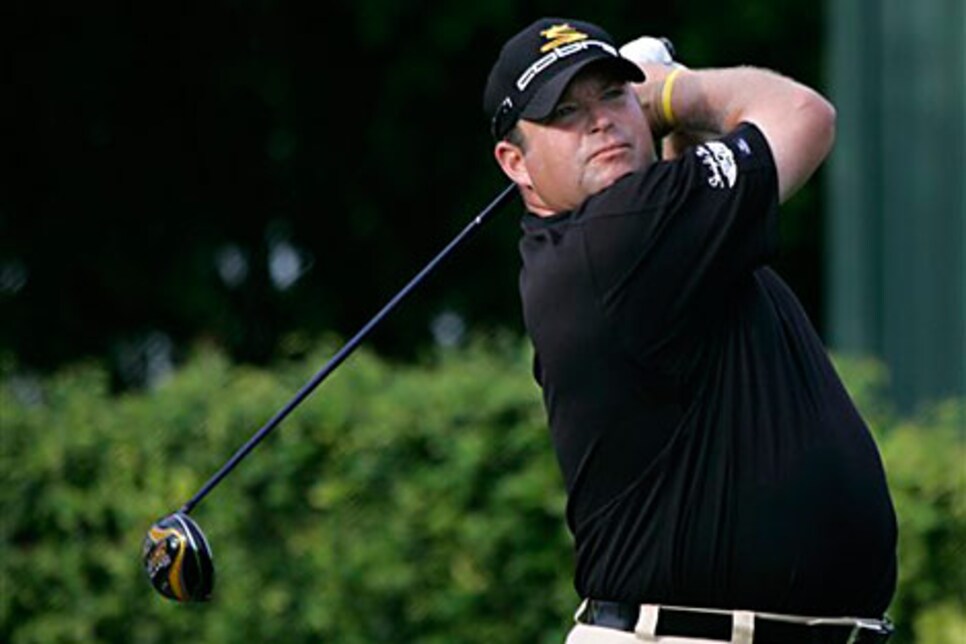 Gore averaged 299 yards off the tee and only needed 24 putts to complete his round.
ORLANDO, Fla. (AP) -- In their own way, Jason Gore and Tiger Woods changed their fortunes Thursday at Bay Hill.
Woods was in the water, in the trees and in a foul mood until he had eight consecutive one-putts -- including four straight birdies -- that put him in a good frame of mind with a 68 on a course where he has won five times as a pro.
"I was not hitting it well, and I had to scramble and grind it out and manage to score," Woods said. He managed just fine, taking only 24 putts in the first round after ranking 74th in putting out of 79 players at Doral two weeks ago.
Tim Herron, who won Bay Hill in a playoff 10 years ago, and Jeff Overton had a 66, while the group at 67 included the ever-present Nick Watney and Mark Wilson, who had reason to feel outclassed on the first tee but more than held his own.
Wilson was in the same group as Woods and Padraig Harrington, who have won five of the last six majors. Wilson has his own history with Woods, having lost a late lead in 1992 when Woods rallied to win his second U.S. Junior Amateur.
But Wilson had the best day of the threesome. Harrington saved par from the water on the 18th for a 70.
"Scored best of the tree," Wilson said, a slight distinction. "I had a good time out there. I love playing with Tiger. The electricity and the energy on that first tee is something else with him."
Imagine the surge on the opening hole, when Woods had a difficult flop shot from about 30 yards that had to carry a bunker. Wilson wondered if Woods might begin his title defense at Bay Hill with a double bogey. Then he watched Woods' shot pitch about 6 feet from the hole and roll like a putt into the cup for birdie.
Woods hit a tee shot into the water at No. 6 for double bogey, was lucky to escape with pars at the turn and made four birdies on the back nine to get off to a good start.
The only other player at Bay Hill with such charisma is Palmer, the tournament host.
He was 11 when his family went to Pittsburgh one summer and Gore had his mother drive him to Latrobe Country Club. They walked into the pro shop and asked if the King was around, and before long Palmer drove up in a cart that looked like a tractor.
"He took a picture with us, signed a scorecard and he said, 'Son, I'm going to go hit balls. Would like to come watch?'" Gore said. "I sat right on the little slope right behind the first tee and watched Mr. Palmer hit balls for about 45 minutes. And from that point on, I knew I wanted to be a professional golfer."
Gore is a PGA Tour winner, but the golf hasn't gone so well lately.
He lost his PGA Tour card last year, then decided after Q-school to work with Mike Abbott and redo his swing. Gore wouldn't ordinarily make it to an event like the Arnold Palmer Invitational, but he received an exemption.
Gore told Palmer last year at a corporate outing how much he had influenced his life. When he saw him earlier this month at Seminole, he thanked Palmer for the exemption. Palmer winked at him and replied, "I never forgot that story."
"The littlest things he does for a punk dressed in surf clothes who was trespassing on his property changes lives," Gore said. "He's got that power, and that's what makes him the King. And that's why he's the greatest person to this game."
Woods is the greatest player of his generation, slowly building his way back into shape with the Masters around the corner. This is his third tournament since an eight-month layoff from knee surgery.
He hit the ball well at Doral and couldn't make a putt. On Thursday, it was a good thing he could make a few putts. Woods showed flashes of his notorious temper that had been missing the last two events.
"I didn't have it because I was hitting it so well," he said. "Today, I was not hitting it well."
But he saved par on three straight holes, began his birdie streak on the 11th and missed a pair of putts on the last two holes inside 12 feet scratch out a 68.
Not everyone was that fortunate.
Ryo Ishikawa, the 17-year-old from Japan, hit two balls in the water on the par-5 sixth and made a 9 on his way to a 76. Jim Furyk, who tumbled down the leaderboard in Tampa after the first round, opened with a 78. Fred Couples had an 80. Jason Day didn't finish, feeling so sick at the turn that he was driven off the course at the turn.
Divots: Davis Love III had a 73 and was around the cut line going into the second round. Love is No. 47 in the world and likely will have to make the cut to hold his position in the top 50 and qualify for the Masters. Right behind him in the ranking is Louis Oosthuizen, who had a triple bogey and a double bogey in a span of four holes but rallied for a 72. ... Bay Hill is the 10-year anniversary of when Steve Williams began caddying for Tiger Woods.